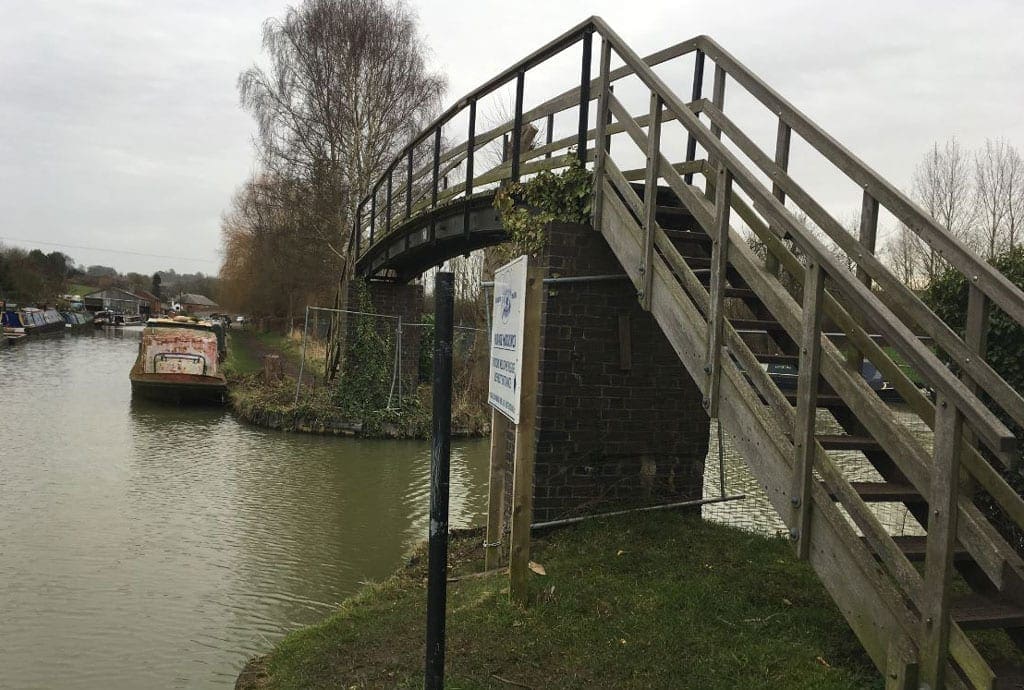 The Canal & River Trust has updated the local community on plans to replace Bridge 1A, known as the Ladder Bridge, at Braunston.
The Trust has been left a generous legacy of £164,400 towards the replacement of the bridge, which carries the Grand Union Canal towpath over an entrance to Braunston Marina.
The bridge, which only has stepped access and a narrow deck, is not currently suitable for people with pushchairs or those in wheelchairs and the aim is to replace the bridge with one that's wider and has access ramps.
Initial concept designs for a replacement bridge have been prepared to enable the Trust to obtain outline costs. These outline costs indicate that the bridge is going to cost substantially more than the value of the legacy – with a shortfall of approximately £150,000.
The charity is committed to delivering this project, and honouring the very generous legacy gift, and so has begun a period of community consultation to look into other options to address the shortfall. This will entail revising the concept designs, involving volunteers in the construction and launching a fundraising campaign.
The Trust has already begun to explore other potential funding opportunities and wants to work with the local community to gather their ideas and identify alternative sources of funding. Local people have an important role to play in moving the project forward and their contacts, enthusiasm and local knowledge will be invaluable as everyone works together to bring this scheme to reality.
Given the timescales associated with this next phase of the project it is highly unlikely that a new bridge will be in place for the Braunston Historic Boat Gathering in June 2021. The Trust understands that this is an important and much-loved event and will ensure that there is no disruption to it from any potential works on site.
Phil Mulligan, regional director for the Canal & River Trust, said: "We appreciate that the anticipated delay may be disappointing to the local community but I would like to assure them that we remain committed to this project and are determined to find a solution to the shortfall.
"It's clearly a very challenging time for everyone at the moment and I really can't emphasise enough the crucial role that local people can play in helping us to move this project forwards with their passion and local insight.
"Together I'm confident that we can help to deliver a bridge that everyone can be proud of."
The Trust has provided the executors of the Will, as well as the Parish Council and other stakeholders, with an update on the project and will keep the local community informed as plans progress.
To find out more about the work of the Canal & River Trust, including how you can support through volunteering or making a donation go to www.canalrivertrust.org.uk.