The Wurzel Bush Folk Club's guest on Tuesday 7th December is Roaring Girl. This is what happens when you put 2 irrepressible musicians in a lockdown bubble together. Expect a surfeit of instruments, banter, toe-tapping tunes from all around the world and through the centuries, and did we mention lots of instruments? Featuring Jude Rees (Isambarde, Pilgrims' Way, Piva, Archaedium).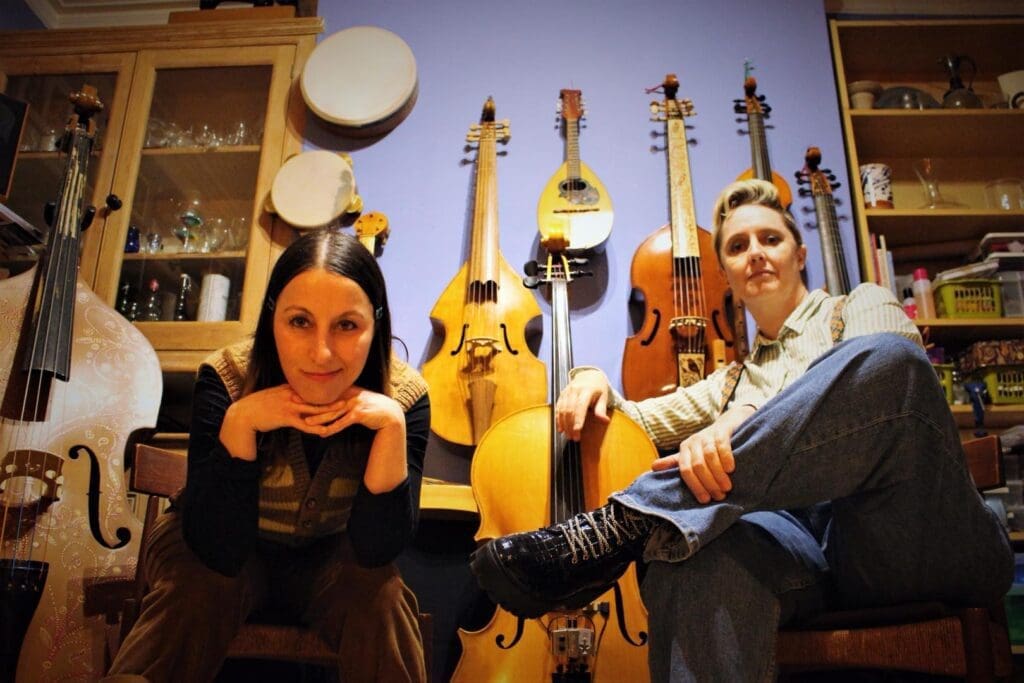 Jude Rees has recorded and toured with some of the luminaries of the folk scene including Phil Beer, Jim Moray and Will Pound.
However when left to her own devices she likes drinking her fellow Roaring Girl Mary out of spiced rum and singing a bawdy ballad. Mary Mohan (Archaedium, Piva) basically plays all things bowed and some things blown. Mary comes from a classical background, studying cello and flute, but she grew up listening to Irish rebel songs and going to church ceilidhs.
Their gig is Crowd Funded which means you don't buy tickets or pay admission you just turn up before our 8pm start pick up a table & some chairs & place them where ever you want so as to stay comfortable & socially distant. We have air conditioning so we can keep you safe by circulating fresh air. It might be a little cooler but you can wear a jersey or a coat to keep warm. We reserve the right to take your temperature on arrival & we also ask you to wear a mask until you are seated at your table. Our events take place at The West Indian Club, Railway Terrace, Rugby . CV21 3HE we are a 15 minute walk from Rugby Railway Station.

In February 2022 we celebrate 50 years of The Wurzel Bush Folk Club. (Dave Sampson was just 22 when the club opened on February 19th 1972 with guests Finbarr & Eddie Furey.)
The Wurzel Bush Folk Club has also announced that in February 2022 they are organising The Rugby Folk Festival aiming to raise money for the Air Ambulance as part of the Festival of Britain 2022.
#towpathtalk #canals #canalsandrivers #narrowboat #rivers #waterways #lifeonthecut #boating #boats #folkmusic
Article continues below…
Advert