What better way to spend the run-up to Christmas than enjoying a "Coffee and Cake" cruise with friends on Electra, gliding quietly along the Grand Union Canal.
The volunteer Electra team has just released its autumn programme of cruises. For the first three weeks of November, this will include morning "Coffee & Cake" cruises.
Lead Cabin Host, James Clifton said: "Having listened to feedback from our guests, we could see that 'elevenses' would be a popular offer: a cafetiere of coffee and a slice of cake. Also on offer is tea, or a mug of hot chocolate complete with whipped cream and topped with marshmallows."
"Our cruises are regularly fully booked, with almost 1,000 guests enjoying a cruise on the all-electric boat in the three months since we started at the end of July,"
Cruises depart from Campbell Wharf at 10:45, returning at around one o'clock. Tickets must be booked in advance. Full details, including on-line booking instructions, can be found at Electra booking Coffee & Cake is also available to order on Autumn Charters in November.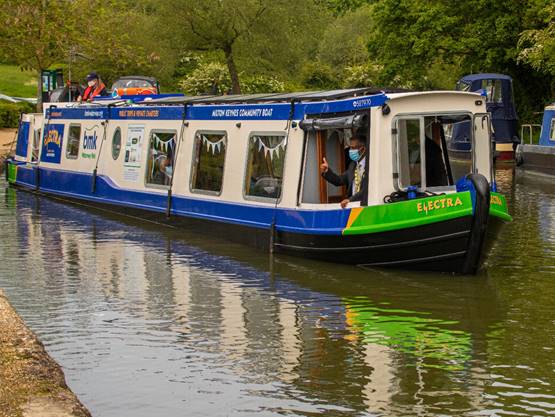 Electra is a brand-new fully electric, 54-foot narrowboat, crewed by trained volunteers from the Bedford & Milton Keynes Waterway Trust. It is accessible, with a lift and lavatory that can accommodate a standard size wheelchair.
Article continues below…
Advert
"Although Electra is fully enclosed and has heating, we ask you wrap up warm, as we need to keep the front windows open for good ventilation."
"We are delighted that our cakes will be supplied by the MacIntyre bakery at Great Holm, the charity which provides learning, support and care for more than 1,200 children, young people and adults who have a learning disability and/or autism at locations across England and Wales." he added.