Around 50 parliamentarians (MPs and peers) joined the Canal & River Trust at a reception at the Houses of Parliament on 28th June.  The event, ahead of the charity's tenth anniversary, gave an update on the Trust's work to protect and preserve 2,000 miles of historic waterways across England and Wales for the benefit of the nation, including millions of people in waterside communities.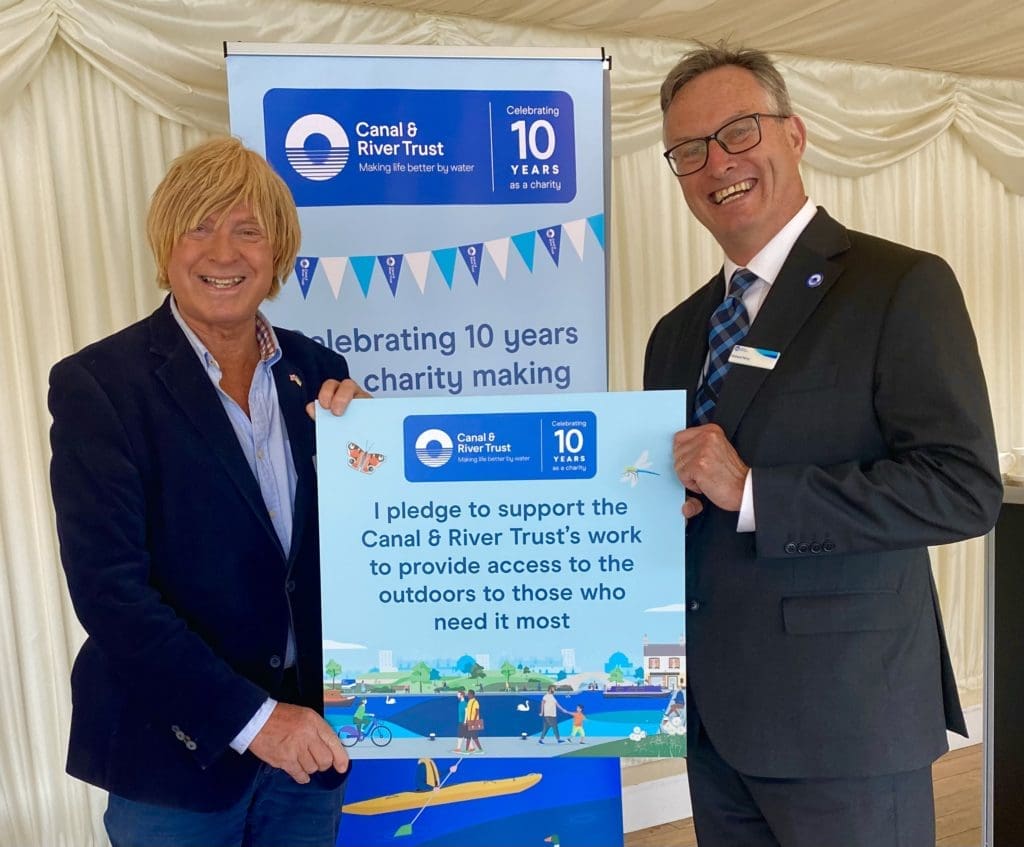 The reception showcased how, under the Trust's stewardship, canals now have more boats than ever before and are used by more people than at any time in history. The event was a celebration of the renaissance of canals which are playing a vital role improving community wellbeing and tackling health inequalities, as well as supporting jobs, local economies, and nature recovery.
Attendees at the reception heard about the continued need for funding and support to safeguard the waterways, with the 250-year-old ageing and vulnerable network exposed to changing weather patterns, and how a more resilient network will help society mitigate the effects of climate change in the years ahead by providing sustainable transport routes into towns and cities, delivering flood mitigation, water transfer, a supply of green energy, and improved biodiversity especially in urban areas where such rich blue-green space is at a premium.
Rebecca Pow MP, DEFRA Parliamentary Under-Secretary of State (Minister for Nature Recovery and the Domestic Environment), paid tribute to the Trust team and their volunteers who work tirelessly to maintain, protect, and enhance its canals and river navigations. MPs pledged their support for the Trust's work to protect the nation's fragile industrial heritage, access to the outdoors, wellbeing improvements for communities, and wildlife benefits that it provides.
Allan Leighton, chair of the Canal & River Trust, commented: "The Canal & River Trust was launched in July 2012. Its formation saw the largest ever transfer of public assets into the charitable sector and it was the start of the next exciting phase in the 250-year story of the canal network.
"No other charity brings so much free, open and accessible blue and green space to the doorstep of so many and, over the past decade, we have been able to broaden our reach, engaging more deprived communities living along waterways in urban areas and making the canals and rivers inclusive and available for all.
Article continues below…
Advert
"MPs were given an update on the increasing role of volunteers, partners and supporters in helping the Trust protect and preserve the nation's waterways and how, with continued support, we can avert decline and continue to enable them to serve society in ways that the great canal engineers of the industrial age could never have envisaged.
"As we continue discussions with government about future funding for canals, I would like to thank the MPs and Peers who attended and heard all about the role waterways are playing to level-up constituencies, making them greener, healthier and more prosperous places to live."
#canalandrivertrust #towpathtalk #canals #canalsandrivers #narrowboat #rivers #waterways #lifeonthecut #boating #boats
Article continues below…
Advert