KAYAKER Tom Hards has found a better way to cope with his daily commute between Stroud and Stonehouse by choosing to paddle to work instead of taking the bus.
He is fortunate to live and work close to the towpath of the Stroudwater Navigation and recently found that the tree clearance work carried out during the winter by the Waterway Recovery Group between The Ocean and Bond's Mill had opened up a stretch of canal navigable to small craft.
Tom said: "This traffic free and almost direct route is ideal, and the occasional sight of a kingfisher, cormorant or heron is more than enough to offset the stress of the office before getting home. The bus journey, aside from the £3 fare, isn't nearly as scenic or soothing."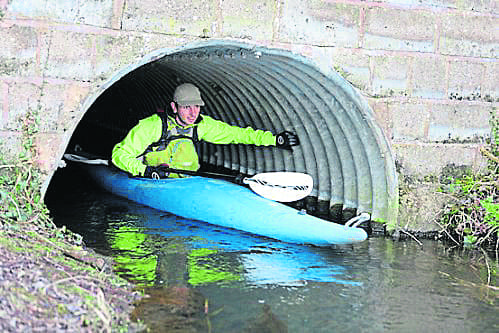 "An interesting feature is the steel tube beneath the railway at The Ocean. This is not nearly as daunting as it appears. The local wildlife use the same tube and do a good job of keeping it clear. So long as one doesn't meet a swan paddling in the opposite direction, the transit is swift and straightforward."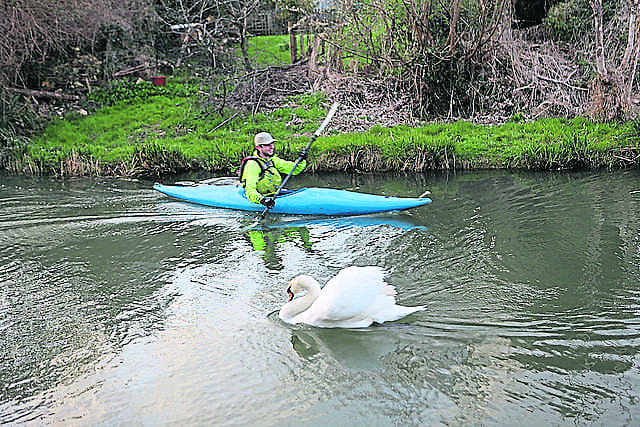 He explained: "The journey itself is uncomplicated, with only the two locks at Dudbridge and Ryeford Double Lock to carry the boat around. The canoe and boat landing stages at Ryeford make getting in and out of my kayak a lot safer and easier when portaging around the lock chambers, especially on dark and cold mornings at 7am.
"It's always difficult to leave behind the peace and tranquillity of the waterway to walk the rest of the route to work in the Oldends Lane Industrial Estate, for another day of 'keyboard-jockeying'. But it's nice to look forward to the return journey too."
Tom added: "The highlight for me is the ability to get closer to the wildlife. That includes looking down into the water with a head-torch to see fish pooling about, or being buzzed by bats near the textile mills. I really enjoy the adventure and exercise during the week. Savings on the bus fares can then be spent on large breakfasts.
"This trip would have been a grand expedition a few years ago; fighting through under (over) growth, shallow and soupy water, infills and blockages. Now the restored canal can be used as part of a daily commute, which is remarkable. I have to say well done and thank you to everyone involved."
Article continues below…
Advert