Whacky fundraiser Stuart Kettell sent off on great canal journey by Pete Waterman
A large crowd of well-wishers gathered at the canal entrance to Braunson Marina on 7th July, to see the whacky fundraiser Stuart Kettell sent off by the legendary song writer and music producer Pete Waterman, on his grueling challenge to raise money for Macmillan Cancer Support. Before sending him off, Pete Waterman presented Stuart with a cheque to Macmillans for £1,000 from Braunston Marina – the principal sponsor for Stuart's challenge – and wished him every success.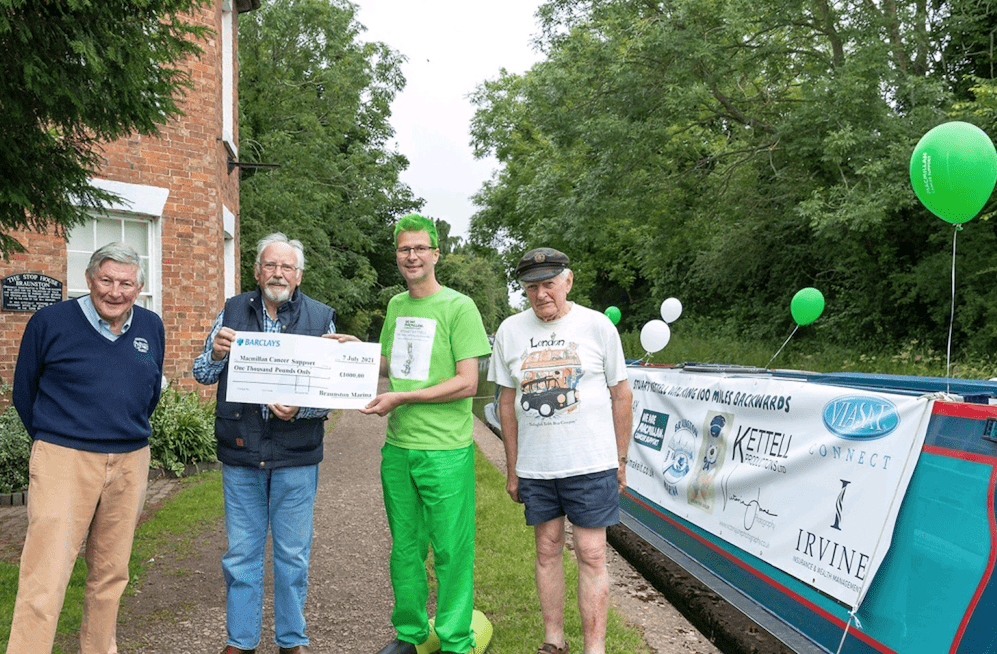 Dressed in green with dyed green hair and specially made shoes, Stuart's plan was to walk backwards the hundred mile length of the Grand Union Canal from Braunston to the Thames at Limehouse, London, and then on to Macmillan's HQ on the Thames at Blackfriars. This he would do over ten days, at roughly ten miles a day – about all he could take going backwards. 'The human body is not made to walk this way for anything more than a few paces, and I have had to do a lot of special training,' Stuart explained.
Accompanying Stuart was the escort 60' narrowboat Bruin, steered by Norman Woolley (85) who lost his wife to cancer in 2013, and is now a dedicated supporter of cancer causes. The narrowboat provided Stuart with sustenance on the route and overnight accommodation. Norman had to cope with the 102 locks, for which he received much help from volunteers.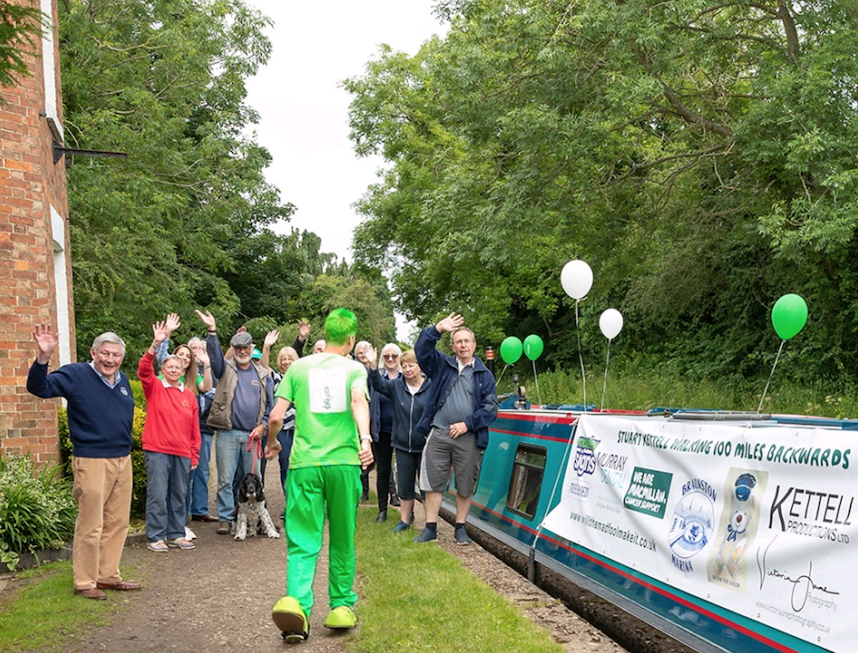 Stuart is a professional film maker – everything from commercials to weddings – and some years ago, after filming cases studies for Macmillan, he drove home wanting to make a difference. Each year since then – bar Covid in 2020 – he has carried out a whacky fundraising challenge. The first was a flight around the UK coast, fresh out of training on his flex-wing microlight. Since then, his exploits have included pushing a Brussell sprout up Mount Snowden using only his nose, cycling in a converted bath from John O'Groats to Lands End, and kayaking from the mouth of the Thames to Coventry. Prior to the current challenge, Stuart had raised over £60,000 for Macmillans. He hopes to raise over £10,000 from this challenge.
Article continues below…
Advert
Tim Coghlan, of Braunston Marina, said, 'We are again delighted to be main sponsor for Stuart, having been main sponsor for him three times in the past. The Macmillan Nurses are a cause close to my heart, as they nursed my late-wife at home for three weeks during the last stages of her cancer, before she finally had to be hospitalized. It gave us such precious time quietly together with the children. And I promised then and there, to support Macmillans for the rest of my life.'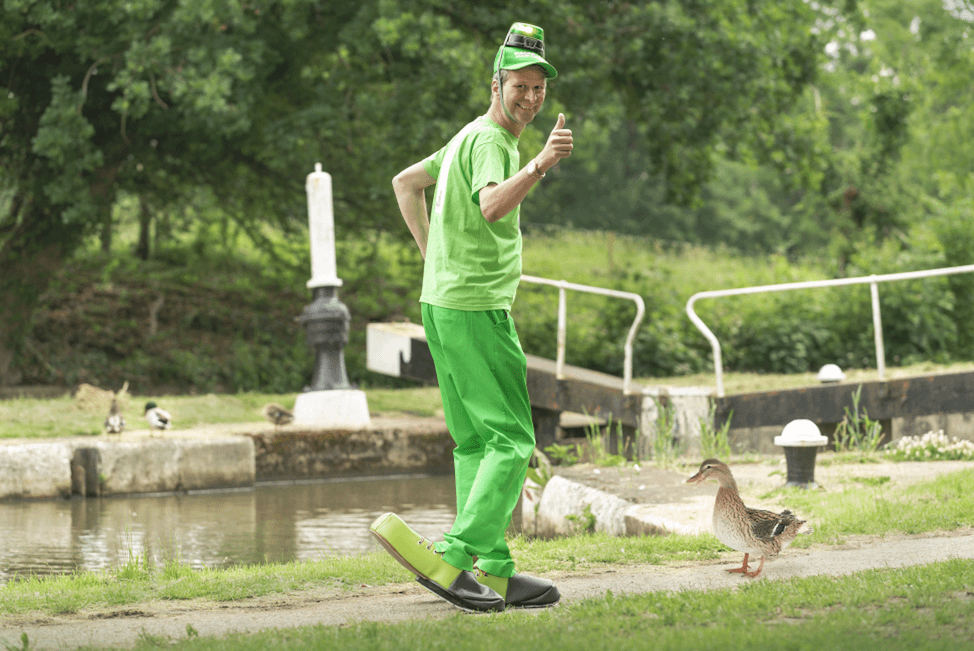 The journey south passed largely without incident – despite fears of tripping on mooring lines. And the cool temperatures made the going much easier. Stuart arrived at Macmillan HQ on Friday 16th July at 4.00 pm to a welcoming party – strictly limited in accordance with Covid restrictions.
Article continues below…
Advert
People can still donate on track Stuart's website www.willthemadfoolmakeit.co.uk