Report & photos: Janet Richardson
EXCITING plans for the Staveley Town Basin were unveiled at a business event hosted by the Chesterfield Canal Society on the eve of its recent canal festival.
A new hub – Staveley Waterside – is to be created for start-up and existing businesses, building on the success of the Markham Vale Environment Centre.
Head of MEGZ (Markham Employment Growth Zone) Peter Storey said that the idea to create something along the canal corridor was first mooted some 17-18 years ago and the basin was created with the help of funding.
A planning application for the two-storey building was submitted to Chesterfield Borough Council in March and it is hoped to invite tenders for its design and build in the autumn. Construction could start early next year for a projected opening in September 2024.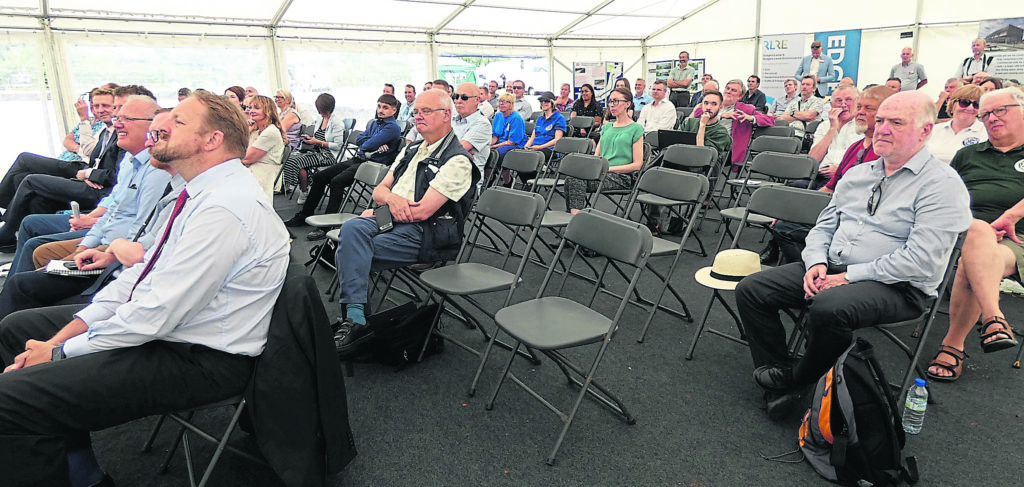 It will comprise flexible office and workshop units for small businesses along with units for high quality food and beverages with indoor and outdoor dining, other retail use and mooring space.
The aim is to attract up to 10 businesses on the site and create 40 new jobs; cycle storage for 36 bikes and parking for 71 cars including electric vehicle spaces. It is projected that it could also attract over 30,000 visitors a year as a dining destination.
Peter explained that the £4 million project will be funded from the Staveley Town Deal fund and Derbyshire County Council – a catalyst for wider regeneration vision for Staveley Town Basin and to act as an incentive for future investment and growth.
Legacy
The audience, which included the chief executive of the Canal & River Trust, Richard Parry, and the national chairman of the Inland Waterways Association, Les Etheridge, was welcomed by Chesterfield Canal Trust company secretary Rod Auton.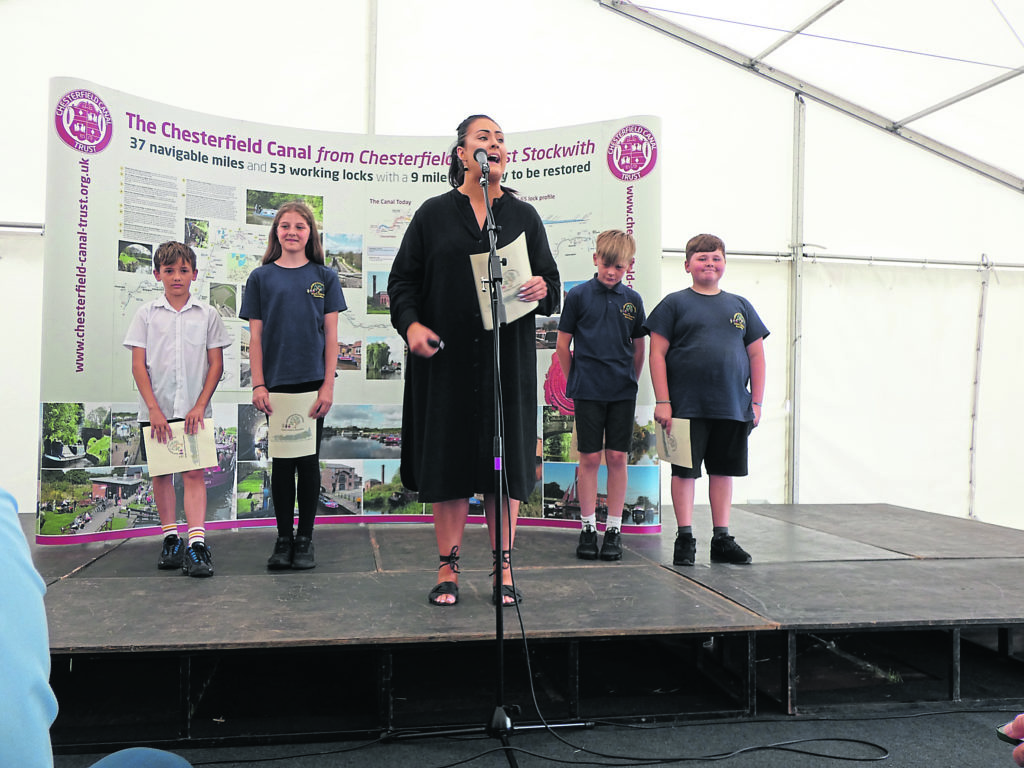 He introduced the deputy head of Hollingwood Primary School, Lois Clarke, who explained the meaning of LEGACY – Language, Empowerment, Global citizenship, Authenticity Community and You. She was accompanied by four children who used these headings to outline what the canal means to them:
"Empowerment: This outdoor classroom is a short walk away from our school and helps to give us understanding of the world around us.
"Global citizenship: We recognise that our work with the Chesterfield Canal Trust teaches us to respect the canal which is a lasting bond for our community.
"Authenticity: Our collaboration with CCT has provided us with some opportunities. Experiences of the school becoming a fond memory. During local history week we studied the development of transport on the canal.
"Community: We are proud to be a member of the whole community in our work with the trust. We can do this work. It teaches us to understand about our history and heritage."
Chairman of the Chesterfield Canal Partnership, Coun Alex Dale who represents the Dronfield East and Unstone ward on Derbyshire County Council, explained how this regional multi-agency group works.
A forum for members to coordinate across their representative organisations, it includes local authorities which have the Chesterfield Canal running through their areas. The forum comprises: Bassetlaw District Council, Canal & River Trust, Chesterfield Borough Council, Chesterfield Canal Trust, Derbyshire County Council, Inland Waterways Association, North East Derbyshire District Council, Nottinghamshire County Council and Rotherham Metropolitan Borough Council.
Coun Dale said: "Our vision is to secure a revitalised Chesterfield Canal improving the quality of life for Nottinghamshire, Derbyshire and Rotherham residents. We want to restore the canal to full navigation and create a link between the canal and Sheffield – the Rother Valley Link.
"We are acutely aware of the last economic study that was done – actually this is about 20 years old and we are living in a very different world now."
He added that they needed to ensure the canal is sustainable and fit for purpose with a clear vision statement to help bid for government funding.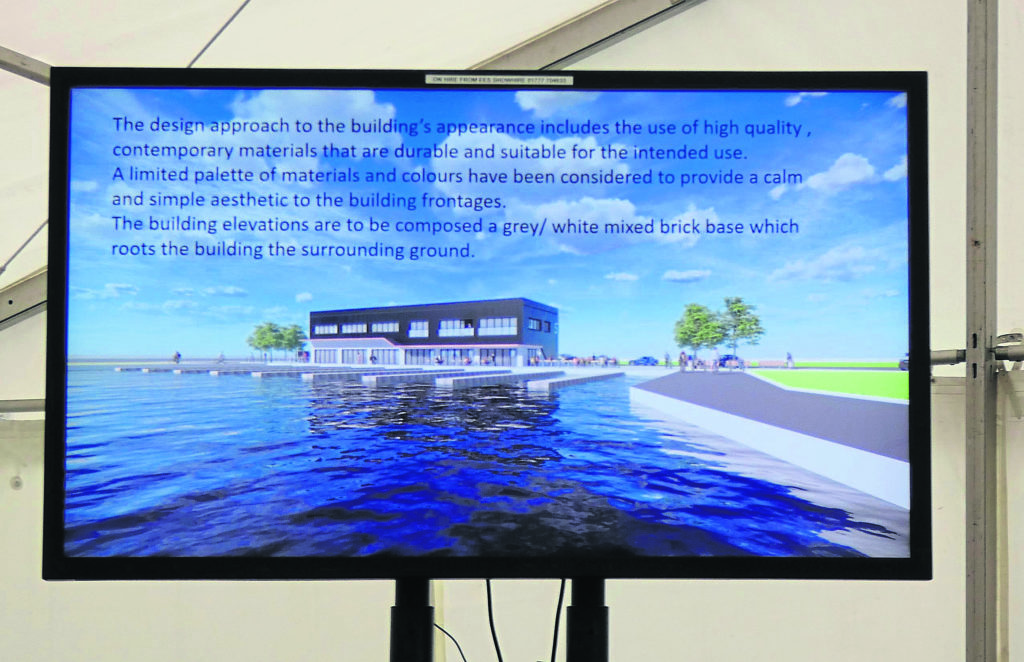 Obstacles
Chesterfield Canal Trust development manager George Rogers said: "I don't need to inspire you to restore the canal, the previous speakers have already done that."
He referred to IWA's Waterways in Progress study quoting: "What has the Eden Project got in common with a coffee shop on the Chesterfield Canal? They are both prime examples of the vision to turn unfinished business to everyone's advantage."
George explained that the 8.5 miles of the 37-mile canal still to be restored between Staveley and Kiveton Park presents a challenge with engineering obstacles along the route such as Norwood Tunnel and the motorway (M1). "But there are solutions."
He said that Kiveton Stakeholder Group is looking at opportunities there and National Highways in respect of the M1. Killamarsh is another big obstacle with a diversion needed around houses built over the line of the canal. Two houses bought by the trust a few years ago are currently rented out.
"There are two main projects at present. Renishaw was partly restored about 15 years ago but has dried up; we want to start a long-standing ambition to sort that out and there is a bit of design work to do." Funding for the £425k scheme includes pledges from IWA and Derbyshire County Council.
Another major obstacle to restoration is from Staveley Basin through the Staveley Puddle Bank where the canal was built on an embankment and there are a lot of earthworks to do.
It was also hoped that help from the Staveley Town Deal project would pave the way from Eckington Road towards the railway. George pointed out that it was originally planned to get all the way to the borough council boundary but the cost makes that a bit out of reach, so additional funding is being sought.
He concluded by asking: "Are you up for the challenge?"
#chesterfieldcanal #chesterfieldcanalsociety #towpathtalk #canals #canalsandrivers #narrowboat #rivers #waterways #lifeonthecut #boating #boats #canallife #canallifeuk