Alarum Productions is a canalside theatre company specialised in retelling real life stories of women on the canals.
This weekend Alarum Productions will be arriving by boat to the Batchworth Canal Centre – Rickmansworth, with two shows – Acts of Abandon and I Dig Canals. Both events are free.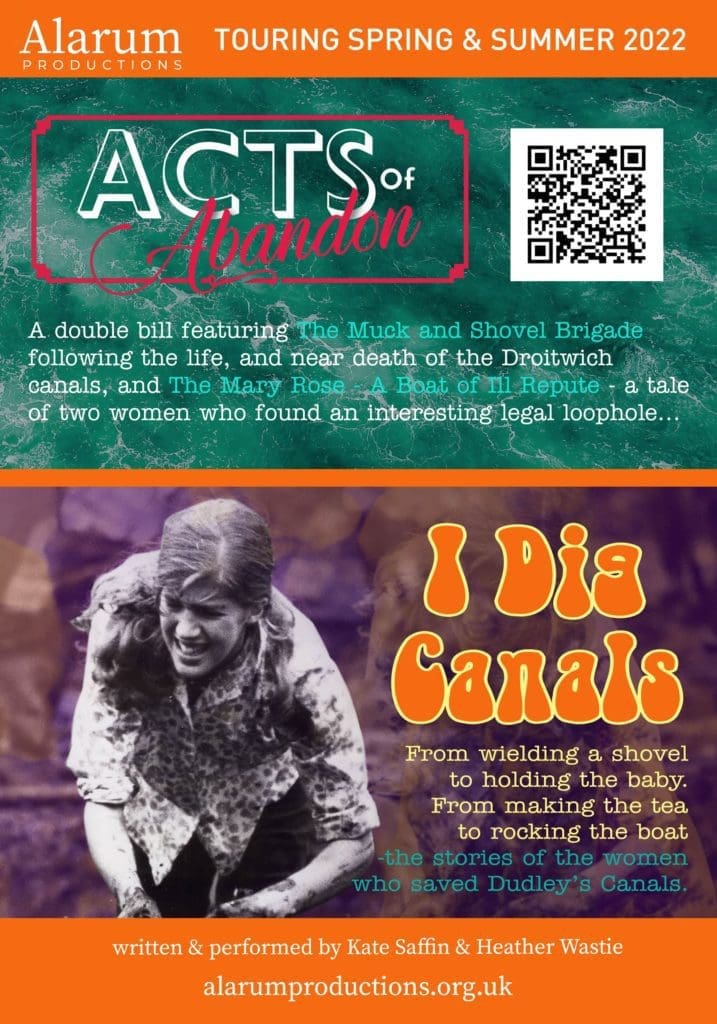 "We are passionate about celebrating the history of the UK waterways, seeking out the stories of women's involvement, and sharing this history with others through artistic engagement.
We create artistic spaces in settings that would not normally support the arts, such as boatyards and other historic waterside locations, bringing communities together to see their history in new and exciting ways, focusing on inclusivity and affordability"
If you would like to come along and review the show we would be delighted. We would also very much appreciate if you could help us promote the events. I am attaching a press release along with a picture.
Here are some comments from people who saw the show at the start of the tour:
"A brilliant performance packed with fantastic stories and history… I'm inspired to dig more into the old stories of the waterways!"
"I was transfixed throughout – felt like being read a wonderful, magical bedtime story like when I was a kid… joyful, fascinating, wonderful theatre."
These below are the details of the events:
Acts of Abandon 
Batchworth Locks, Rickmansworth, WD3 1JD
Saturday 14th May 2022 – 7.30pm
Free entry: Pay What You Can 
Eventbrite: https://www.eventbrite.co.uk/e/acts-of-abandon-batchworth-canal-centre-tickets-328043826917?aff=ebdsoporgprofile
Web: https://alarumproductions.org.uk/portfolios/acts-of-abandon/
I Dig Canals
Batchworth Locks, Rickmansworth, WD3 1JD
Sunday 15th May 2022 – 6.00pm
Free entry: Pay What You Can
Eventbrite: https://www.eventbrite.co.uk/e/i-dig-canals-batchworth-canal-centre-tickets-328046274237?aff=ebdsoporgprofile
Web: https://alarumproductions.org.uk/portfolios/i-dig-canals/
Contacts:
Kate Saffin, co-director 07876 818959
[email protected]
#actsofcanals #towpathtalk #canals #canalsandrivers #narrowboat #rivers #waterways #lifeonthecut #boating #boats