The Canal & River Trust, the national canal charity, is working across its 2,000 miles of historic canals and navigable rivers to respond to the damage left by Storm Babet.
Hundreds of trees have been blown down, and the canal network has suffered structural damage, including towpaths washed away, a landslide on the Worcester & Birmingham Canal, and considerable damage on the Leicester Line of the Grand Union Canal where the River Soar flooded into the canal, causing over 50 metres of the bank to collapse.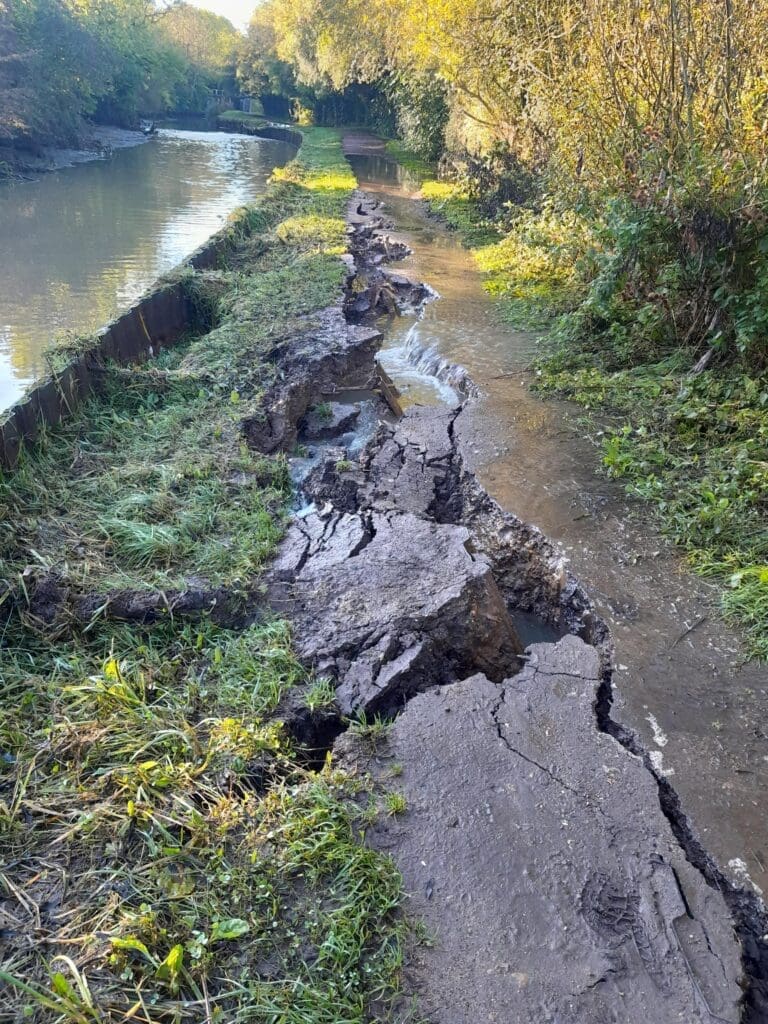 The Trust's staff and volunteers attended numerous call-outs as they battled to control water levels and respond to damage, whilst, on the Erewash Canal in Sandiacre in Derbyshire, the quick response by one of the Trust's volunteers averted disaster when they were able to rescue a member of the public who fell into the canal, one of many people who were still using the towpath, despite itself, being submerged under stormwater.
Richard Parry, chief executive of the Canal & River Trust, comments: "I'd like to thank colleagues and volunteers at the Trust for battling across the weekend to control water levels, responding to the emergencies caused by Storm Babet, and all their efforts to keep everyone safe.
"Our canal network is a national treasure dating back 250 years. It isn't safely locked away as an exhibit in a museum. It is here to be navigated by boats as they did centuries ago, used freely by millions of people and for the benefit of wildlife. Storm Babet will leave the canal network with a bill likely to be in the £millions. This illustrates the increasing expense of keeping the canal network safe and open at a time when funding from the government is reducing in real terms and ahead of the steep future cuts they announced earlier this year. These extra costs are becoming increasingly commonplace as the changing climate takes its toll. Without adequate funding, they will lead to some canals' gradual deterioration and eventual closure. 
"The work of staff and volunteers, together with the support of our partners and friends, is vital to keep our canals alive to benefit this and future generations."
Article continues below…
Advert
For more information on the Trust's Keep Canals Alive campaign, visit: Keep Canals Alive | Canal & River Trust (canalrivertrust.org.uk)
#babet #stormbabet #towpathtalk #canals #canalsandrivers #narrowboat #rivers #waterways #lifeonthecut #boating #boats #canallife #canallifeuk