WEST Yorkshire volunteer Cath Munn has received a second national award for her outstanding contribution to Canal & River Trust waterways in the Yorkshire and North East region.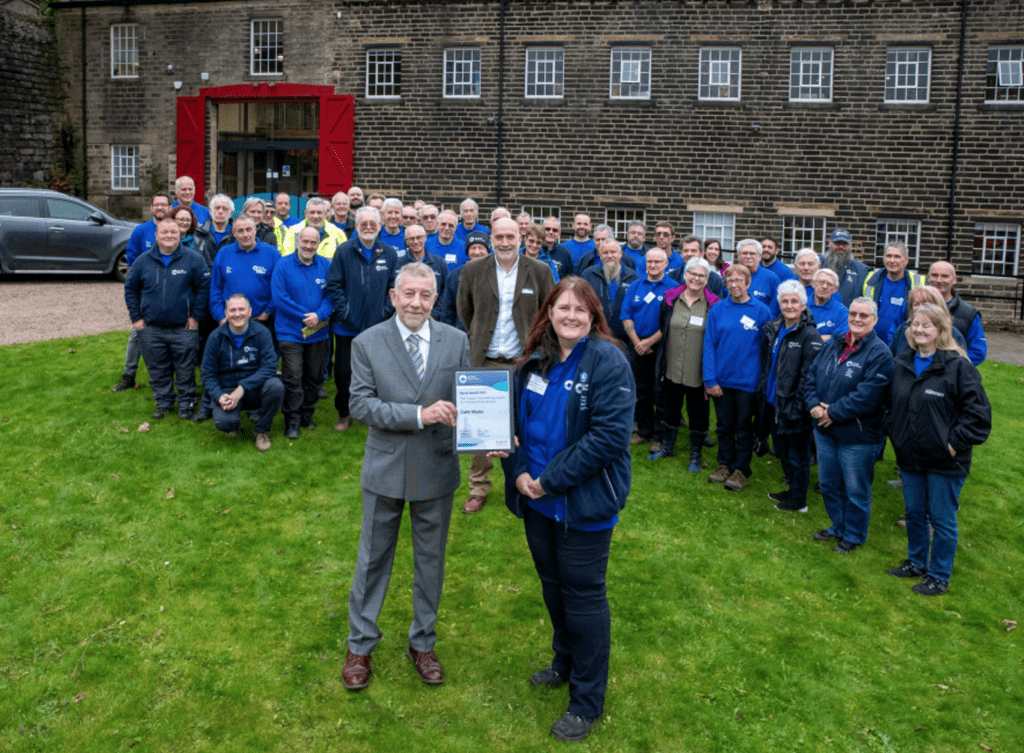 The presentation took place at the Standedge Tunnel Visitor Centre near Marsden.
Cath, 46, from Huddersfield has been recognised by CRT and the Marsh Charitable Trust for her support and huge contribution in delivering the Explorer programme despite the unprecedented challenges of the pandemic. The educational programme provides educational resources and delivers workshops on topics such as: water safety, wildlife habitats, flooding, heritage and STEM learning.
She co-delivered new, interactive online workshops to 5000 schoolchildren between April-July 2021, sometimes delivering up to four workshops a day. She embraced the unknown and excelled with the challenge, even delivering some sessions while on holiday and going international when a student joined from Pakistan.
Cath said: "This is such an unexpected surprise, I'm in shock! It's a real honour especially as there are so many wonderful volunteers and hearing what each of the shortlisted nominees does was really inspiring."
She added: "I get so much from volunteering, I don't do it for the accolades, I get a real buzz from what I do, being outdoors is such a boost for your mental health and I get so much from the trust. I'd definitely encourage others to get in touch, there's lots of opportunities and lots of brilliant people to meet."
Cath was nominated by CRT skills and learning coordinator Claire Cavendish for the Marsh Charitable Trust Award. She said: "I'm thrilled she's been recognised for her outstanding dedication, support, and enthusiasm with our charity, going above and beyond in helping look after our waterways and spread our water safety message over the summer.
"She has made a huge contribution to our Explorers education programme over the past year, embracing the challenges of the pandemic as we adapted our interactive water safety sessions to a virtual, online audience. It was a massive learning curve and Cath's can-do attitude was a great support."
Having lived on narrowboats with her husband Iain, a civil engineer, for more than a decade, Cath missed being by water after returning to living in a house. She first volunteered for the Canal & River Trust as part of its towpath taskforce eight years ago, helping with activities such as painting and planting bulbs for several years, before moving on to lock keeping – which has helped her to reconnect with her love of being by water.
She is also part of the award-winning volunteer lock keeper team at Tuel Lane Lock, Britain's deepest lock, in Sowerby Bridge which received an award during the summer.
CRT Yorkshire & NE regional director Sean McGinley said: "Our volunteers make a tremendous contribution to our waterways. These national awards showcase the range of their talents and celebrate their enthusiasm, passion and sheer hard work.
"While this award recognises her contribution to our education programme, Cath has helped us in many ways over the last eight years, attending her local towpath taskforce, becoming a qualified boat master, plus a guide and chaperone at Standedge Tunnel, Britain's longest, deepest, highest canal tunnel."
Award ceremonies will be taking place in each of the Canal & River Trust's six regions in the coming weeks.
#canalandrivertrust #canal&rivertrust #towpathtalk #canals #canalsandrivers #narrowboat #rivers #waterways #lifeonthecut #boating #boats