Following the complete restoration of this unique, horseshoe-shaped Grade II* listed building, Roundhouse Birmingham invites you to #SeeTheCityDifferently and explore Birmingham and its heritage from the heart of the city's canal network.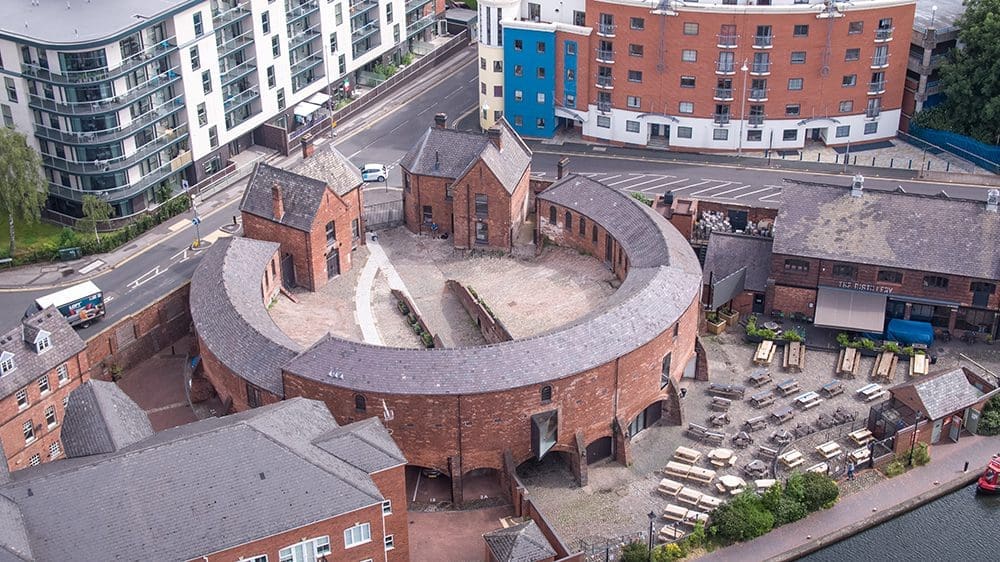 This iconic building in the heart of Ladywood has been brought back to life thanks to a unique partnership between the Canal & River Trust and National Trust, generously supported by the National Lottery Heritage Fund and Historic England.
Working together with passionate local people, partners and volunteers, the Roundhouse Birmingham team has designed and created city walks, kayak tours and more. Available to book now are:
Introducing the Roundhouse – take an outdoor guided tour which charts the incredible story of Birmingham's curious survivor. Discover the Roundhouse's journey from busy, noisy Victorian depot, right through to modern-day hub with a new lease of life.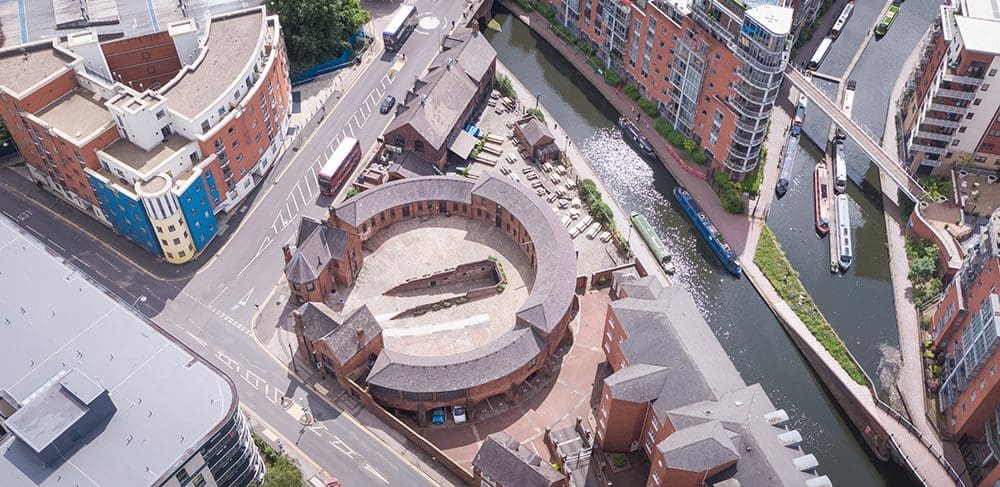 A City in One Square – a guided walk from Centenary Square via artworks and architecture, through a space that's forever changing; unlocking stories of the city and its people along the way.
Bustling Birmingham Kayak Tour – a chance see the heart of city from a different perspective by kayaking on its blue highway, celebrating the fact that Birmingham has more canals than Venice!
Green Escape Kayak Tour – our guides will lead you out of the hustle and bustle of the city and show you Birmingham's blue corridor that connects many of its green spaces and reveals a different side to the city.
Heritage Working Boat Trip – in partnership with the Canal & River Trust – join us for an exclusive boat trip around Birmingham canal loops.
There are also four self-guided tours and trails, created with local groups and residents, introducing local spaces from the Brummie perspective. These audio tours are available for free via the GeoTourist app.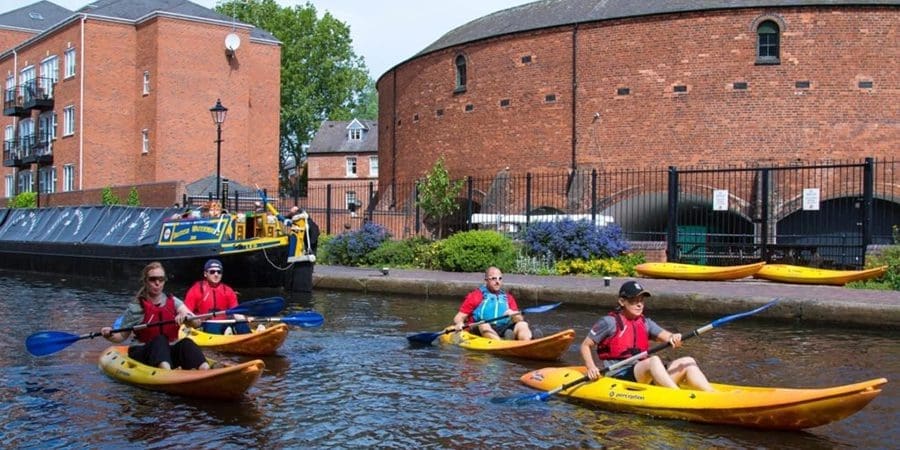 Chris Maher, from Roundhouse Birmingham said: "This programme is packed with introductions: to our building, to our very own kind of activities, and to our city. We have teamed up with local residents, partners, and volunteers to present Birmingham from the perspective of people who are passionate about the places they live and work. Whether gliding the waterways on a kayak, learning about the essential workers of the Roundhouse, or unlocking Birmingham's past in Centenary Square, we hope that people will come away with new perspectives, and enjoy new ways to experience our brilliant city."
Elizabeth Thomson, from the Canal & River Trust added: "The Roundhouse was historically a place of comings of goings, day and night; its location selected due to its connection with Victorian streets and waterways. We are continuing that tradition; only instead of working horses, lamplighters and canal deliveries, the modern-day Roundhouse will be a different kind of hub: for people making journeys around the city on our programme of tours and trails."
The Roundhouse was built in 1874 by the Birmingham Corporation as a stables and stores, housing not just working horses, but works departments from pavements to lamplighting and more. It remained in use as a city council depot until the 1990s, but in recent years, the building was largely unoccupied and fell into disrepair.
The Roundhouse faced an uncertain future, having been placed on Historic England's Heritage At Risk Register. But in 2015 the Canal & River Trust and National Trust partnered up to explore a new future for this curious, curvy, canal side landmark.
Its new lease of life was made possible thanks to a £3 million investment from the National Lottery Heritage Fund, which supports sustainable solutions for the nation's built heritage. The project also received a grant from Historic England and in May 2021, the Roundhouse was removed from the Heritage At Risk Register – a significant milestone for the project
Lucy Reid, from the National Trust, said: "This is the first partnership between the National Trust and Canal & River Trust, and it's been great to work together to restore and bring new life and purpose to one of our city's historic industrial buildings. Roundhouse Birmingham is a new charity and a new venture supported by both Trusts and we are so excited that the whole building will once again be alive with the sounds of people. We'd like to thank the local people, partners, supporters and funders who've worked with us so far, and who have played such a major part in helping us to shape the future of this Birmingham landmark.".
Anne Jenkins, National Lottery Heritage Fund Director, England Midlands and East said: "We are delighted to support this partnership project at the Roundhouse thanks to money raised by National Lottery players. Roundhouse Birmingham tells an important but little-known story of the working and daily lives of the people of the city which can now be shared with local communities and visitors alike. The project gives fresh new uses to this wonderful building which everyone can enjoy".
Eilis Scott, Acting Regional Director, Historic England, said: "We recognised the significance of this building, in the heart of Birmingham, through supporting it with grant funding and technical advice. It's a fascinating building situated next to a historically important canal network and we're delighted that it's being given a new lease of life."
Roundhouse Birmingham is now breathing new life into the building offering you a unique way to experience the city. For a full list of ways to #SeeTheCityDifferent visit www.roundhousebirmingham.org.uk