Lifeboatman John Chapman is one of the crew who patrol the busy tidal River Thames from Teddington. Elizabeth Rogers finds out more.
THIS year marks the 16th anniversary of the forming of the Thames Lifeboat Rescue Stations, to add to those which have been in operation in coastal areas by the RNLI (Royal National Lifeboat Institution) since the first half of the 19th century.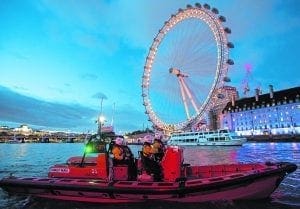 The RNLI established its lifeboat stations to work on the River Thames following the Public Inquiry into the Marchioness disaster of 1989 in which 55 lives were lost. From this a recommendation was made that there should be a dedicated search and rescue service established.
Today the central two Thames stations are the busiest throughout the service. There are four: Gravesend, covering from Holehaven at the west end of Canvey Island to the Thames Barrier; Tower Station on the Victoria Embankment just below Waterloo Bridge, covers from the Thames Barrier to Battersea; Chiswick Station continues the cover from Battersea to Richmond Half-tide Lock, and then the Teddington Station takes over the stretch from the Tower Station and is the busiest of the entire fleet. In 2016 it carried out 512 launches, assisted 72 people and saved 19 lives. The Chiswick Station is the second busiest, on its 180 launches it assisted 110 people and saved 12 lives.
All the lifeboatmen at Teddington are volunteers, as are all the other personnel there, mechanics, administrators and others playing vital roles.
Among those at the Teddington Station – which like that at Gravesend also has a very regular demand on its services – is John Chapman (pictured).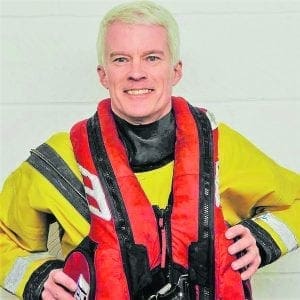 John joined the service five years ago and is both a crew member and trainee helmsman and is involved in the training of new recruits.
He has always been a man of boats and enjoying rowing, sailing and kayaking. At the Lensbury Rowing Club at Putney he was its captain and he is a qualified sailing skipper. He has also been involved in coaching.
A background with boats is an advantage but it is not essential, John explains, as new recruits undergo a lengthy period of training, of two to three years.
As well as boat skills, this includes learning about Health and Safety procedures, and casualty care. The crew are in a number of instances in the role of first responders, maybe having to give emergency first aid until the paramedics on shore take over.
The Teddington Station boat is the RNLI fleet's D class, 4.5m in length. To go out on a rescue it needs to have a helmsman and two crew. Therefore, John explains, there must be at least four people available for duty to ensure that the boat can respond to a call-out.
A full complement of staff for a station with this D class boat is 24: 16 crew members and eight helmsmen. Teddington has around 25 volunteers and every Tuesday evening they each prepare a spreadsheet indicating the days and times when they expect to be available during the coming week, according to work, family and other commitments.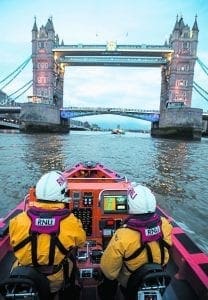 Individually differing work patterns enable cover at different times of the day, although inevitably commitments can change. John is a solicitor so has fairly regular business hours.
Numbers required to man the boats at the other stations vary according to the needs. The Gravesend Station has the Atlantic 85, a large rigid inflatable boat (RIB) and the Tower and Chiswick Stations the E class. Because of their situations on the river, they are equipped with one of the fastest boats supplied, water jet propelled. This, John explains, enables them to sit less low on the river and thus cause less disturbance of the water. This is important in an area where there are always many other craft.
They can travel at 40 knots. "They are not used at any station other than here and are among the fastest boats in the fleet," 
says John.
The volunteers need to live within two to three minutes' journey time to the station to be able to respond quickly enough to pager calls. In a residential area such as Teddington this is possible, but the Tower and Chiswick Stations are not in such residential neighbourhoods and therefore they have staff who are full-time there in order to be able to provide permanent cover. These staff work on regular deployments, and on day or night shifts, says John. Duty periods are 7am to 7pm and vice versa.
There is nothing seasonal about river rescue. "Although there may be fewer tourists in central London during the winter months, there are always calls to us for assistance," says John.
Some of these may be to sensitive situations, maybe involving mental health, when a person has wandered off. Others are to those the worse for wear for drink and who have had too close an encounter with the water. "People who drink do daft things at any time of the year," says John.
Not all call-outs are actually to the river. Because the towpath along these stretches is often inaccessible by road, it is the lifeboats which can most easily reach a walker or cyclist who has suffered an accident or been taken ill.
Similarly somebody needing help on a boat that is moored alongside the river bank, or on or alongside an island, needs to be accessed from the river. In these instances the fact that the lifeboats have defibrillators on board means that they can give the immediate medical aid that may be needed, or that in some other form, until the person can be transferred to an ambulance.
John has been involved in many memorable incidents, and one that particularly comes to mind is the rescue of a man in a kayak who was in a very 
difficult situation.
"It was on a Sunday afternoon when he was out on the river," John recalls. "The river was very fast flowing and it was windy. His kayak capsized near Teddington Lock and he was trying to prevent himself being sucked into the weir pool.
"He eventually managed to climb on to the boom on the top of the weir and he was just holding on when we reached him. It was a warm March day, but he was suffering from hypothermia.
"It was really good to be able to get him off the boom. Later on when he was recovering from his experience he came to the station to thank us."
John finds the contribution he makes to river rescues very rewarding, as do all the volunteer crew and those who are involved in any way.
"It gives us a great sense of purpose and camaraderie," he says. "We like to think that we are making a difference. Our work is a very worthwhile way of spending our time."
The RNLI relies a great deal on the support it receives from the public, including that of the local fundraising branches in many parts of the country. Information about becoming involved can be seen on the website, www.rnli-org/support-us