The Commercial Boat Operators Association is delighted that the carrying of lubricating oils in tanker barges has re-started from Hull to Rotherham. The 600 tonnes capacity barges are now regularly arriving at the Exol Oils works in Rotherham.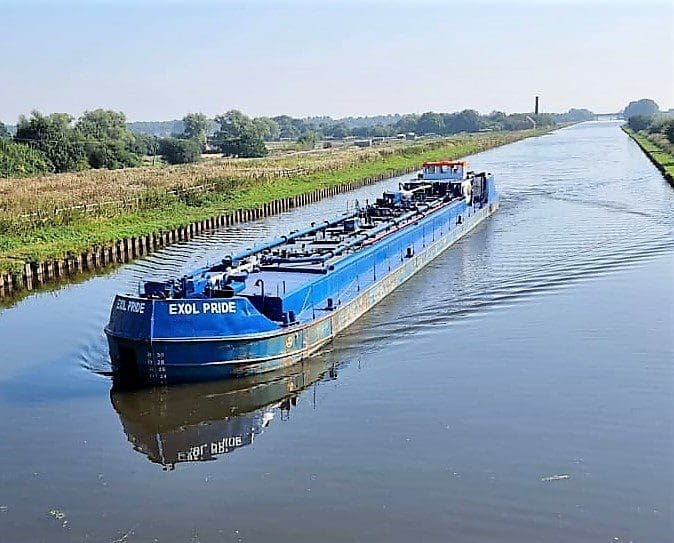 "This shows the value of using barges", said CBOA Chairman David Lowe. He continued: "With all the news about HGV driver shortages, it is salutary to remember that the crew of a 500 tonnes capacity barge can move that cargo more quickly than if they each drove an HGV between Hull and Rotherham"
"Barge use also fits in with the de-carbonisation agenda", went on Mr Lowe. Research has shown that barges have for years created less emissions than heavy lorries – only 25% of that produced by lorries. Not satisfied with that, the barge industry is moving to use biofuels with hydrogen treated vegetable oil (HVO) being favoured. Barge companies have reported 90% reductions in net carbon dioxide emissions.
Even if all lorries were electrically powered, they would still create damaging dust particulates from brake pads, from tyre wear and from road surface wear. None of these arise with barges. "Using barges improves the environment and people's sense of well-being," said Mr Lowe.
"So I call upon the Government, in the year it hosts the 26th UN Climate Change Conference (COP26) this autumn in Glasgow, to increase infrastructure investment in improving the nation's waterways", said Mr Lowe.
Andrew Sanders of Mainmast which operates the barges, said: "This resumption is very important for us. Our customer in Rotherham has always been keen to use water transport and we are delighted to be able to resume our environmentally enhancing service."
Article continues below…
Advert
The barge traffic resumed after repairs to the Aire & Calder Navigation had been completed. Last December, one of the canal banks (a little west of Goole) nearly collapsed. Engineering surveys showed a need for extensive works, hampered by the fact that the work was adjacent to a small aqueduct taking a river under the canal.