By Alison Wilkerson
OVER the years I have met many dogs on the cut who either live aboard boats, are on day trips or are enjoying cruising holidays with their owners, families and friends.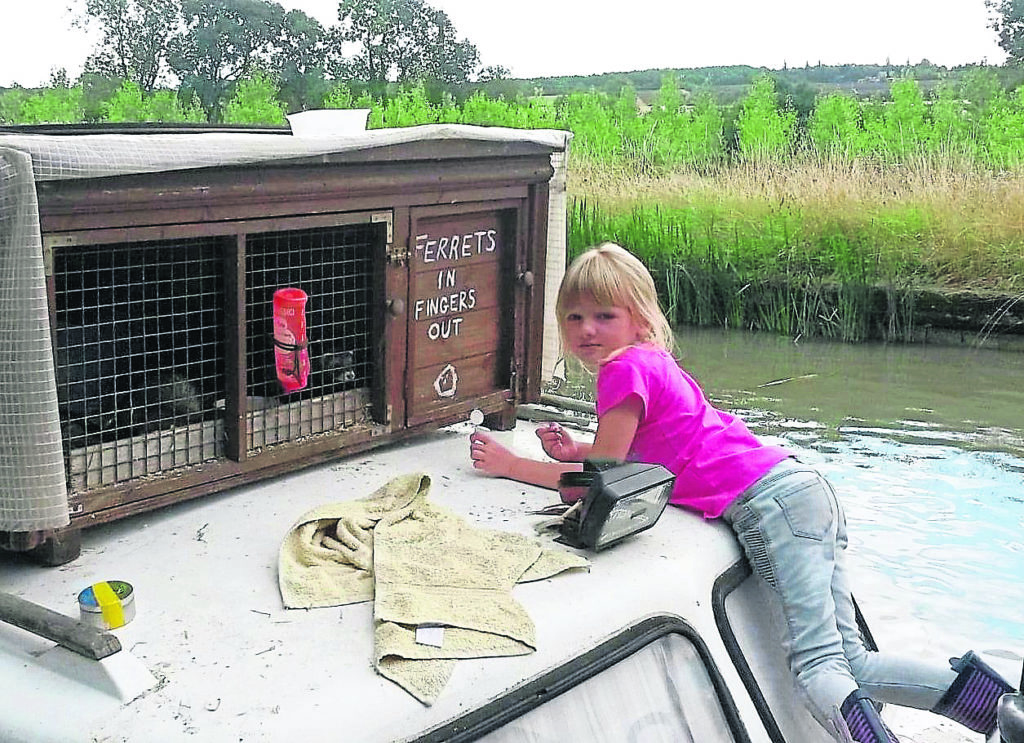 Many dogs live in peaceful harmony with other dogs and occasionally cats but two very special lurchers, 10-year-old Bowie (yes he has different coloured eyes, just like the late singer David) and 13-year-old Peggy, live aboard with four ferrets.
Richard Jones, their owner/guardian, is a care worker, runs a fitness club (boxing) and organises boot camps etc., as well as helping with looking after dogs and assisting with dog rehoming for friends and friends of friends. Well that's what friends are for and we all need friends who can help us out, especially in the close-knit boating community.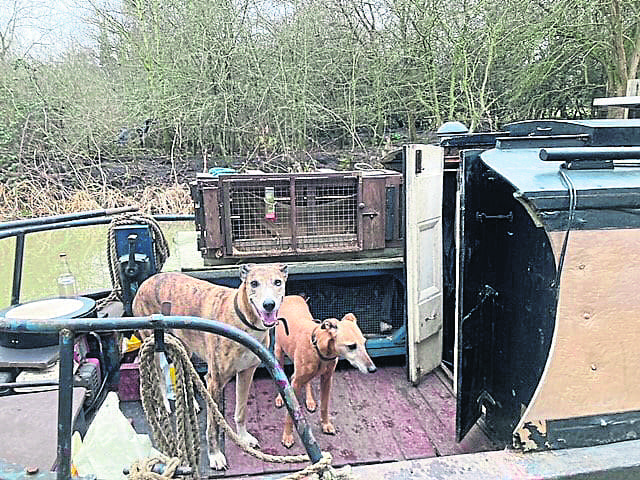 They all live on a 56ft ex-hire narrowboat which has the advantages of being well kitted out, powered by an air-cooled SR3 (diesel and oil) Lister with a steel hull and glass fibre cabin, built by Harborough Marines in 1975.
Richard bought the boat 22 years ago and started living aboard upon purchase, mooring firstly in a marina for a year as a requirement, but then continuously cruised, 'leap frogging', as many do, with his car.
Since then and like many others, he has never looked back on his life on the cut, which is mainly based around the south Midlands and includes the Oxford, Grand Union and Ashby Canals plus various arms on the waterways.
This was the first boat Richard had ever purchased and it's still going strong but he has owned another which was a little plastic one he got for his children who have spent most weekends living aboard over the years.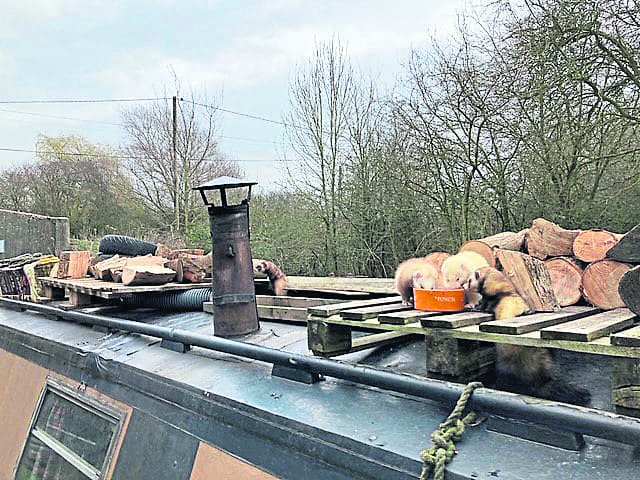 Both the dogs have been adopted – most recently Bowie, who is actually owned by a friend; however, he has spent more time with Richard since he was a puppy. Richard also rehomed Peggy three years ago, again from a friend.
Both dogs get on well with the ferrets who are all females (jills) which are less aggressive and less smelly than males, according to Richard. They are five-year-old sisters Snowy and Chocolate, three-year-old Coco and four-year-old Verity and they get on well too with each other and the dogs. Richard has them very well trained which he did using a rattle training technique when they were kits (the ferret word for infants).
They have the run of the inside of the boat as well as the roof and even the towpath by means of a moveable and ingenious housing/playing system which consists of two hutches connected by a 12ft tube, which they love.
Many a passer-by walking or cycling on the towpath, or even cruising past, are often surprised, shocked and intrigued by the sight of the ferrets. Families in particular love to see the foursome, as they can't help but bring a smile to the face of everyone who encounters them.
#petsonthecut #towpathtalk #canals #canalsandrivers #narrowboat #rivers #waterways #lifeonthecut #boating #boats