All the leaves are brown, and the sky is grey…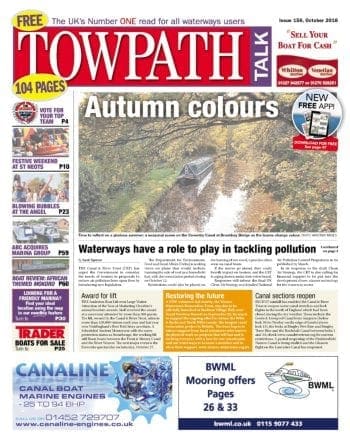 So sang the Mamas & the Papas in their 1960s hit California Dreamin', but if you don't fancy journeying all the way to the States, enjoy the changing of the seasons with the October issue of Towpath Talk – out now!
As we head into autumn, and the main boating and cruising season comes to a close, we can reflect on a most glorious summer… but one that also created problems on the waterways, not least with the closure of some canal stretches due to a shortage of rain.
At least the long, hot summer enabled many of the land-based events to go ahead very successfully, and within the pages of the latest issue you'll find reports of a host of get-togethers including Alvecote Marina's One Big Weekend, the IWA's Festival of Water at St Neot's, Oxford Canal Festival, the Angel Canal Festival in London and Tapton Lock Canal Festival.
There are some interesting tales from the natural world, namely good news for the water vole population and some seasonal pointers for the towpath naturalist; and Brian Jones turns his attention and his gaze to the skies for his latest towpath astronomer column that features a mythical winged horse.
Talking of horses, our regular columnist Cracker looks back over an excellent summer on the waterways, while Helen Gazeley visits a narrowboat which doubles up as a folk music recording studio. Phillippa Greenwood takes a peek inside a boatman's cabin, with images provided by Martine O'Callaghan, taken from their book Britain's Canals, a National Treasure in 100 Must-See Objects.
You can also get involved by voting for the Towpath Talk Top Team of 2018, with five shortlisted teams and their achievements outlined on pages 4 and 5. While the issue of Brexit is still fluid, the RYA seeks to try and ensure that recreational boaters' needs and concerns and heard as the negotiations continue to be hammered out.
In addition to your regular news, views and reviews, there are some furry friends to meet in our regular column, Pets on the cut, while holidays and places to eat are also featured prominently.
Don't forget if you are seeking a new marina, looking to sell your boat, buy a new one or find out more about the boating scene, purchase new accessories for your craft or just get an overview of the current world on water, there's plenty of fresh information in our 104 packed pages.
Article continues below…
Advert
How much does it cost? Nothing! And if you prefer to digest your news on the move, and are not able to picked up the printed publication at any of our outlets, you can keep up to date with the latest news from your favourite waterways publication on smartphone and tablet, as the latest issue is available via a FREE app now! The links for each mobile device are as follows: 
Apple: http://mrtns.uk/towpathapple
Android: http://mrtns.uk/towpathandroid
Kindle: http://mrtns.uk/towpathkindle
Flick through the latest issue of Towpath Talk below
Click here to open in a new window