Autumn leaves in russet hues are bringing vibrant colour to the UK's river and canal banks as we cruise into the season of mists and mellow fruitfulness.
And just like the hedgerows and trees are bursting with seasonal goodies that have matured over the summer, the October issue of Towpath Talk has an abundance of late-summer celebrations to share with readers.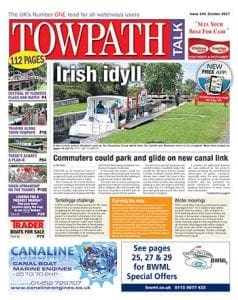 The latest 112-page publication is available at a host of outlets along the waterways system and contains reports from events up and down the land, including the Inland Waterways Association's annual Festival of Water, which attracted around 15,000 people to the Erewash Canal.
Editor Janet Richardson helped to celebrate the 200th anniversary of Ireland's Royal Canal by joining the Heritage Boat Association of Ireland; read her report on this and another significant event for the Emerald Isle, the opening of the Shannon Blueway Boardwalk.
The October issue is jam-packed with all manner of useful, intriguing and fun-packed news from the canal community. Towpath astronomer Brian Jones shows us where, when and how to spot the constellation Cygnus, the swan, in full flight across a backdrop of the Milky Way. There's a delicious recipe for damson almond crumble from the kitchen of Anna Pettigrew, and plenty of news about places to visit, stay at, and enjoy meals with family and friends as the days shorten.
New north-of-the-border contributor Cicely Oliver reports on a range of events and news from Scottish waters.
As usual Cracker the boat horse brings an equine slant to life on the canals, and we feature a host of new products to make life on board even better for boat owners.
Harry Arnold continues his memoirs, there are pages packed with news and views, and of course a plentiful selection of advertisements featuring chandleries, marinas, boat builders, product sellers and manufacturers as well as readers' own advertisements.
You now have an even wider choice of ways to access the information in your favourite waterways publication.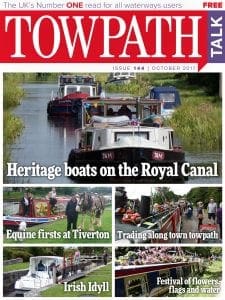 You can keep up to date via a FREE app; the links for mobile devices are as follows:
Apple: http://mrtns.uk/towpathapple
Android: http://mrtns.uk/towpathandroid
Kindle: http://mrtns.uk/towpathkindle
Or if you prefer, you can view the entire October issue – again, it's totally free to read! – below:
So feel free to enjoy the latest issue in whatever way suits you – in print, online or via your favourite mobile device – and of course this website will continue to provide you with updates on the issues involving and affecting the UK's canal network. Happy reading!
Comments
comments