Amazingly… we are almost in November! It doesn't seem so long ago that we had sizzling days, balmy nights – and worries over water availability at a number of locks. Now we have the annual change of clocks, dark nights drawing in, Halloween and Bonfire Night on the horizon, and then the rapid run-up to Christmas. Where DID 2018 go?
Your packed November issue of Towpath Talk will keep you up to speed with all that's happening on the waterways. Editor Janet Richardson travelled to the Houses of Parliament to attend the All Party Parliamentary Waterways Group's October meeting, and found out about restoration projects aimed at boosting the economy and tourism.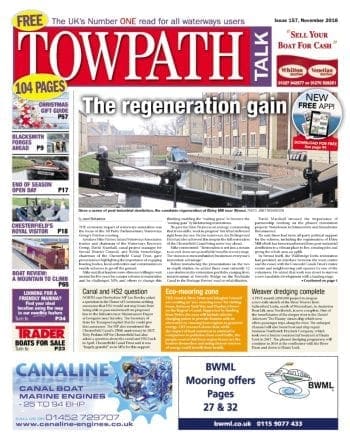 Are you one of those people who manages to get their Christmas shopping done nice and early? There's inspiration within the pages of the November newspaper, with gifts that boaters will love.
Helen Gazeley reports on crowdfunding appeals that have helped boaters in distress to rebuild their lives following tragedies on the canals.
There are plenty of forthcoming events to keep you entertained, even if you've concluded your 2018 cruising season, ranging from music and photography to courses and talks.
All your favourite columnists are inside, including Cracker the boat horse, and a host of regular features too!
You can keep up to date with the latest news from your favourite waterways publication on smartphone and tablet as the latest issue is available via a FREE app now! The links for each mobile device are as follows:
Apple: http://mrtns.uk/towpathapple
Android: http://mrtns.uk/towpathandroid
Article continues below…
Advert
Kindle: http://mrtns.uk/towpathkindle
Flick through the latest issue of Towpath Talk below
Click here to open in a new window