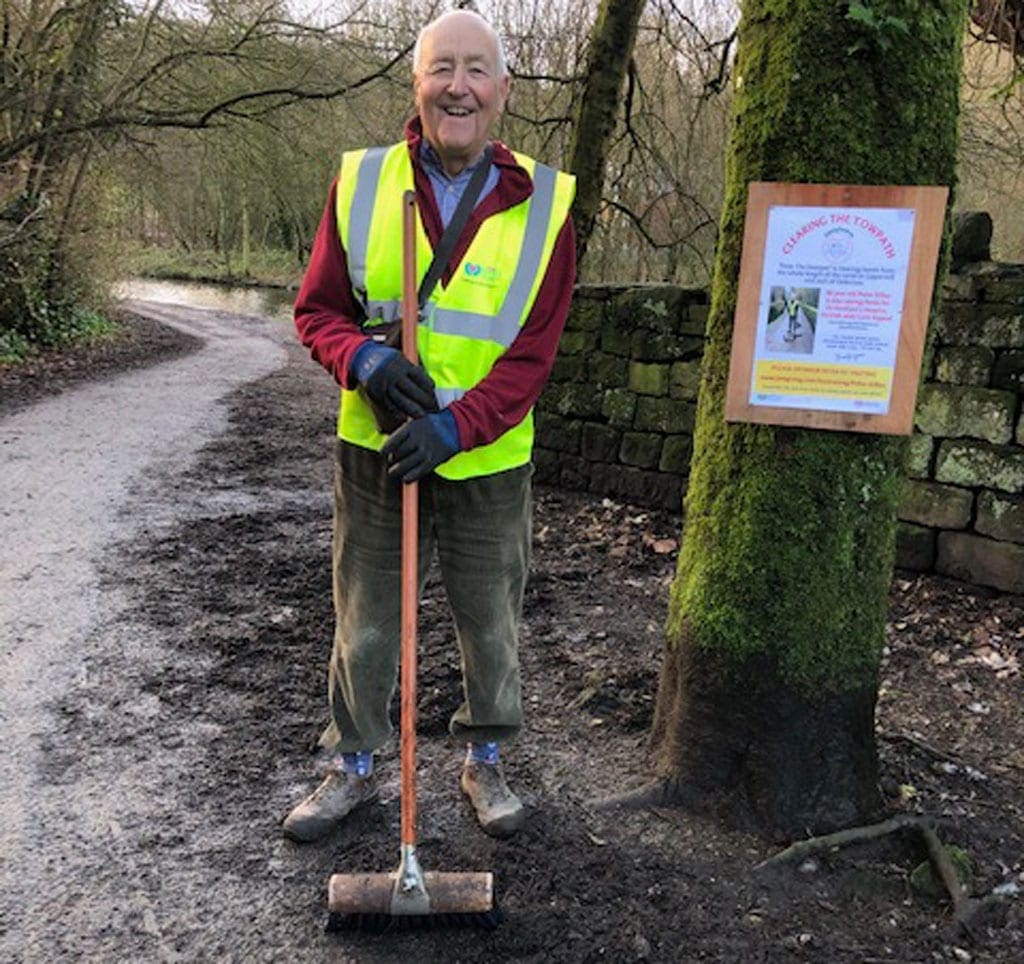 To celebrate his 80th birthday, Peter Killan – team leader with Uppermill Community Action (UCAN) – decided to clear leaves to raise money for a local good cause.
He felt that while spending his time voluntarily clearing the towpath during November and December he could help raise donations for Dr Kershaw's Hospice and make a real difference for the hospice and the patients.
He aims to single-handedly continue clearing the fallen wet slippy leaves from the canal towpath to ensure that the Uppermill length of the canal is completely clear by Christmas. To keep everybody safe, he has been working at quiet times on weekdays only and observing social distancing.
Peter has appealed for support to raise funds for the hospice's Furnish with Love – Give the Gift of Comfort appeal.
He has had an amazing response from local residents and towpath users alike and reached his original £1000 target in under five days from the JustGiving page going live. By the end of November, the total donated was £1422.
Peter told us this week: "I hit my target and finished clearing the 3/4 mile length of the Huddersfield Narrow Canal towpath from Wade Lock Uppermill to Wool Road car park Dobcross last Friday, as shown on the photo at the finishing point.
"The entire path is now free of leaves and mud and makes a good surface for walkers, runners and cyclists to use. I still hope to be out on the towpath at quiet times before Christmas tidying up and inviting users to donate, socially distanced of course."
Donations as on Monday totalled almost £4000, and Gift Aid will add a further £550, for Dr Kershaw's Hospice 'Furnish with Love – Give the Gift of Comfort ' Appeal.
The JustGiving page www.justgiving.com/fundraising/peter-killan will remain open for donations until at least New Year and Peter hopes that visitors over the holiday period will enter into the Christmas spirit and continue to give generously.
He added: "This fantastic amount would not have been possible without the generous support of our Saddleworth Community. A massive THANK YOU to everyone and best wishes for Christmas and for a much better New Year."