In the summer of 2019 Tim Langer sold the two canal marinas he had built and then run – at Crick and Cropredy – to the Castle  Marinas group.
After this became public knowledge, Tim Coghlan of Braunston Marina learnt that his longtime former business rival – for whom he had the greatest respect – would shortly  be heading for  his holiday home in Phoenix,  Arizona. Tim Coghlan managed to catch up with him last August, for a farewell pub-lunch in Devon.
There is a lock on the South Stratford Canal, which unlike the other numerous locks on that canal, stands deep and isolated in the middle of nowhere with no road or railway nearby and no barreled lockkeeper's cottage to bring a human element to the landscape.
To the former working boatmen, it was known as the 'Odd Lock', and the term was extended to boatmen who kept themselves to themselves – never going into pubs, or socialising with other boatmen when caught in a stoppage, or waiting to load or unload.
In a sense that 'odd-lock' term could equally be applied to Tim Langer. During his nearly thirty years of involvement with the canals, he was little-known to anyone – few of his moorers ever met him, or even knew what he looked like. And there were times when some of his own small number of staff did not know where he lived, or even  which country he was in.
He ran his business from his laptop – wherever he was – using the briefest of emails to issue instructions to his few staff. Working largely on his own, he handled nearly all of the back-office administration himself – online banking for paying salaries and bills and emailing new mooring invoices for customers for them to pay for online, which he closely monitored.
When I asked him at that lunch just where he had been over those years, he gave a reply would have delighted the French footballer, Eric Cantona – 'Wherever there was a good internet connection!' He would not be drawn further.
There were numerous rumours amongst his staff, and from them, his moorers, that he was a member of England Test Cricket's Barmy Army – those noisy supporters who followed the team around the world during the English winter. It was how he was spending his money, they said.
But when I asked Tim about this at our lunch, he said he did not follow cricket. The thought then hit me that what he was saying was true:  The following day would see the first day's play at Headingley of that test match against Australia and he did not even know it was on.
Although Tim's two operations were no more than a dozen miles to the north and south of mine, I had had very little to do with him, simply because he chose not to join in. His company was only briefly a member of the British Marine Federation in its early days, and latterly he only attended meetings arranged by British Waterways/ Canal & River Trust when water shortages were under consideration. His reason was that he was working very hard and found those other meetings of little relevance to his operations.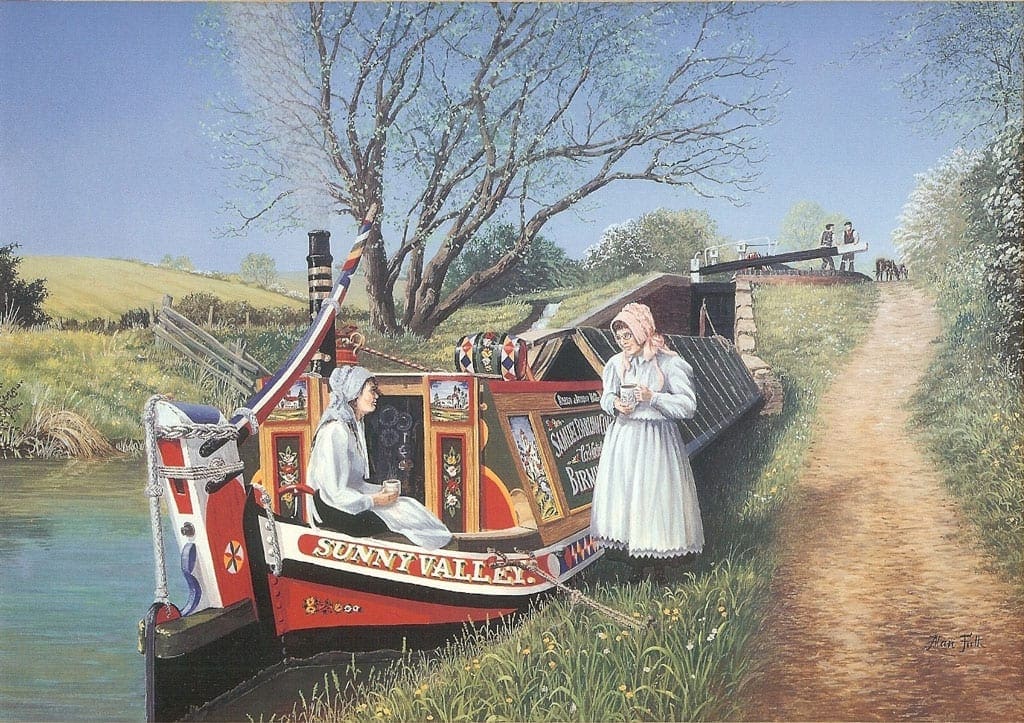 Yet largely as a one-man band, Tim founded in 1992 the highly successful Canal Craft narrowboat brokerage which revolutionised the way it was done. This he sold in 1997, a year after the completion of what transpired to be Phase One of Crick Marina.
Later there were Phases Two and Three, before he went on to build another marina at Cropredy. All told he built over 520 new narrowboat berths. In 2019 he sold both marinas to major operators Castle Marinas for an undisclosed sum.
For good measure, he agreed to BW's request to allow Crick Marina to become the home – since 2000 – of the highly successful Crick Boat Show after it had outgrown the site at Braunston Marina, where it was started and had successfully run for nine years. The annual show remains today the flagship of the inland waterways.
All told what Tim Langer achieved – without any formal training as a businessman or as an engineer – and he had only the most modest amount of personal capital – is an astonishing monument to one man's 'odd-lock' endeavours.
UK revisited
Although perceived as a New Zealander, Tim is British by birth, and has altogether spent far more of his life in the UK. He was born in Stratford-upon-Avon in 1952; his retirement from the canals in 2019 was at the age of 67, with all told, some 37 years spent here.
His parents had emigrated to New Zealand in 1959 when he was six, and he was educated there, taking a degree in business. He worked in computing in Christchurch until 1989, when aged 37, he decided to take a sabbatical to revisit the UK. He was accompanied by his girlfriend, and they went to work in London, where Tim got a similar position to what he had had in NZ with a software house, which he did for one year.
He takes up the story: "We lived near the commuter belt town of Hertford, and I went daily into London, seeing out of the train window the canal boats on the River Lea. From time to time, I went on business trips to Birmingham, going by train from Euston. Here I saw a lot of canal boats, as the Grand Union Canal runs in places runs very close to the railway. And that's what really caught my eye.
Our UK visit was meant to be a temporary one, but we both had now taken permanent jobs. However one year's commuting into London was more than enough for us. The idea was somehow floated that we could purchase a canal boat, and spend a year exploring the inland waterways of the UK. And that's what we went ahead and did.
We made an extensive search, including having a very bad experience with one of the main canal boat brokers and being unimpressed by the service we found elsewhere. So we looked privately, and bought an old bog-standard 48ft ex-hire Anglo-Welsh narrowboat with a GRP top – called Susannah.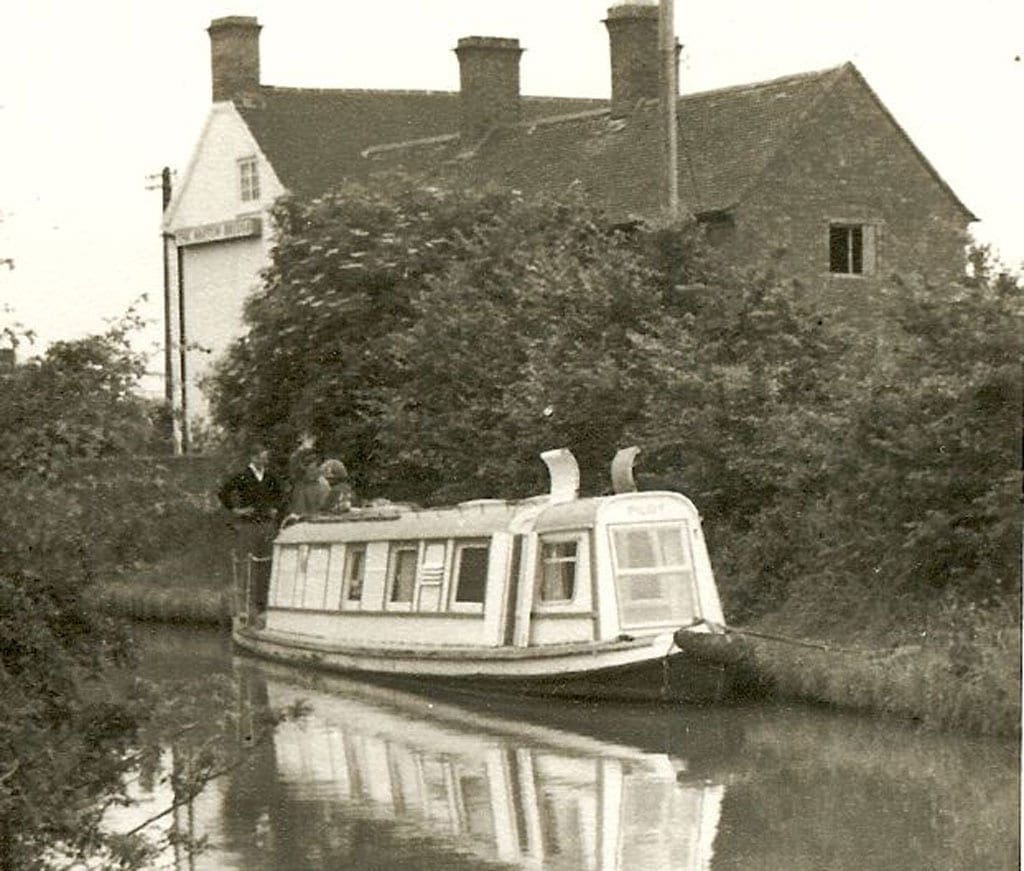 It was lying on its mooring outside the Napton Bridge Inn on the Oxford Canal. The boat leaked a bit round the gunnels, but it did the job, and I don't think we had any major calamities with it.
We took off with our cat, and went all over the country, from Easter till October. We did most of the system then available, except the Kennet & Avon, which had opened in the summer of that year. At the end of the season we sold the boat – unsurprisingly privately – and moved into rented accommodation.
Then the following year we bought a barge in Rotterdam and did a similar exercise in the Netherlands and France, and bailed out of that at the end of 1991. This time out was funded by selling a house in NZ and living cheaply – I had been doing well in the computer business in NZ and had money saved.
It was now time to go back to work, but at the end of two years out, I couldn't even get an interview for a job, let alone a job. So we had to make a 'binary decision' of either starting a business in the UK or returning to NZ.
Having had the very unimpressive experience of trying to buy a canal boat from that broker, I thought there might be an opening in the market for a more professional and dedicated brokerage service, using modern marketing and my knowledge of computers. We set off to follow that thought, which fortunately worked out quite well.
We started in 1992 at North Kilworth. I only had a handful of rented moorings at the boatyard, which was then being run by John and Debbie Sampson. We rented a house nearby."
Database of buyers
The couple set off in a blaze of innovative activity, beginning with ringing every private boat sale advertised in the canal magazines and offering their services. Just to get the boats onto their moorings at North Kilworth, they offered free moving of them, which on occasions they did themselves.
On the way, they fly-leafed every reasonable boat they passed, with information on their services, should the owners wish to sell. Boats they were instructed to sell received an individual page detailed write-up and photographs – whereas most operators including ourselves just had lists, with about four lines of text per boat.
Using Tim's computer knowledge, he set up a database of interested buyers, to whom the appropriate sales sheets were posted, with follow-up calls. They also took a well-presented stand at the Birmingham Boat Show.
Finally, to put the cat amongst the pigeons, Tim announced that they would only charge a 6% brokerage fee, where pretty well all the other operators were on the standard 8.5% recommended by the then British Marine Industries Federation.  He never joined what he saw as a cosy club.
Tim continued: "We were at North Kilworth for a couple of years, during which the brokerage business took off. Then we moved to Crick Wharf, taking on the moorings for half the basin, which we rented from the adjacent restaurant, who in turn were tenants of BW for the whole site. That half basin is now occupied by ABNB.
We had a Portakabin for our office. Later we fortunately heard that Bugbrooke Marina was about to change hands, and we stepped in and bought that, moving all our operations there.
Then my 'sidekick', who worked for me on the brokerage side, heard that the farmer with land adjacent to the canal at Crick could be interested in leasing some land to be developed as a marina. It was an ideal site, away from the village, with good clay, and ample land to spread the spoil. As lessees, we would only have to pay the development costs, and not purchase the land.
We met and did a deal. I had construction advice from a retired engineer, Peter Lee, who lived at Napton-on-the-Hill. He was the go-between with the contractors. I remember him as a very genial gentleman. We received funding from the Yorkshire Bank, which we were later able to repay on schedule as the marina quickly filled.
The construction of Crick Marina began in late 1995, and all went to plan, with no disastrous wet winter, and it was opened on April Fools Day 1996."
The new Crick Marina had Tim Langer's mark all over it. It was a budget no-frills marina, with water and a modern electricity supply to the all-new pontoons. But otherwise only the very basic services were on offer – gas, diesel, pump out, and rubbish disposal.
Due to planning constraints, no boat servicing was offered, but boaters could bring in their own people with the permission of the part-time marina manager, who had a liveaboard mooring in the marina as part of his remuneration. There was only the minimum landscape planting which the planners required.
Wake-up call
The formula had its appeal – especially to retired boaters on a budget – and the marina was extended in two further phases.
"We started with 110, then went to 175 in 1999, and then we added I think 87 in 2007 to make about 260 in all – some older moorings were changed. The marina was always about 95% full, including constant turnover with temporary moorers, which increased over the years as people's behaviour changed. I never had any yawning gaps."
Not long after the completion of Phase One, the decision was made in 1997 to sell the Canal Craft brokerage operation, still based at Bugbrooke. Tim had become aware that most of his innovative techniques were now being copied and built on by his competitors, including ourselves.
I think Braunston Marina was the first canal brokerage operation to launch a website, which we did in 1998. And Tim's 6% brokerage commission had now become the norm, with Whilton Marina taking the game further and offering 4%. Tim had given a wake-up call to the industry, and it was now time for him to move on.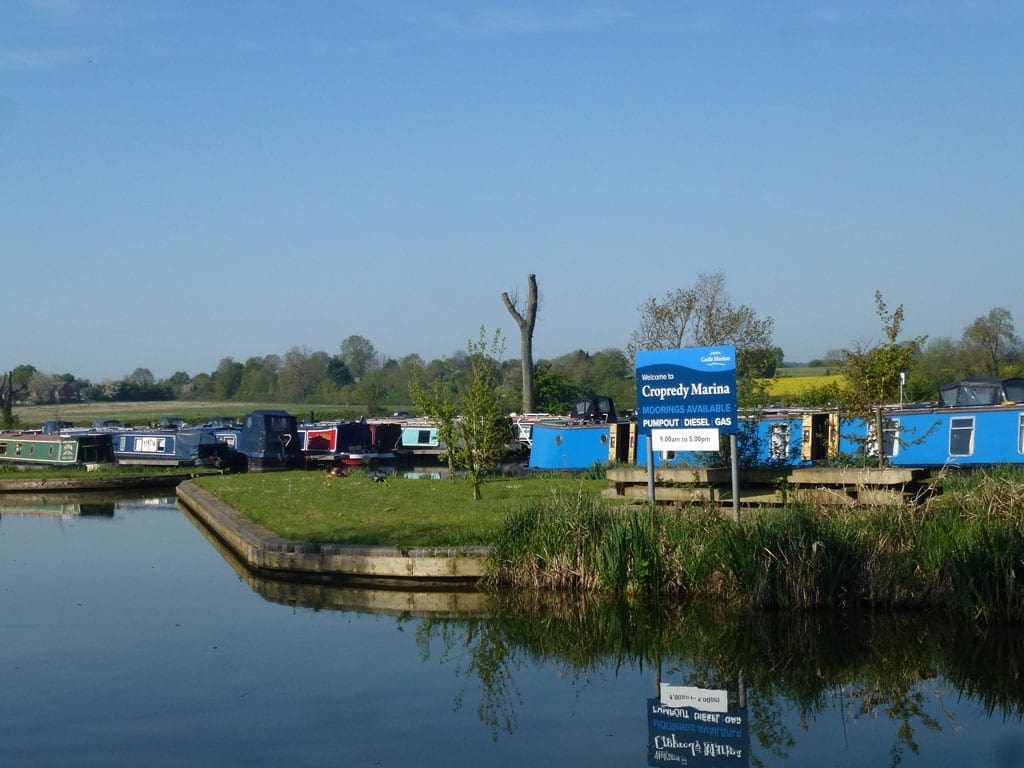 The new owners did not enjoy the results Tim had achieved, and for economy, moved their operation first to Blisworth and then to Shardlow on the Trent. Today this once mighty name on the canal-brokerage scene, has simply ceased to exist. The timing of Tim's sale could not have been more fortunate for him – as was the sale of his marinas in 2019 – only months before the outbreak of the unforeseen coronavirus.
In September, 2009, Tim was contacted by a marina development consultant about building a marina at Cropredy on land adjacent to the canal which had been owned for hundreds of years by Brasenose College, Oxford – one of the pubs in the village is called the Brasenose Arms, and is also owned by the college.
The intention was to do the same as at Crick, with a lease of the land, and Tim taking on all the development costs, including the risk of seeking planning permission.
Whilst negotiations were in progress, I was rung by the man-in-charge at Brasenose College for a 'confidential verbal reference' on Tim Langer.  I immediately told him my views – that Tim was seen by some as sharp, but he was straight, and he had always stuck to his deal at Crick.
More importantly, with his guts, drive and determination, the marina would be built. In this I was proved correct. By contrast it had not happened when for two years or so, Castle Marinas had had an option to build, and never took it beyond making an access agreement with BW – and had not even submitted a planning application. It was ironic that later the developed marina would be sold to Castle Marinas.
With the full support of the then British Waterways and Brasenose College, which  had strong links with the village, and Tim for once going public and attending a meeting with the villagers – and being charming to them – planning permission was granted.
But thereafter, Tim's luck seemed to run out. The Yorkshire Bank, which had supported him at Crick Marina, had gone through a major programme of branch closures and could no longer help.
Despite his track record at Crick, with all loans paid off on schedule, he struggled to find new bank support. His approaches to several high street banks met with initial favour, but his applications were rejected at head office level.
Tim recalled giving an onsite presentation to these city men in grey suits, and showing them both the Cropredy site, and what he had achieved at Crick Marina, but they were unconvinced. It was only on approaching another bank, which Tim diplomatically referred to as 'not my first choice', that he was able to obtain finance. He does not speak highly of the British banking system and its unwillingness to take risks and support enterprising businesses – whatever the advertisements tell you.
Fake news
The bad luck was to continue. Once building work had commenced that autumn, the weather broke, and the site turned into something reminiscent of the Somme battlefield.
Work by contractors Greenfords had to stop, and could not recommence until the spring, when the marina was intended to be opened, with boats lined up to fill it. It was not until the end of that summer that the marina finally opened – six months late.
In the immediate years that followed, Tim fell out with some of the villagers, who accused him of dragging his feet in terms of landscaping the site in accordance with the planning permission, and not screening the marina from the canal and the village with hedging and trees.
Tim's reported somewhat glib reply – that his moorers liked looking out on the canal – was not well received. The marina, some villagers claimed, had now resulted in an urbanisation and a visual intrusion into what had previously been open canal-countryside.  (This contentious issue of screening is beginning to be addressed by the new owners who planted 70 trees last winter, with plans to do more.)
With the lack of screening, the marina was also creating light pollution at night from the pontoon-bollards, to those villagers whose houses overlooked the marina. Some alteration to the lighting has since taken place, but it remains a contentious issue.
The villagers also became aware that contrary to the terms of the planning permission, a number of the new moorers were residential in all but name, proof being their registrations at the local surgery.
There were also accusations that some of those residential moorers had children living onboard and were sending them to the local school, which Tim vigorously denied as 'Fake News!' "The school principal confirmed to me in writing that this was indeed 'fake news'."
When Tim applied to extend the marina, it was received very differently, and it became a bitter battle. In the end he did obtain permission, despite the village. As a senior parish councillor commented: "The only reason he got it was because Cherwell District Council will support any development, and doesn't care about the canals. Just look what they have allowed round the lock in Banbury."
I asked Tim why he had not gone on to build the extension, which he worked so hard to obtain permission for.  "I had already reached the usual retirement age and had two options – to do it, or to sell the marinas with the added value of that planning permission.
"There was the hassle-factor. Having been through a failed marina application at Marston Doles, and the traumatising construction problems of Cropredy during a very wet winter, my enthusiasm was waning.
"If I hadn't received a good offer to sell, I would probably have cracked on and done it before the planning permission expired. I couldn't have gone back through the hassle of the planning process again. It will be interesting to see what the new owners decide to do."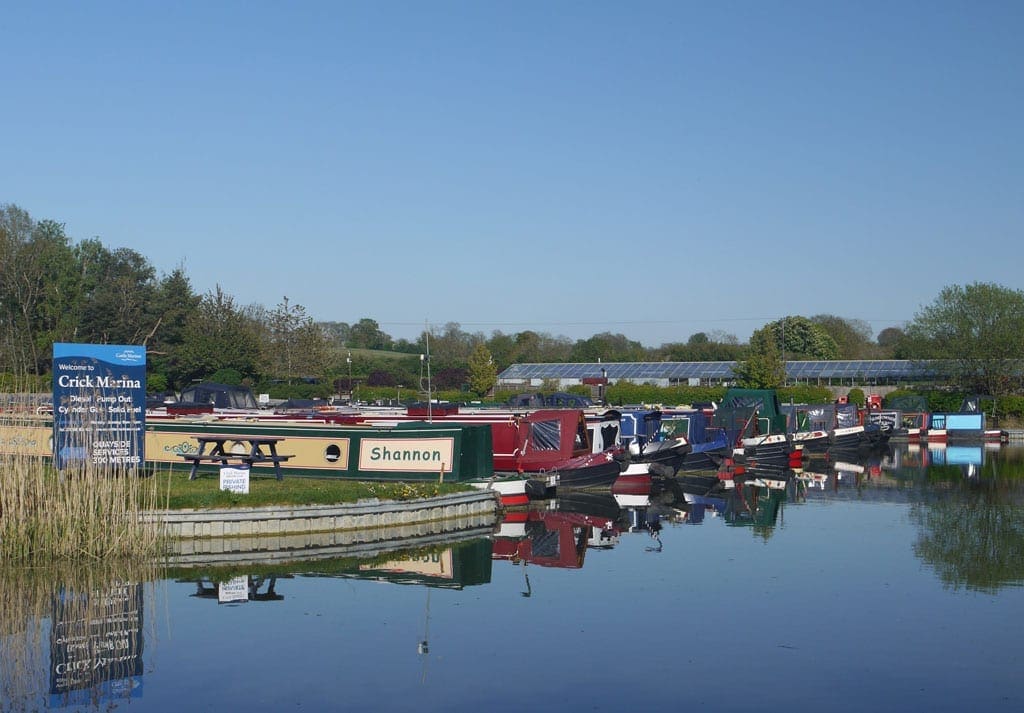 I said to Tim: "When you look back on it, very few of us had the guts to do what you have done." He modestly replied: "I have always taken things one step at a time, and you get there eventually. You get the planning, you get prices and you talk to experts and professionals. I don't have any specialist expertise at all. I just work my way steadily through."
I commented: "You've certainly made your mark on the canals. Those marinas will still be going in a hundred years time."  "Yes," he replied, "it's a nice contrast to a friend of mine who is investing in those large sheds going up beside the motorways. He doesn't have perhaps the same pride of ownership that I have had."
My final question was a simple one: "Do you think you have now finished with the inland waterways?" His reply: "Absolutely!"