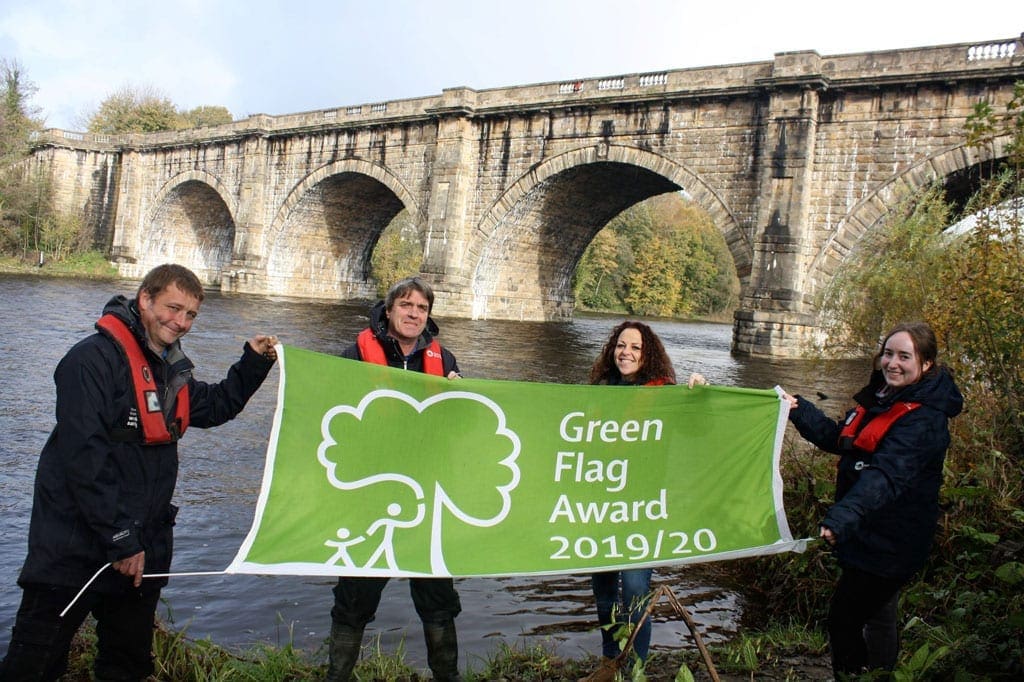 The picturesque Lancaster Canal, cared for by the Canal & River Trust waterways and well-being charity, has been awarded a second prestigious Green Flag Award by Keep Britain Tidy, recognising it as a 'well-managed green space'.
This year's award is for a 10.3 mile length from the canal's current terminus at Tewitfield, north of Carnforth, to the Lune Aqueduct in Lancaster.
This builds on the 19.6 miles from Lune Aqueduct down to Bridge 44 at Bilsborrow, which achieved the environmental gold standard in 2019. The historic Lune Aqueduct was also given a special heritage award this year.
Angela Parkinson Green, Lancaster Canal operations manager at the Canal & River Trust, applied for the award on behalf of the charity.
She said: "We were thrilled to receive recognition for this stretch of the canal and for the stunning aqueduct which carries the canal over the River Lune. This means that three quarters of the waterway has been assessed as achieving this high environmental standard.
"The Lancaster Canal is one of the country's most attractive waterways and is a popular spot for walking, cycling, angling and boating.
"We know that spending time by water is good for health and wellbeing, and we have seen record numbers of people enjoying it as a place to exercise and find a moment of peace during the pandemic.
"We have a brilliant team of staff and volunteers who all work hard to maintain and improve the canal and towpath. And we would love to recruit more volunteers, groups or individuals, who would like to come and join our wonderful towpath task forces or adopt a stretch of canal."
The Canal & River Trust, which manages 2,000 miles of the nation's waterways, holds Green Flags for 300 miles of its canals around the country and this year added a further 100 miles to this select group.
The Green Flag Award scheme, managed by environmental charity Keep Britain Tidy under licence from the Ministry of Housing, Communities and Local Government, recognises and rewards well-managed parks and green spaces, setting the benchmark standard for their management across the United Kingdom and around the world.
Commenting on our success, Keep Britain Tidy chief executive Allison Ogden-Newton OBE, said: "This year, more than ever, our parks and green spaces have been a lifeline and we know that millions of people have used them to relax, meet friends, exercise or simply escape for a short time.
"It is testament to the incredible dedication and hard work of staff and volunteers that, despite the challenges that went along with record numbers of visitors, the Canal & River Trust has achieved the highest international standards demanded by the Green Flag Award."
If you would like to volunteer, please email the Lancaster Canal volunteer team leader Anna Barlow on [email protected]. For more general information about the Canal & River Trust, including volunteering and donating, visit canalrivertrust.org.uk