Continuing our section bringing news of freight developments on the inland waterways. Jonathan Mosse reports.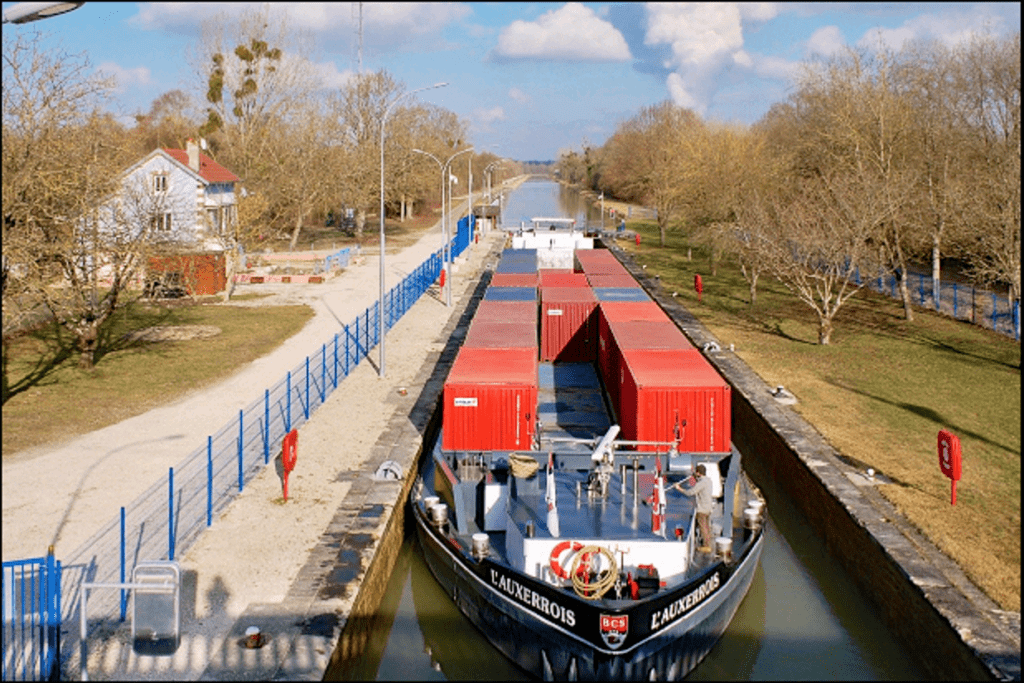 THAT the carriage of goods by water is by far and away the most environmentally friendly form of transport is not in dispute, so it is interesting to note what progress Britain, as the host country of this coming November's COP26 UN Climate Change Conference, has achieved in this area.
Whilst Glasgow – venue for the 2021 event – can boast of its maritime heritage and point to regular shipping on the River Clyde, a glance south towards freight carrying on England's inland navigations reveals a somewhat dismal picture.
Were Paris hosting this event, its inhabitants could point to France's local contribution to the new 107km Seine-Nord Europe Canal, due to open in 2024. Able to pass craft of up to 2500 tonnes, its locks measure 640ft x 37½ft on a draught of 11½ft, which means they can comfortably accommodate a push-tug and two barges.
This waterway forms part of the Seine-Scheldt Canal complex connecting the Seine Basin in Northern France with Belgium, Germany and the Netherlands and has a budget of €4.7 billion. Upon completion, it will go a long way to reducing traffic saturation on France's A1 motorway.
Replacing the parallel 19th-century route – with its elderly locks, dangerous river sections and low bridges – this new navigation will soon be dwarfed by the present Canal du Nord's 4500 tonnes capacity projected replacement.
This progressive, incremental upgrading of Europe's inland navigation system reflects its state funding and throws into sharp relief the historical truth that, in Britain, canal development was burdened by private ownership, where investors often favoured the cheapest option: a narrow canal.
Consequently, we come out rather poorly in the 'mine's bigger than yours' stakes with the best waterways, size-wise, that we can field being the Sheffield & South Yorkshire and Aire & Calder Navigations at just 700 tons, with a gauge of 200ft x 20ft on an 8ft draught.
In terms of both width and air draught (which is now realistically in the gift of mining subsidence) these dimensions are tantalisingly short of being able to accommodate a standard 20ft container loaded across a barge which, with regard to these navigations becoming worthwhile, revitalised 'engines' of Northern Powerhouse, should represent the initial target for an upgrade.
Outsize loads
Looking west, Esprit's Trafford Docks recently welcomed three large ships bringing oversize and overweight project freight up the Manchester Ship Canal from the destinations of Croatia and Germany.
In late May, the m/v Hendrik S brought three large 35 tonne silos from Rotterdam into the heart of Manchester, via the Ship Canal. These were fabricated in Germany, destined for the Heineken factory in Central Manchester.
In early June, the m/v Eems Transporter brought another four silos into Trafford Park, again all destined for the Heineken site.
Immediately after the Eems Transporter left her berth, the m/v Hendrik S returned to Esprit's Trafford Docks, this time carrying a 128.5 tonne electricity transformer. The transformer started its journey in Croatia as part of a larger consignment of transformers & equipment aboard the m/v Eems Servant. This transformer was then transhipped onto the Hendrik S in Liverpool for the final leg up the Manchester Ship Canal to Trafford Park.
Had these huge oversize and overweight cargoes needed to travel to Manchester by road from a coastal port, the traffic chaos and congestion would have been immense. It's fortunate that companies like Heineken still recognise the benefits of waterborne transport, as the much greener alternative and as means of avoiding the problems that would otherwise have been generated by these outsized loads.
Further south, on the Thames Estuary, not only do the payloads of waterborne traffic grow still larger, but the move towards green propulsion is accelerating with the news that Cory has announced that its fleet of tugs will run on biofuel.
The move follows successful trials that have resulted in a reduction of net carbon dioxide emissions by 90% – a major step in decarbonising the company's river operations and transport on the Thames as the UK targets net zero greenhouse gas emissions by 2050.
The biofuel, hydrotreated vegetable oil (HVO) will bring additional air quality benefits – reducing nitrous oxide (NOx) and particulate matter emissions by 19% and 21% respectively. HVO is produced from waste materials such as used cooking oil and waste fats, which do not release any new carbon dioxide into the atmosphere. The effective use of waste is consistent with Cory's broader business approach.
Cory has been operating on the River Thames since the company's incorporation 125 years ago in 1896. The current fleet of tugs are responsible for transporting more than 1 million tonnes of recyclable and non-recyclable waste per year. Cory's use of the river to transport waste is unique in the UK and saves 100,000 truck movements annually, helping to keep roads safer, cleaner, and less congested.