As it's the festive season, your Towpath Talk has been published a week earlier than usual. It's packed with all the latest news and views from the world of waterways across the UK.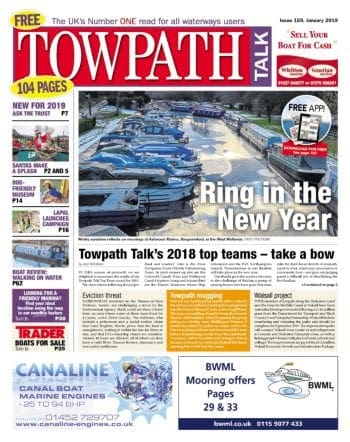 There's plenty of festive fun, and canine capers too, as we feature our latest 'Pets on the cut' and also 'paws' awhile at a dog-friendly museum!
An attractive new boat is featured – called Walking on Water – and if you're in the market for a boat in 2019, there are many to choose from within the packed pages of our latest publication! Given that it was such a cracking summer last year, and many people decided to enjoy the benefits of a summer holiday in Britain, it could become an exciting new trend among those who tend to take off to foreign climes.
The chaos caused by a drone being flown over Gatwick Airport may also have focused people's minds on a 'staycation' for 2019. What better way to relax and get away from it all than enjoying a week or more, gently puttering along the calm waters of a canal, allowing your cares to drift away as you observe a heron standing stock still at the water's edge, or perhaps watch the stars shift across the sky from a secluded mooring, or wake to hear the sound of birdsong?
Towpath Talk is packed with ideas – where to go, what to do, attractions to visit and even places to eat. So while you're enjoying your Christmas holiday, why not ponder the forthcoming spring and summer and make plans for a weekend away, a boating holiday with family or friends, and jot down upcoming events in your 2019 diary? There's always plenty going on at canals and waterways around the UK.
We at Towpath Talk would like to wish all readers, advertisers, boaters and others connected with our wonderful waterways a Merry Christmas and a Happy New Year.
Article continues below...
Advert
Remember you can keep up to date with the latest news from your favourite waterways publication on smartphone and tablet as the latest issue is available via a FREE app now! The links for each mobile device are as follows:
Apple: http://mrtns.uk/towpathapple
Android: http://mrtns.uk/towpathandroid
Article continues below...
Advert
Kindle: http://mrtns.uk/towpathkindle

Enjoy more Towpath Talk reading in the monthly paper.
Click here
to subscribe.
See more
boats for sale
and
sell your boat for free
with
Towpath Trader
.
Latest posts by Pauline Hawkins
(see all)