Jonathan Mosse's monthly look at freight developments on the inland waterways.
"WHAT we do is a bit odd" – so goes the summing up of Wood Hall & Heward's (WHH) commercial manager when pressed to describe the scope of his firm's activities.
First the easy bit: WHH Barges is a specialist in floating plant hire, water transport and infrastructure support, predominantly in the London area.
The firm can supply tugs, barges, workboats and floating plant complete with competent, qualified personnel to operate all these craft and their equipment. It owns and operates a large and diverse fleet of specialist vessels designed to meet a range of customer requirements on the UK's rivers and canals and is based beside the Grand Union Canal, just south of Rickmansworth.
Underpinning its activity is the firm's motto: 'Take the load off the road' which is, in turn, ably supported by the three founding directors' total of more than 90 years' experience. Tim Wood, Charles Hall and Gerald Heward started the company in 1997 to fill a gap in the market for a knowledgeable and professionally run inland waterways workboat, freight and infrastructure support company.
The fleet of 60 vessels includes large and small tugs, crane and HIAB barges, hoppers, pontoons, work-flats, welfare, safety and rescue boats. Tasks undertaken are varied and range from waterside civil engineering, through tug and towage contracts, to utilities support and towpath cable installation and maintenance, and can even include filming support! Proudly inscribed on its boats and plant, all smartly turned out in a grey, white and blue livery, are the words 'Tailored Engineering' which clearly reflects the fact that in this business, one size certainly doesn't fit all!
Rubbish disposal
I recently joined Lee (the aforementioned commercial manager) Toby and Chris early on a sunny spring morning in Little Venice aboard one of their ubiquitous Bantam tugs, all set to pick up a loaded rubbish barge that had been discreetly hidden around the corner, away from the view of visitors to Browning's Pool.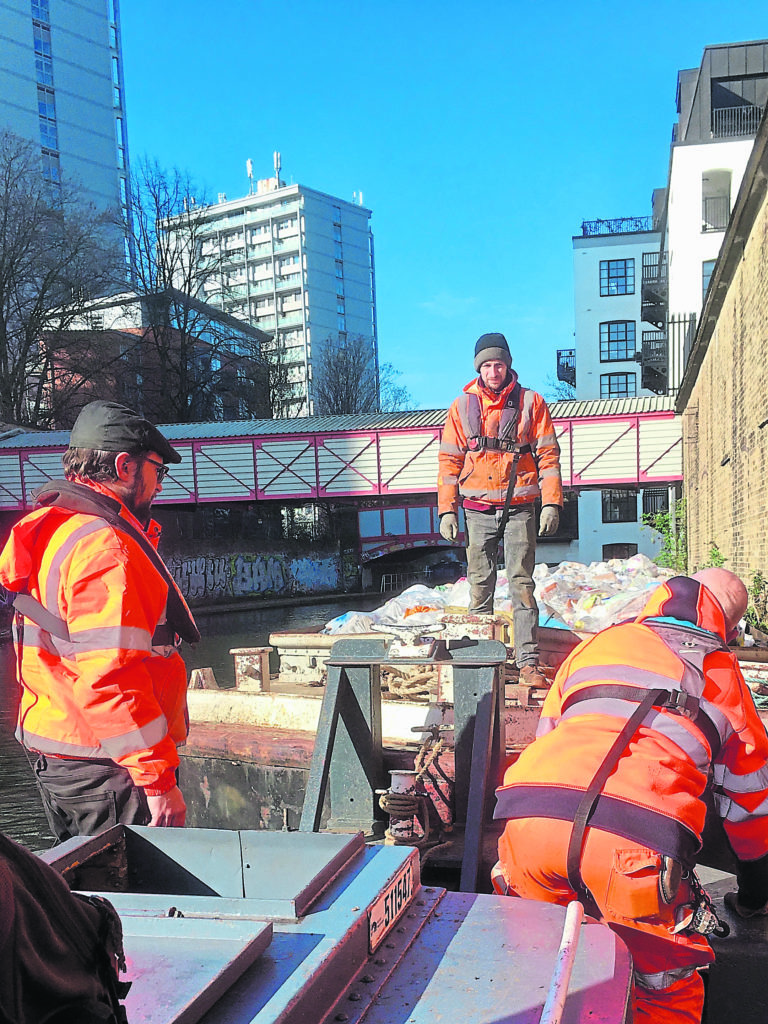 Rubbish disposal is probably one of the least glamorous jobs that the company undertakes but essential to the smooth running of any densely populated urban area. This particular consignment had been generated by the activities of Camden Market and spent the night midway between its origin and the recycling centre at Willesden.
Filled to the gunnels with DMR (Dry Mixed Recycling to the uninitiated) the barge was soon lashed in front of the tug just in the nick of time, before a broody duck took it into its head to construct this year's des res.
Progress is stately to say the least with this kind of cumbersome load ahead. But before too long we were tied up at Powerday's wharf ready for unloading, filling two large, high-sided skip lorries as the crew refuelled with bacon and egg butties from a nearby cafe.
This is not waste, bound for landfill, but a commodity that Powerday proudly proclaims will be 'powering the future' as, in its baled form, it will fuel energy from waste plants across the UK.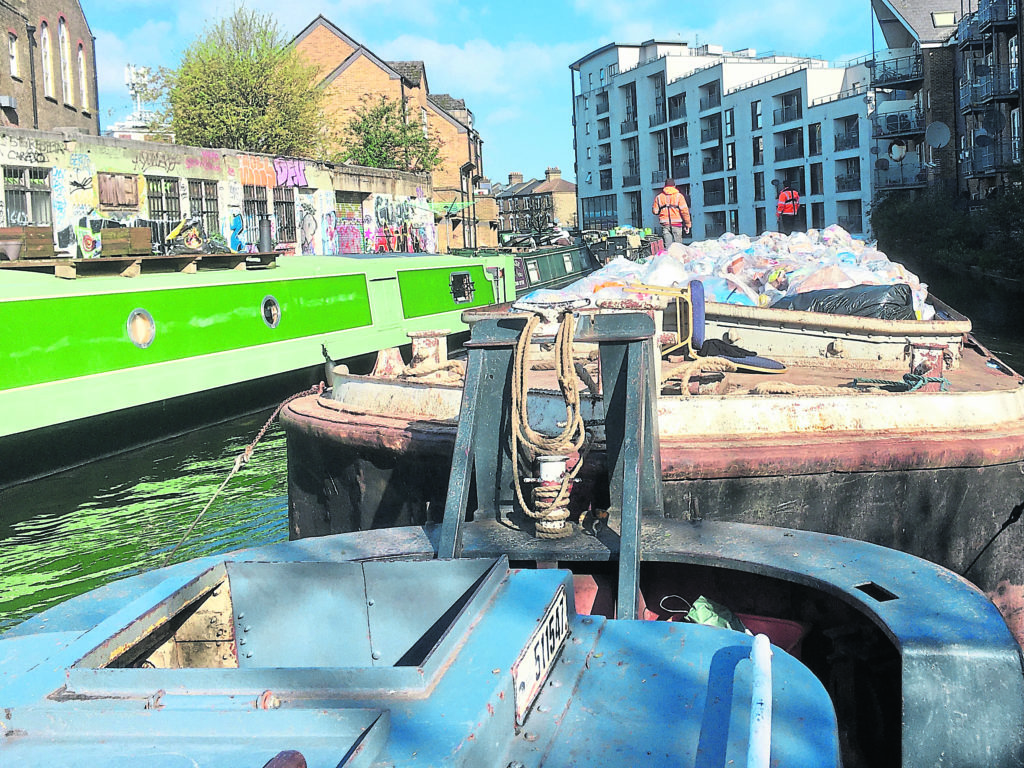 One of two weekly runs from Camden Market, this job contrasts with the activities of Scouser, another WHH Bantam tug and barge combo working nearby. As most boaters will be aware, towpaths are heavily used for utilities and throughout the London waterways there are miles of permanent ducting. This team was working with contractors preparing to upgrade the underground electricity supply and represents but one example of the civil engineering undertaken.
Above ground, and therefore more obvious, is the support WHH provides for building projects that fringe the capital's waterways, bringing in materials and taking away spoil.
Christmas 2022 was particularly busy for the company with the canal bridge carrying the West Coast Main Line out of Euston Station up for renewal.
Steel for constructing the bridge deck came in by barge while the demolished elements of the old masonry were ferried away.
Servicing waterside construction sites ensures the practicality of waterborne freight in the capital but at every turn WHH, in common with commercial carriers throughout the UK, is seriously handicapped by the shortage of remaining wharfs, most of which have become submerged under housing development. There are, for instance, fewer than half a dozen left on the total 22-mile length of London's Grand Union Paddington Arm and Regent's Canal put together.
'Odd' or otherwise: 'different' might be better! WHH clearly fulfils an important commercial niche on the waterways, embracing a wide span of expertise, and employing the skills of a dedicated and highly professional team.
#freight #towpathtalk #canals #canalsandrivers #narrowboat #rivers #waterways #lifeonthecut #boating #boats #canallife #canallifeuk