From Towpath Talk reader Kevin Roberts, and a reply from the Environment Agency!
NEW technology never seen before? No, it's a new take on an Elizabethan toilet system!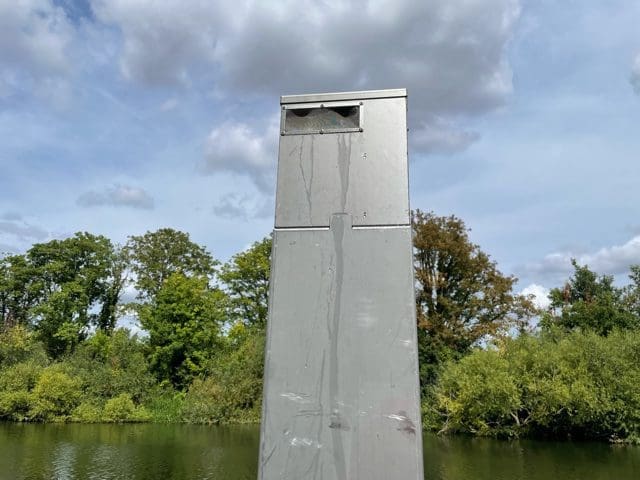 Between the years 1584 and 1591, Sir John Harrington, godson of Elizabeth I, invented a water closet with a raised cistern and a small downpipe through which water ran to flush the waste. He named it Ajax and built one for himself; when the queen tried it out during a visit in 1592, he built one for her too.
This one beside the River Thames runs water to your drinking water tank. The mains outlet has a 7ft-ish filler pipe connected to a reservoir not under pressure until you turn the valve. It fills the reservoir up and then the ballcock operates, allowing the water to gravity-feed into your tank, and it keeps up this cycle until you turn the valve off, just like a toilet cistern similar to that invented by Sir John; you had to pull a chain or push a handle for his to flush.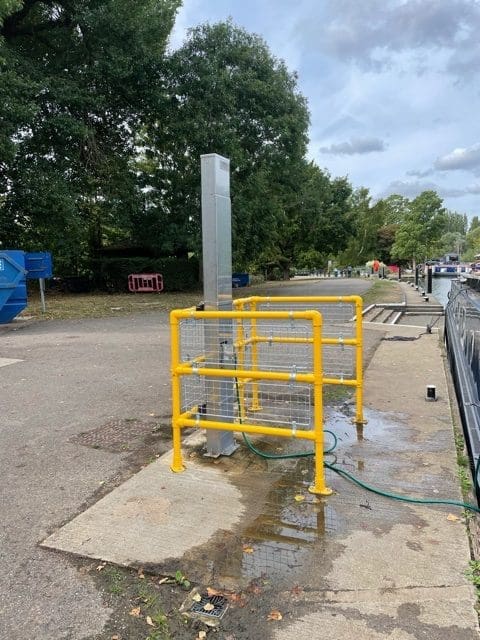 All very nice to look at but I believe there are issues with this system; the old system with a standpipe off the mains gives very little to no contamination and low maintenance. It didn't really matter if the toilet cistern reservoir got contaminated; it had a cover over the reservoir and was not for drinking anyway.
I have concerns with this 21st century system. Firstly, the reservoir, as I can make out, is protected by a gauze and bugs can put their little feet into unknown contaminated items, and then they can get in and swim around – or if you build a frame around it, as the picture shows, your everyday vandal can climb up and damage the gauze and put anything he likes into the system.
My next concern is the feed pipe and reservoir. If there is any standing water in the bottom, it could be a perfect breeding ground for Legionnaires' disease. There is a system to test for it in water systems but is this done?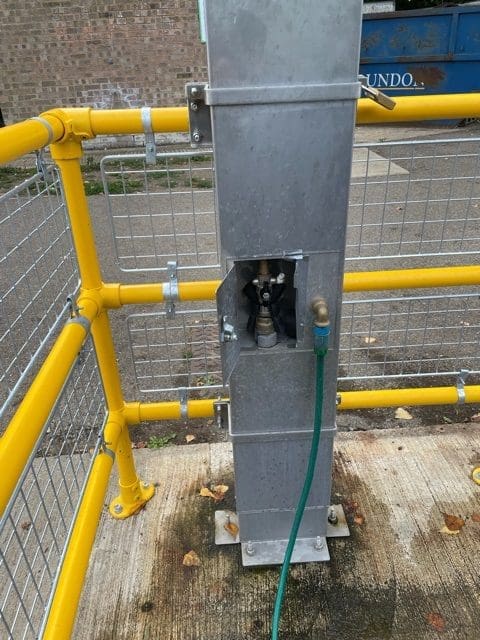 Now the gravity feed works – well, sort of. A boat I saw took some 1.5 hours to fill, 7ft gravity drop, then uphill some 4ft.
I have not seen the design of this structure but I am an engineer so I have a fair idea and believe it's not fit for purpose. Sorry Environment Agency, but I don't think you're keeping our drinking water safe.
The response:
An Environment Agency spokesperson said: "To remove water hygiene risks associated with our water supply points at our lock sites, we have installed anti-syphon and back pressure prevention fittings to our water taps. This means we're meeting the category 5 water regulation set by the water companies. We have also advised that our customer's hoses should not be longer than 7m to get the best flow rate.
"Although the Environment Agency does not have a legal duty to provide drinking water at our lock sites, our operational staff continue to investigate how our existing lock site water points can be improved."