Regularly topping 100 pages, Towpath Talk features everything you need to know about boats, marinas, wildlife, conservation, heritage and superb days out.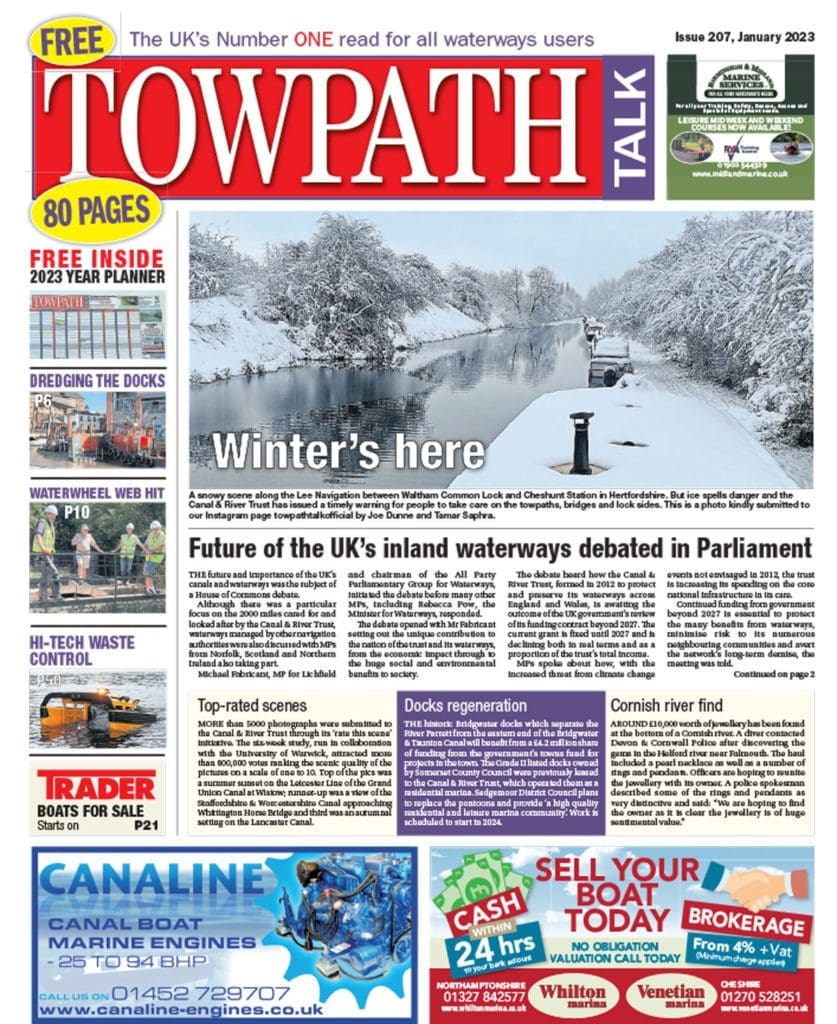 Whether it's news, reviews, reports or guides, we've got it covered right across the UK's entire canal network, and there's a substantial trader section for all your buying and selling needs. Towpath Talk is the best way to find out what's going on in British waterways today.
In this month's Towpath Talk …
Top destinations for 2023
From rural retreats to vibrant city centres, narrowboat holidaymakers can use their boat as a floating holiday home to explore Britain's network of inland waterways. There's a great choice of hundreds of waterside destinations and canalside pubs to stop off at along the way.
Could this be the shape of things to come?
Since the birth of the waterways, there haven't been that many alterations to the design of narrowboats; minor adaptations and trends have come and gone but the basic design hasn't undergone any significant changes.
Double win for Finsley Gate Wharf scheme
New craft apprentices are being trained in rare heritage skills by the Canal & River Trust in a double win at Burnley's Finsley Gate Wharf development.
As usual, Towpath Talk is full of useful contacts, whether you are thinking of buying, hiring or selling a boat, or have one that needs upgrading or repairing. There are ideas for holidays, places to eat, a selection of book reviews, and what's on! You can read the latest issue online, here.
So it's worth picking up a copy of Towpath Talk from your nearest chandlery or other stockists… copies are free! Or you can subscribe and pay just the cost of postage to make sure you get your hands on a copy each and every month. That's just £11.99 for a whole year's worth of news, chat, letters, tips and even gardening hints and recipes, delivered to your door. What's not to like?
Flick through the latest issue of Towpath Talk below
Click here to open in a new window