Regularly topping 100 pages, Towpath Talk features everything you need to know about boats, marinas, wildlife, conservation, heritage and superb days out.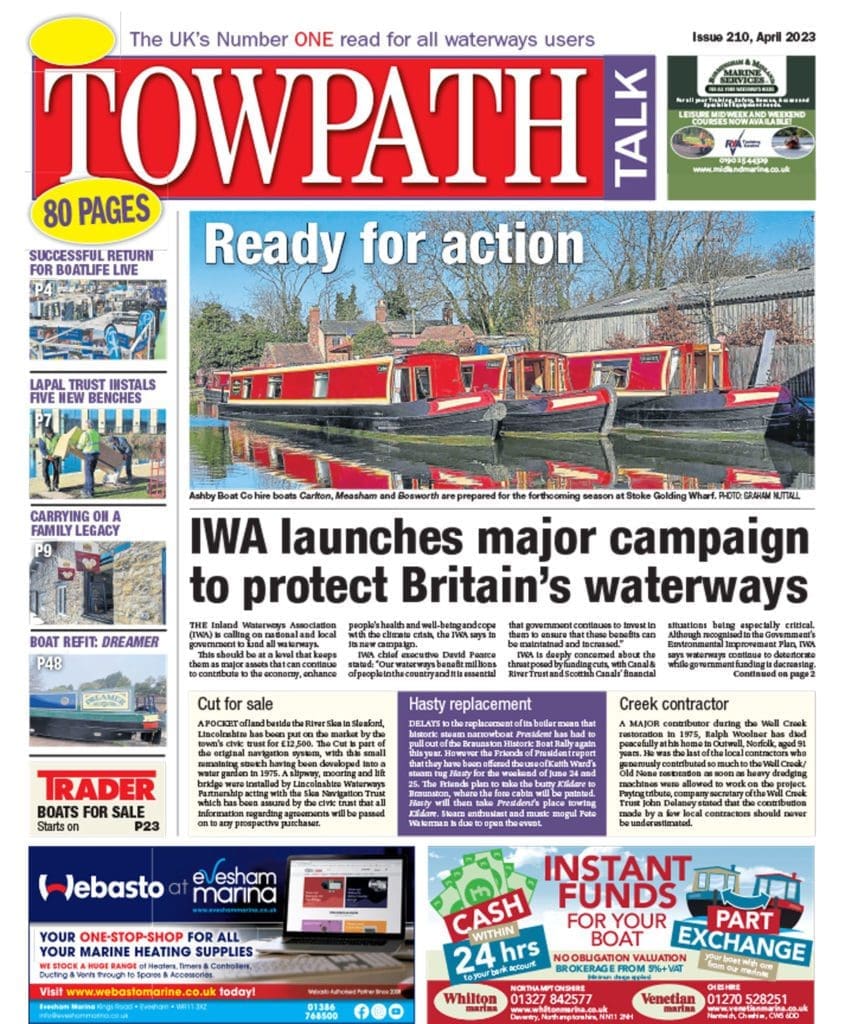 Whether it's news, reviews, reports or guides, we've got it covered right across the UK's entire canal network, and there's a substantial trader section for all your buying and selling needs. Towpath Talk is the best way to find out what's going on in British waterways today.
Inside this month's Towpath Talk…
Successful second BoatLife Live attracts 14,000 visitors
A lot has happened in the 12 months since the first BoatLife Live event was held at the NEC
Braunston bridge works under way thanks to legacy
The Canal & River Trust has started a series of improvements to the canal through Braunston, putting to good use a generous legacy of around £165,000 from the late waterways supporter and local resident Peter Andrews.
Canal-bank seats for the passer-by
TWO benches have beeninstalled beside the Grand Union Canal at Stoke Bruerne, Northamptonshire, to commemorate the lives of two of its well-known canal and community activists, David Blagrove (1937-2016) and Roy Sears (1945-2018).
Bradley branch and workshop visit for NCA spring meeting
More than 40 delegates from 22 restoration societies gathered for the spring meeting of the Northern Canals Association held recently at Bradley, in the heart of the Black Country.
They're not making them any more
Jonathan Mosse's monthly look at freight developments on the inland waterways.
Exploring your canal ancestry: finding toll and gauging records
Nicola Lisle continues her family history series by looking at how toll, gauging and other similar records can help you discover more about your ancestors.
Article continues below…
Advert
As usual, Towpath Talk is full of useful contacts, whether you are thinking of buying, hiring or selling a boat, or have one that needs upgrading or repairing. There are ideas for holidays, places to eat, a selection of book reviews, and what's on! You can read the latest issue online, here.
So it's worth picking up a copy of Towpath Talk from your nearest chandlery or other stockists… copies are free! Or you can subscribe and pay just the cost of postage to make sure you get your hands on a copy each and every month. That's just £11.99 for a whole year's worth of news, chat, letters, tips and even gardening hints and recipes, delivered to your door. What's not to like?
Flick through the latest issue of Towpath Talk below
Click here to open in a new window