Idle Women, the arts, environment and social justice collaboration is pleased to announce the launch of the Physic Garden Network on International Women's Day 2022. The Physic Garden Network is a website that responds to the changes in the seasons, rooted in a garden in the canal side physic garden that women are hand building in Nelson, Lancashire.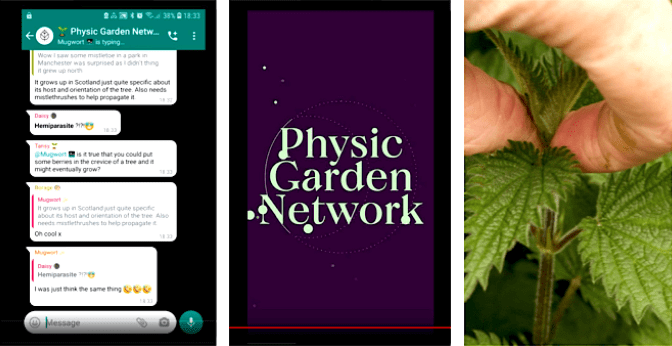 Designed by Vera van de Seyp, the Physic Garden Network invites women, wherever they are in the world to be part of Idle Women's Physic Garden through the sharing of a new digital compendium of knowledge, creativity and understanding, centered on the cultivation and use of medicinal plants and the urgent need for conversations about intersectional women's health.
The Physic Garden Network has grown from a UK-wide community of over 100 women who, for twelve months during the pandemic received compost, herbal ingredients and seeds by post including nettle, dandelion, yarrow, licorice and lavender as they connected through WhatsApp to meet, talk, grow and learn. The conversations, which took place every Monday throughout 2021, were hosted by writer and horticulturalist Alys Fowler, photographer Ming Denasty, artist Rachel Anderson, digital producer Charmian Griffin, endobiogenic herbalist Elizabeth Mara Baughman and artist Jazmin Morris. Together women shared recipes, learned to germinate and care for seeds, offered gardening tips, got to know each other and exchanged gifts from their growing spaces and foraging trips. Conversations have been extracted from hundreds of messages and migrated to the Growing Knowledge section of the site as informal guides that celebrate knowledge created through relationships. The evolving collection of conversational strands contains discussions on a range of topics including Using food packaging to germinate seeds, Growing seeds in the autumn and Cramps and asbos.
Physic Garden Network also presents Full Moon Reflections, a growing collection of new work by artists and creative practitioners including Nabibah Iqbal, Jazmin Morris and Vera van de Seyp, and Medicinal Plant Studies, a series of seasonal videos that introduce everyday medicinal plants.
Full Moon Reflections are digital artworks created through residency and commission, and allude to a peak or 'full moon' moment when things come to fruition. Nabibah Iqbal aka 'The Lockdown Herbalist' has produced rhizome, a sound journey stretching from Pakistan to Edinburgh via Lancashire focusing on the rooty medicinal herb haldi (turmeric). Creative computing artist and educator Jazmin Morris hosted an online discussion exploring what technologists can learn from nature, comparing the Physic Garden Network community with the digital community of the open-source technology movement. Graphic designer and creative coder, Vera van de Seyp was commissioned by Idle Women to design the identity for the Physic Garden Network and build the website. Van de Seyp's meaningful artistic response weaves the politics of the project into the fabric of the website, which she discusses on the website with Charmian Griffin, producer of the Physic Garden Network.
Medicinal Plant Studies is a series of cyclical videos created through a socially distanced collaboration between endobiogenic herbalist and teacher Elizabeth Mara Baughman and artist/filmmaker Annis Joslin with music composed and created by Babita Mundra. The videos are rooted in the garden in Nelson and are part of a broader learning and community programme of workshops and herbal apprenticeships. They were developed alongside an ongoing collaboration with a group of workers from women's specialist support services situated across the North of England. The group study endobiogenic herbalism in relation to women's health, anatomy, physiology, belief and lived experience in the context of exit and recovery from intersectional violence against women. A specialist publication will be launched later in 2022.
Article continues below…
Advert
Take a look, here
#internationalwomensday #towpathtalk #canals #canalsandrivers #narrowboat #rivers #waterways #lifeonthecut #boating #boats