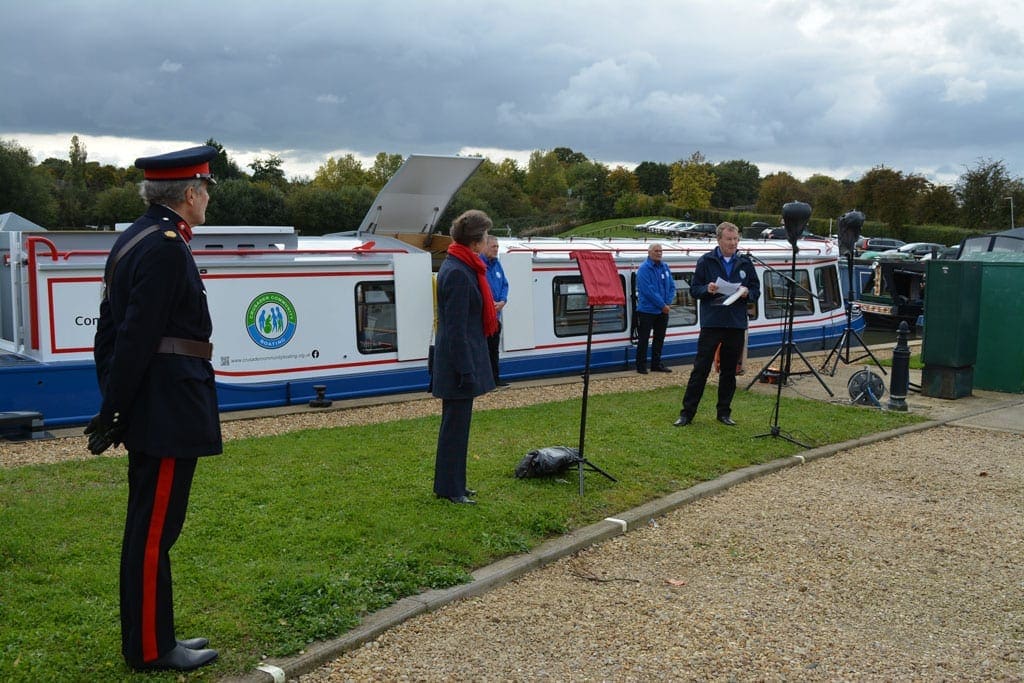 During a visit to the County on Wednesday, 14th October 2020, HRH The Princess Royal visited Blisworth Marina in Northamptonshire to launch a new passenger trip boat run by volunteer-led local charity Crusader Community Boating.
Her Royal Highness was welcomed by Her Majesty's Vice Lord-Lieutenant of Northamptonshire, James Lowther and introduced to Colin Neal, Chairman of the Trustees and one of the charity's Boatmasters.
During the visit, The Princess Royal spoke to the charity's Patrons David Laing and James Mackaness, and some of the crew volunteers. The Princess Royal was then shown around the boat, named 'Community Spirit', and heard about its design.
After a short speech by Mr Neal in which he thanked the boat's sponsors and acknowledged the lead role in fundraising by James Mackaness, Her Royal Highness unveiled a plaque commemorating the visit.
"It was an honour and a privilege to have Her Royal Highness The Princess Royal visit us to launch our new trip boat, especially in these difficult times," said Colin Neal, Chairman of the Trustees.
"Under normal circumstances, we would have been running boat trips seven days a week. However, as most of our service users, and many of the crew, are in the vulnerable category, all trips are on hold this year. Our focus is on ensuring we're in good shape to resume operations in a safe environment whenever we're able to do so', added Mr Neal.
The new boat was funded by contributions from a number of trust funds as well as individuals. The lead sponsor was the Bernard Sunley Foundation.
Other sponsors include: the Constance Travis Charitable Foundation, the Wilson Foundation, the David Laing Foundation, the James Mackaness Family Trust, the Northampton Branch of the Inland Waterways Association, Northamptonshire Community Foundation, the National Lottery Community Fund, the Northampton Municipal Church Charity, Chicheley Lodge of Freemasons and Walk for a Cause, a local charity raising money for good causes.
Crusader Community Boating believe they are the only organisation on the canal network providing free day trips for people with physical or mental disabilities as well as elderly people in care homes, relying instead on voluntary donations.
The new boat will enable the charity to significantly increase its core activity as well as introducing a new service for primary schools.
The 'floating classroom' will provide an exciting and meaningful environment in which children might gain an appreciation of the importance of water safety. They might also learn a little about the rich local canal history and the fauna and flora along the waterway.