A cast iron registration plate and a guide to the Norfolk Broads dating back at least 100 years are two items that make the headlines in Geoff Courtney's bi-monthly round-up of canalia sold at auction in recent months.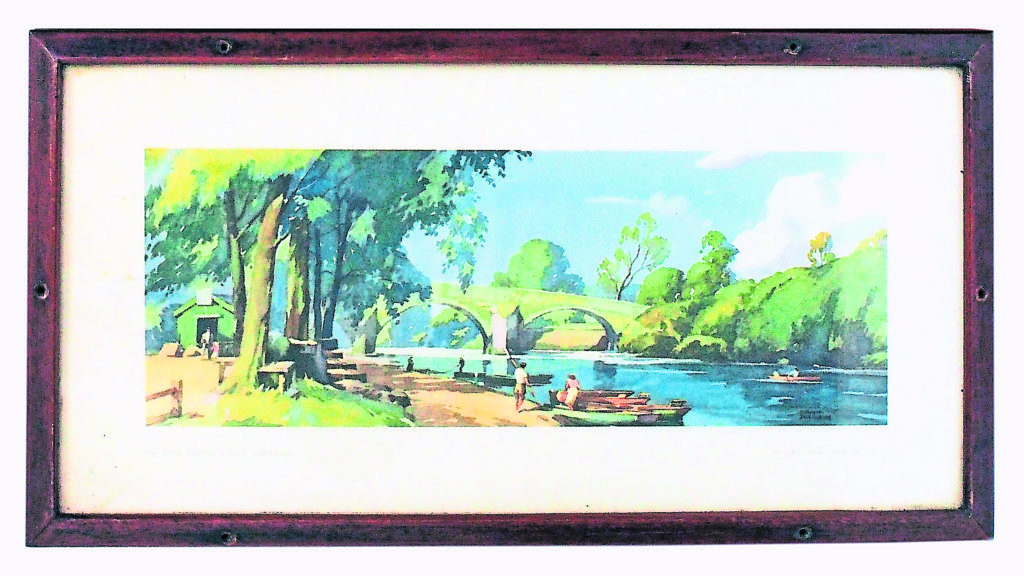 THE registration plate was BCN1461, which sold for £70 in a live online Great Central Railwayana auction on February 18. It was from Birmingham Canal Navigations, one of the world's most intricate canal networks that comprises 100 miles of navigable canals connecting Birmingham, Wolverhampton and the eastern part of the Black Country.
In the same auction, a framed British Railways carriage print of the River Wharfe in Yorkshire, illustrating leisure craft and a rowing pair, fetched £30. It was the work of Frank Sherwin (1896-1986), a respected Derbyshire-born maritime and landscape artist, and included in the lot was another carriage print, of the Yorkshire spa town of Harrogate by Jack Marriott. The registration plate and carriage print prices exclude buyer's premium of 15% (+ VAT).
Transport collectables specialist Paperchase frequently includes in its quarterly email and postal auctions items that appeal to enthusiasts of inland waterways, especially those whose interest is in their development and history, and its 800-lot auction that ran from January 14-31 continued that theme.
Five such items of canalia went under the hammer and, as ever with Paperchase, the realisations could definitely be regarded as bargains. Top of the selection at £42 was a coloured eight-page leaflet titled How to Arrange a Holiday on the Norfolk Broads, published by the Great Eastern Railway.
The cover featured a photograph of a wherry that epitomises the Broads and the date of publication was estimated by Paperchase to be circa 1900s, and would certainly have been pre-1923, as the GER became part of the LNER on January 1 that year following the creation of the 'Big Four' railway companies.
Article continues below…
Advert
At £22 came an Act of Parliament dated 1791 for building a canal from Birmingham to join the River Severn near Worcester – now the 29-mile Worcester & Birmingham Canal – while 50 black-and-white negatives of the railways of the Manchester Ship Canal taken in 1969 went under the hammer for the same price.
Finally for canalia collectors there was a Severn Navigation Company prospectus from the 1820s that sold for £19, and a second Act of Parliament, for building a canal from the River Dee in Chester to Middlewich dated 1772 (£13). Prices exclude buyer's premium of 12.5%.
Paperchase principal Brian Moakes told Towpath Talk: "There are signs of increasing interest in inland waterways memorabilia, possibly due to the historical links between canal and railway companies. The auction prices are generally not even close to some of the heady railwayana realisations, but I am delighted to be offering them through Paperchase."
Article continues below…
Advert
#auctions #towpathtalk #canals #canalsandrivers #narrowboat #rivers #waterways #lifeonthecut #boating #boats #canallife #canallifeuk