Canal & River Trust, the national canal charity, has completed the project to rebuild the Grade II Listed Hazlehurst Bridge on the Caldon Canal near Endon in Staffordshire.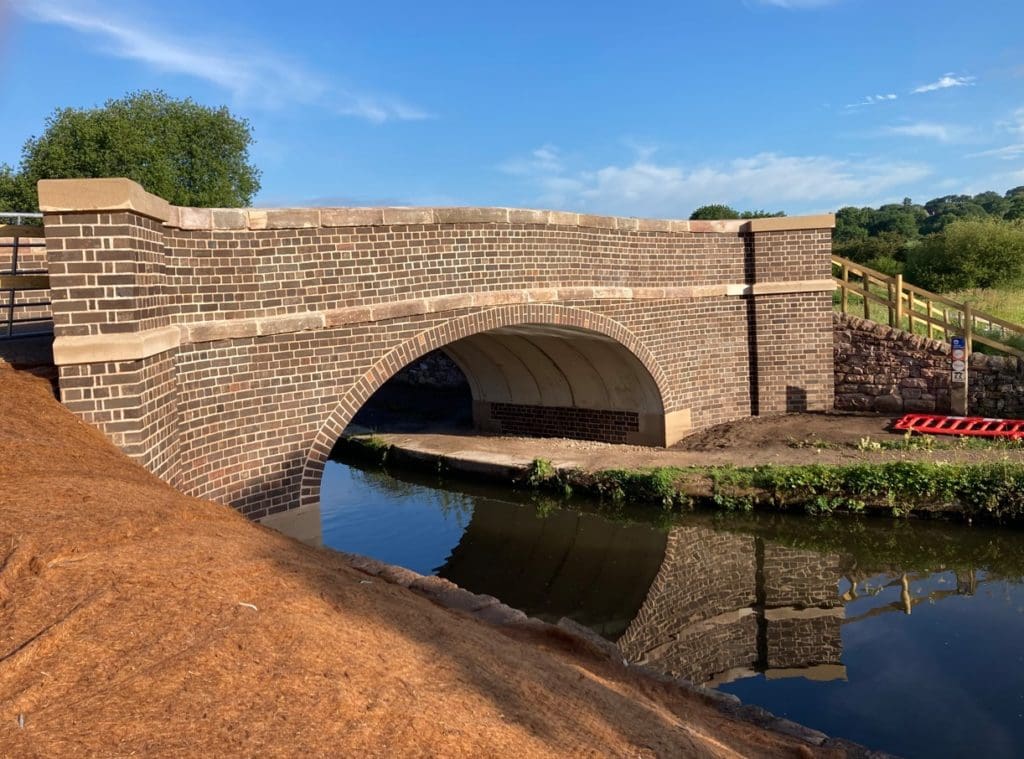 The 12-month project, costing £2 million, was enabled by an award from the Postcode Earth Trust, thanks to funds raised by People's Postcode Lottery players.  It has seen the bridge rebuilt in its former location and with the same form, scale and character as before, with many of the original stone copings reused.
Hazlehurst Bridge is an accommodation bridge that provides access across the Caldon Canal for farmers and residential boaters. It also provides access for the Trust for maintenance work. It was irreparably damaged three-and-a-half years ago during repairs to Hazlehurst Bottom Lock.
Adnan Saif, director for West Midlands at Canal & River Trust, says: "The Caldon Canal, originally built to transport limestone from the Peak District for the iron and pottery industries in Stoke-on-Trent, runs through some of the most outstanding scenery on the canal network.
"Constructed at the end of the 18th century, Hazlehurst Bridge is one of over 2,700 listed structures in the Trust's care.  We are grateful to the support of People's Postcode Lottery players for enabling us to rebuild this historic bridge within a particularly fascinating section of the waterway, with multiple historic structures and a rich story to tell. As a charity with increasing cost pressures and with news that the government is cutting support to keep canals open, it's important we secure external investment to help us restore, protect and preserve our historic waterways to ensure that we don't see the decline that took place in the early 20th century."
The Trust re-opened the Caldon Canal to boats at Easter, and the towpath and local Public Right have now re-opened too.
Article continues below…
Advert
For more information about the project, go to www.canalrivertrust.org.uk/hazelhurstbridge (where a series of films with project managers is available), call Canal & River Trust on 03030 404040, email [email protected] or tweet @CRTWestMidlands
For more information on Canal & River Trust, including how you can donate money or volunteer to support their work, visit www.canalrivertrust.org.uk
#hazlehurstbridge #canalandrivertrust #towpathtalk #canals #canalsandrivers #narrowboat #rivers #waterways #lifeonthecut #boating #boats #canallife #canallifeuk
Article continues below…
Advert