Birdswood, the trip boat of the Friends of Cromford Canal, the trading arm of the charity, based at Cromford, is at the time of writing (end of September), stuck at its mooring due to low water levels. All booked journeys for the next couple of weeks, at least, have had to be cancelled. In addition to the low flows from the water source, the Bonsall Brook, that fills the canal at Cromford Wharf, , Derbyshire County Council (the owners of the canal) are actively investigating potential leaks. They have already undertaken ground penetrating radar surveys and are now trying to identify the worst leakage areas and intend to fix the leaks by using a contractor to deal with the offending areas.
Birdswood, has had a very successful season this year, with the new extended trips which focus on industrial archaeology, wildlife and ecology, with an FCC guide, proving to be highly popular. Passengers, having travelled from Cromford, disembark at Leawood pump house, to be met by guides who conduct the passengers, in three groups, to Leawood Pump house, Aqueduct cottage and Wigwell Aqueduct. Initially, early this year, only two extended trips were planned, to see what the take up for the trip would be like. They were so popular, several more were planned and now at the end of the season the FCC boat committee and crew have had to cancel the last two because of low water level. But, with the popularity of the trips, they will be a significant part of next year's cruising program. The Aqueduct Cottage which has been under restoration for three years, the official launch and opening has been delayed until April 2023.
This year's cruising with Birdswood, was officially due to finish on the 30th October, but with the water level problem, it may be earlier. There is a bye-annual in water inspection by inspectors of the Maritime & Coast Agency during November, which means all the fixtures and fittings in the boat, have to be removed to allow the floor panels to be lifted.
One very nice exercise which was started mid-way through last season and continued this season, every two weeks, a group of the ladies from the work party together with some of Birdswood crew, clean the boat inside and out. The pride of those ladies doing that job is great to see and we have had a lot of positive reviews about the cleanliness of Birdswood from passengers, verbally and on the Birdswood website and Trip Advisor.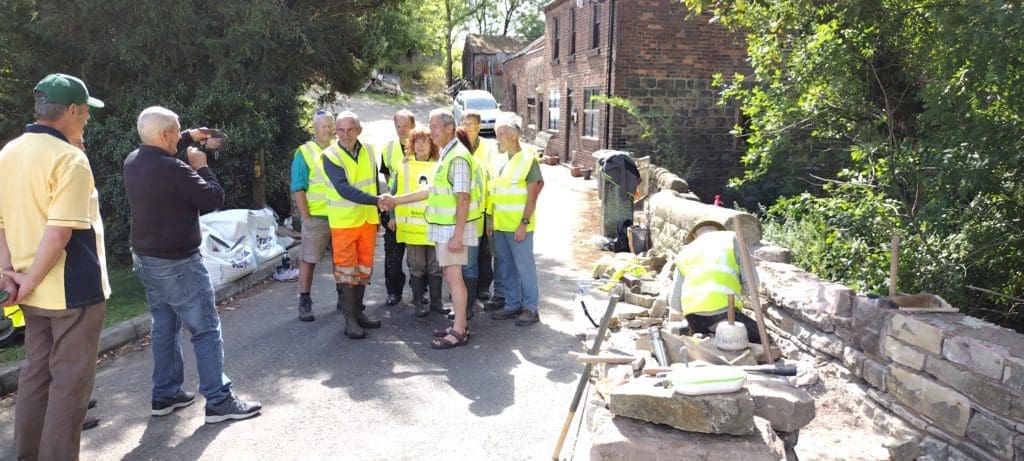 The FCC has had a presentation of new hi viz for the work parties and the Birdswood crew, from Amber Valley Rotary Club. The work party presentation was at Sawmills where an original wall of the canal was being rebuilt. The presentation party from Amber Valley Rotary Club, then moved to Cromford Wharf to hand over the Green hi viz to Birdswood crew, before the boat set off on the afternoon sailing.
#towpathtalk #canals #canalsandrivers #narrowboat #rivers #waterways #lifeonthecut #boating #boats
Article continues below…
Advert