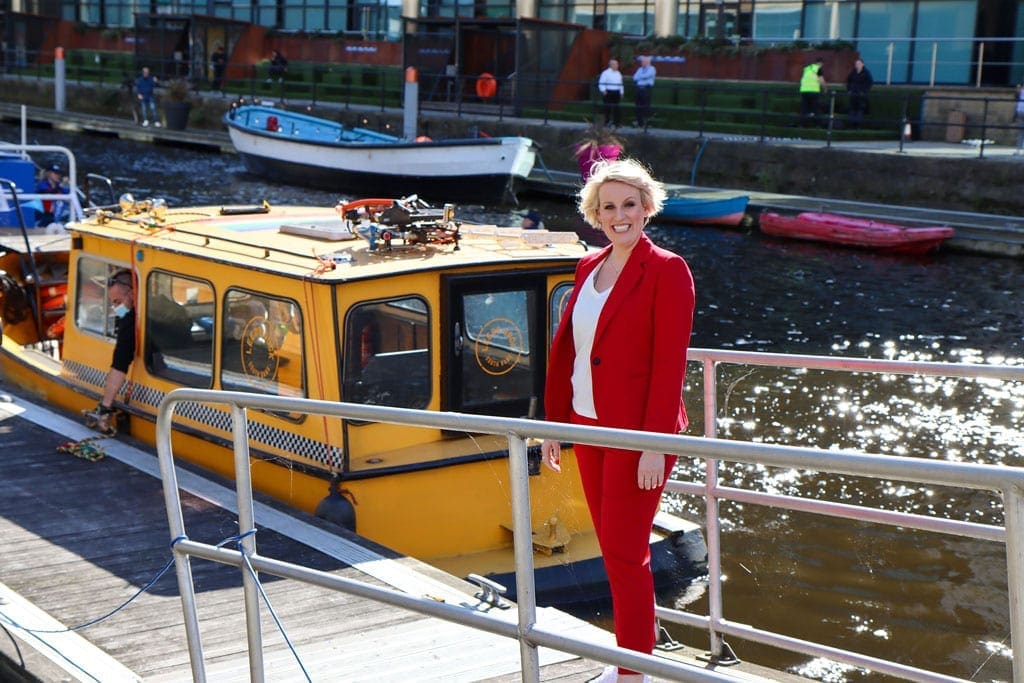 Staff from waterways and wellbeing charity, Canal & River Trust were on hand to give a warm waterways welcome to their new neighbour Steph McGovern. Today, the former BBC Breakfast presenter launched her new daily lunchtime television show – Steph's Packed Lunch.
Steph arrived at her new studio at Leeds Dock via water taxi on the Aire & Calder Navigation, welcomed by a socially distanced crowd – with music, dancing and cheers.
Becca Dent, strategic programmes delivery manager and Jade Wilkes, community roots engagement coordinator helped to escort the water taxi in the waterway charity's canoes.
Lizzie Dealey, partnerships and external relationships manager joined Joy Van Rensburg, community & youth events coordinator to cheer on Steph from aboard the Trust's workboat 'Beale'.
Local boater Caleb Price and his wife Fiona were also on hand to cheer from their narrowboat.  Caleb was one of the first to bring his boat into the newly regenerated Clarence Dock area almost quarter of a century ago, with the 1996 opening of the £42.5million purpose-built Royal Armouries Museum.
Article continues below…
Advert
Becca Dent, strategic programmes delivery manager said: "In the absence of Leeds Waterfront Festival this year, due to Covid-19 restrictions, we've really missed seeing Leeds Dock draw in the crowds coming to enjoy music, performance and activities on the water, so it was especially great to be giving Steph a warm waterways welcome.
"With the new studio overlooking the water at Leeds Dock, it would be great to see Steph and her guests making the most of this fabulous waterside setting and getting afloat themselves by canoe or even paddleboard."
Article continues below…
Advert
Pete McCabe, community engagement manager (Yorkshire & North East) for the Trust, said: "It was really great news for the city when Channel 4 decided to relocate to Leeds, and we've been really keen to work with them to show off our fantastic network of waterways and highlight the amazing work of our staff and volunteers."
Steph's Packed Lunch is broadcast live on Channel 4, weekdays from 12.30-2.10pm, with a mixture of entertainment, lifestyle and celebrity guests, plus a changing panel of audience members reviewing the day's news and chatting to celeb guests.