A floating bookshop has received recognition for its historical importance. Sally Clifford finds out more.
"I PLAYED cricket where we are stood when it was empty without coal."
For Peter Claxton, stepping aboard the former coal barge his father Norman skippered for a decade or so evoked fond memories of school holidays spent on the vessel.
"In the school holidays it was compulsory I went with my dad on the barge. This is one of the later ones my dad had," Peter continued.
Today the barge has been lovingly and sympathetically transformed and repurposed, originally into a floating home and now as a floating bookshop.
Standing in the now bright and airy interior in the spot where as a teenager he and his father would take it in turns to bat and bowl in the then roofless vessel while waiting for the barge to be loaded with coal, Peter took in the surroundings.
"It has changed radically from its working life. It is amazing because by the time they had finished their working life they were in very poor condition," said Peter, referring to the barges that were often scrapped at the end of their working life.
"I was surprised this still existed and to find it is a bookshop – what a great use for it."
Peter's presence on the barge was brought about by publicity profiling the presentation of a special flagship award.
Launched in November last year, Hold Fast Bookshop, which takes its name from the nautical saying often tattooed on sailors' knuckles to hold on in stormy seas, has given the 57ft by 14ft widebeam a new lease of life.
Christened Marjorie R, the trendy waterside setting where she is moored in Leeds Dock is a sleek and polished contrast to the industrial cityscape around which she once travelled transporting 75 tonnes of coal each journey between Fall Ings, Wakefield and Thornhill Power Station, Dewsbury.
Natural move
Marjorie R has been part of the Bonner family for almost a decade after her owners Victoria and Chris purchased her for a floating abode.
"We lived on her for four or five years but we wanted a way of keeping her so she can be looked after," said Victoria.
Book lover Victoria had worked as a librarian so transforming Marjorie R into a floating bookshop was the natural move to make.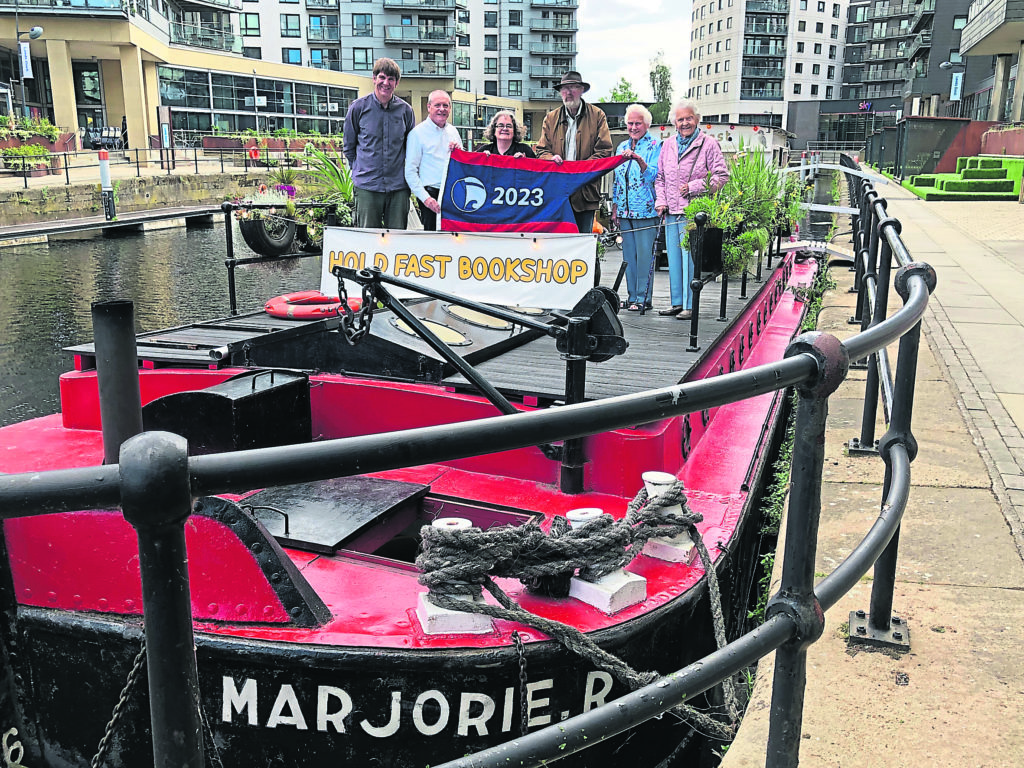 Built in 1946 by Harkers of Knottingley for Hargreaves, Marjorie R now has another string to her bow – an accolade from National Historic Ships (NHS-UK).
National Historic Ships UK has appointed six vessels from around the UK to act as its Flagships of the Year and 'fly the flag' for maritime heritage. The awards provide an opportunity to demonstrate and celebrate the value of historic vessels to the wider public.
Marjorie R was chosen in recognition of her unique offer as an independent bookshop and community base.
She was bestowed with the flag for 'Flagship of the Year 2023' by Simon Stephens, a member of the Council of Experts for National Historic Ships UK and curator of the Ship Model and Boat Collections at the National Maritime Museum, Greenwich at a special presentation in Leeds Dock.
"The bookshop idea is a fantastic way to repurpose a historic vessel," said Simon. "Creative approaches like this offer a realistic means of funding long-term preservation and are great to see."
Also in attendance were the families of Marjorie R's namesake – Marjorie Reed, the wife of Reginald Reed, who was a consultant director of Hargreaves and worked for the coal board after nationalisation, along with Leeds councillor, Asghar Khan.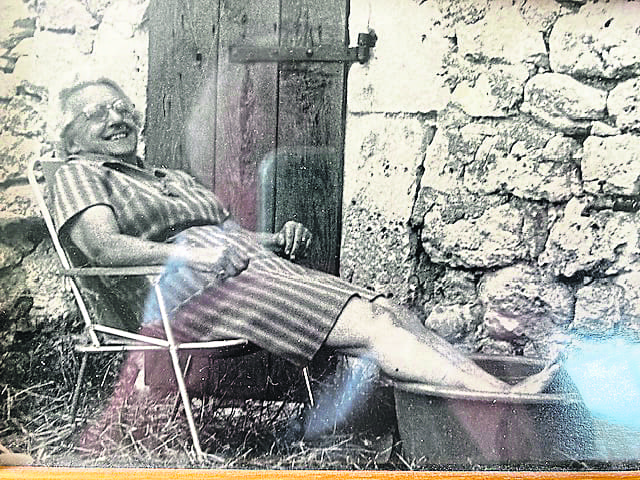 Interestingly, Marjorie Reed's son, Dr Stuart Reed, and daughters, Ann Simpson and Sue Grafton, visited the boat last year after reading a newspaper article about her new lease of life. It was the first time they had seen her in 70 years.
"We are thrilled to bits. It's wonderful and it's a wonderful use for it," said the sisters, who attended the presentation with their families.
Victoria said opening Marjorie R as a bookshop has not only secured her future, it is also providing an income to help with her maintenance.
"It's also a way to help us, and hopefully our customers – a little retreat to pop into as we all navigate life's ups and downs. Our bookshop stocks a wide range of styles and genres, both new and second-hand. We are proud to be members of The Booksellers Association. We also sell online as part of bookshop.org," said Victoria.
"We have always loved Marjorie R – she means the world to us and we love sharing the stories of her past and her working life with our customers. This award is a fantastic recognition of just how important it is that we keep those stories alive – and what better place to share stories than a bookshop?" said Victoria.
Visit uk.bookshop.org/shop/holdfastbookshop. For more information visit https://holdfastleeds.co.uk.
By Sally Clifford (Photos too, unless stated)
#towpathtalk #canals #canalsandrivers #narrowboat #rivers #waterways #lifeonthecut #boating #boats #canallife #canallifeuk