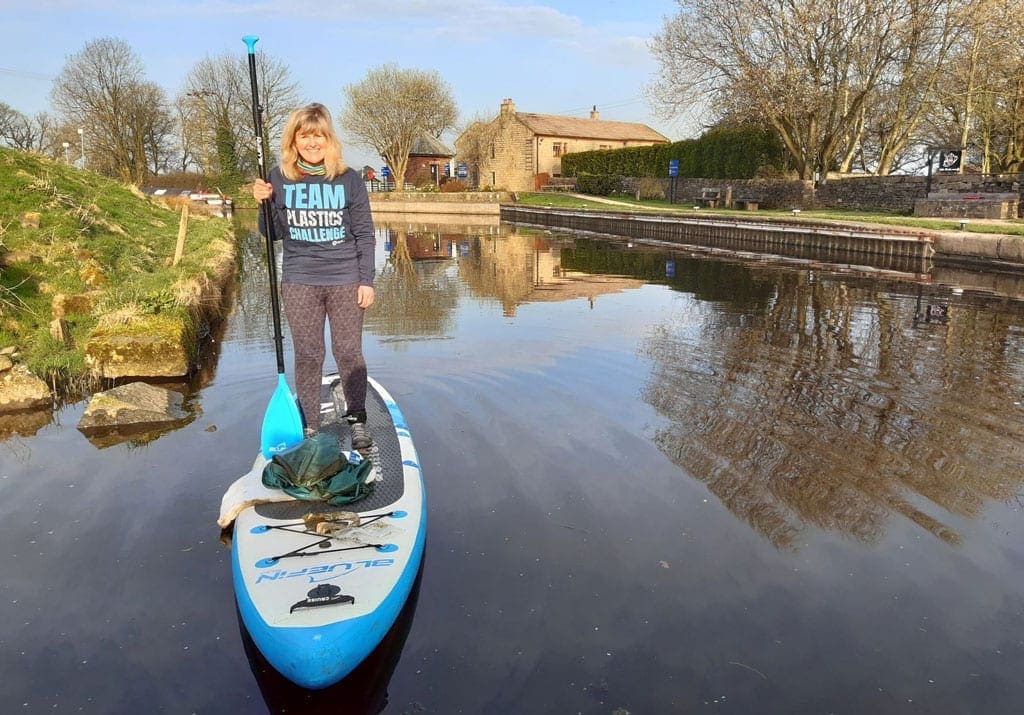 The first woman to paddleboard along the 162-mile Canal & River Trust Coast-to-Coast Trail is pledging her support for Canal & River Trust's Plastics Challenge as she encourages people to discover a 'feel good' adventure on their doorstep.
Canals and rivers have been havens for mental and physical health during the pandemic, with visits to many urban canals up since last March. However, the waterway and wellbeing charity that looks after 2,000 miles of canals and rivers in England and Wales has seen a significant rise in littering, up 68% over the last 12 months, putting the nation's precious waterway wildlife habitats at risk and causing an unsightly problem.
Canal & River Trust is asking people across England & Wales to take the Plastics Challenge.
Sean McGinley, regional director Yorkshire & North East at Canal & River Trust, explained: "If every person who walked, ran, cycled or paddled on their local canal or river took just one piece of plastic home with them, our waterways could be plastic-free within a year.
"We know how spending time by water helps us to relax and boost our 'feel good' factor, they are fantastic places to get away from life stresses and now more than ever we need to look after them."
Jo Moseley became the first woman, aged 54, to stand up paddle from Liverpool to Goole along the Leeds & Liverpool Canal and the Aire & Calder Navigation in the summer of 2019 to help raise awareness of plastic pollution in our waterways, collecting rubbish trapped in locks and reed beds as she paddled along and raising £1,000 for charity in the process.
Jo said: "I live just outside Skipton in North Yorkshire and am lucky to have the Leeds & Liverpool Canal and the Yorkshire Dales on my doorstep. Canals and rivers are such a source of joy and beauty.
"When I started paddling on the canal and saw the plastic pollution, especially single-use plastic bottles, the obvious next step was to litter pick from my paddleboard.
"I can't change the world, but I can change the little bit around me – and that's what I am trying to do for our waterways and help encourage others to do the same.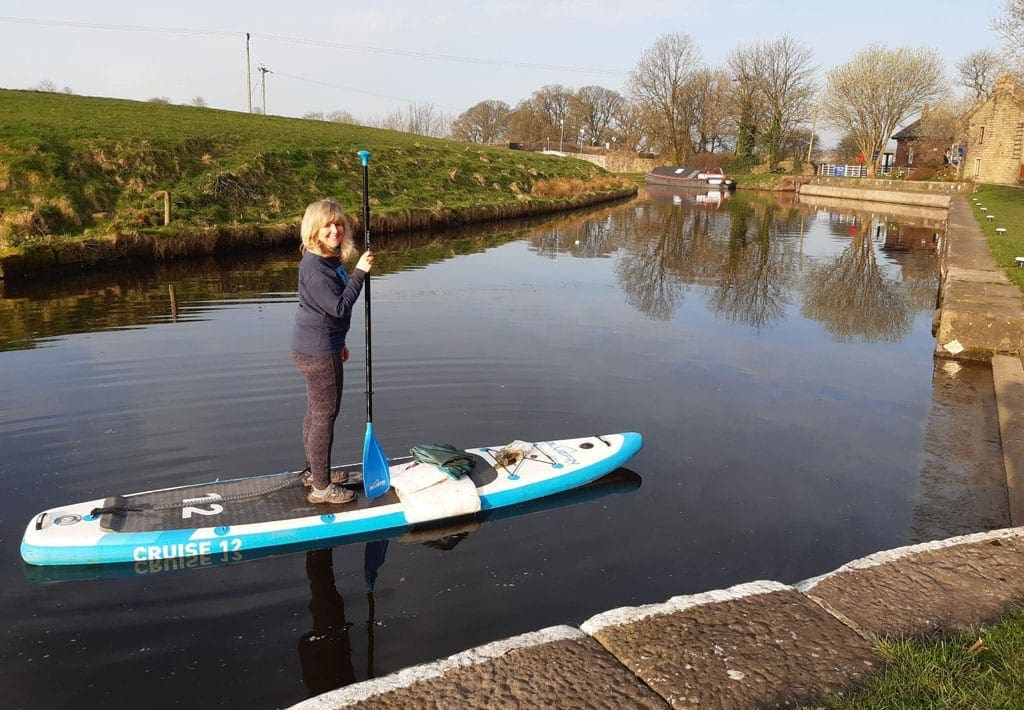 "I will always cherish the 11 days I spent stand up paddleboarding 162 miles coast to coast. The beauty of the birdlife, history and community of people I met along the canal was a joy and lifted my soul. You can experience the magic of adventure without travelling too far, with canals and rivers on our doorstep, which I'm so grateful for."
Also supporting the Canal & River Trust's Plastics Challenge campaign are Strictly Come Dancing winner Bill Bailey and other celebrities including Deborah Meaden, Eamon Holmes, Saira Khan, Helen Glover, Nicola Thorp and The Wombles.
Hiring a kayak, canoe or paddleboard has already become a popular socially distanced way to spend time outdoors – and is likely to remain a go-to activity this summer.
Canal & River Trust are encouraging people to help make a difference while they get afloat and for more experienced paddlers, when coronavirus restrictions allow, its coast-to-coast canoe trail offers a fantastic, varied waterway route across northern England which offers a new challenge to kayakers and paddleboarders – as well as canoeists.
To make a pledge to support the Canal & River Trust's Plastics Challenge, visit www.canalrivertrust.org.uk/plasticschallenge or follow us on social media @CanalRiverTrust #PlasticsChallenge 
Thanks to players of People's Postcode Lottery the Canal & River Trust has recently received support from its Postcode Climate Challenge initiative. This will go to support the charity's Plastics Challenge and have an impact in helping to reduce plastics in our waterways.
Covering 162 miles, the Canal & River Trust Coast-to-Coast Canoe Trail was launched in August 2019. The route passes through villages and towns that played a major role in the industrial revolution as it traverses through stunning scenery over the Pennines from Lancashire into Yorkshire.
For more details about how you could experience your own adventure on the Trail go to www.canalrivertrust.org.uk/enjoy-the-waterways/canoeing-and-kayaking/coast-to-coast-canoe-trail-and-relay
During the coronavirus lockdown, the Canal & River Trust is urging people to follow government guidance to stay local.  Canals play an important role in urban areas – providing vital green space – however towpaths should currently be for local use.  People are advised to follow social distancing measures at all times.