By Janet Richardson
STRATEGICALLY important over the centuries, the medieval market town of Tewkesbury is situated at the confluence of the rivers Avon and Severn.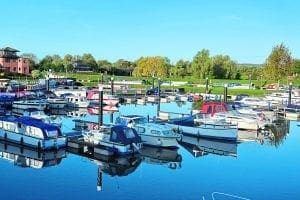 Its position on a flood plain – both rivers overflowed their banks in 2007 leaving the Abbey surrounded by water – has curtailed expansion and time is said to have stood still in the Gloucestershire town with its half-timbered Tudor buildings, overhanging upper storeys and ornately carved doorways.
Tewkesbury was also the site of one of the most decisive battles of the Wars of the Roses in 1471 and this was commemorated in 2014 with two giant structures depicting knights on horseback at the Stonehills roundabout on the A38.
Nowadays it is an important tourist destination for road travellers and boaters cruising the Avon Ring.
In its peaceful riverside setting, yet only a few minutes' walk from the town centre, Tewkesbury Marina celebrates its 50th anniversary this year.
Privately owned, it started as river moorings but has continued to develop over the years and now has 400 berths, both linear and in its two basins.
Marina manager Simon Amos told me that they had just completed a £750,000 investment in the refurbishment of Basin 2 with new pontoons and facilities. And with about 75% occupancy at the moment there is room for more boats.
There is a continuous process of upgrading and maintaining the moorings which include up to 30 full residential berths as well as a brokerage. It is fully flood-protected and didn't lose a single boat in 2007.
"Development is ongoing to bring it up to what we consider to be a world-class marina. We are keen to raise our profile," Simon explained. "We are up to where we want to be with the moorings and our next project will be the renewal of the toilet and shower in the next 6-12 months."
Boatyard services
Tewkesbury is a secure marina with cameras at the boundaries and code operated gates on the road access.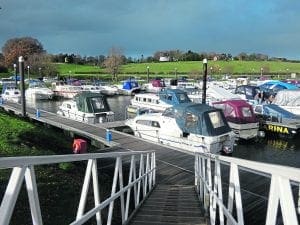 Simon continued: "We are very well staffed and open 365 days a year. Our staff include an ex-submariner and naval commander and a retired Metropolitan Police officer who served on Royal Yacht Britannia." Staff members were described as very helpful and friendly during a recent boat owners' survey.
Marina manager since 2011, Simon previously ran a marina in Poole and prior to that worked in the car industry with Rolls Royce and Bentley. He said it had been a big change coming from the coast to an inland marina.
Boatyard services include blacking and other work and there is also a large on-shore storage area. The marina has a slipway for narrowboats and widebeams also a 6-ton hoist for lifting cruisers and smaller narrowboats.
Although it doesn't have its own catering facilities, the marina has negotiated discount for berth holders at the local pub, The Boat House and it is only a short walk – or boat ride – into the town centre.
"It is a bit of a hidden gem, people don't expect to see a 400-berth marina on the edge of Tewkesbury, Simon added. "The motorway is easy to get to and it is just five minutes' walk to the bottom of the High Street. We are so close to the town centre but we feel we are in the country."
Cruising routes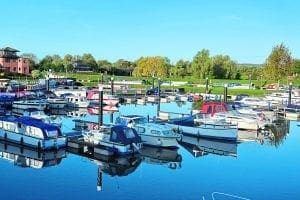 Boaters are attracted by the choice of cruising routes which includes the Avon Ring which connects the town with Stratford-on-Avon, Evesham, Worcester and the south-west of Birmingham.
"It is flat all the way to Stratford with beautiful views, it is very peaceful and there is a lot of wildlife," Simon commented. Over 45 miles with 17 locks, the Lower and Upper Avon is managed by the Avon Navigation Trust as are two sections on the River Severn side of the marina. From Stratford, boats can get on to the Canal & River Trust network.
There is a height restriction because of the bridges on the River Avon and the bigger boats are moored in Basin No 3 or along the Stanchard Pit on the Severn level – 6ft lower – from where they can get up to Stourport in the north or out to sea in the south.
During my visit to the marina, I had a chat with Andrew Wilkinson who has been a berth holder for some eight years and for the last four years has owned a Beneteau Antares cruiser.
"We were thinking of buying a boat when I retired and did not know much about it so did some research and went to the NEC when the boat show was on," he told me. "Tewkesbury Marina had a stand there, so we then came down and visited here.
"We wanted somewhere within reasonable distance from home – 40 minutes in the car. We loved the environment and everybody is so friendly, not just the staff but all the boat owners. It is a delightful place to be."
Andrew added: "We come to the social do's (three are held each year in spring, mid-summer and autumn) weather permitting because it gives us a chance to meet people who you see on the river. We like the town – there is a lovely Italian restaurant – and also go to the theatre at Malvern."
Tewkesbury Marina, Bredon Road, Tewkesbury, Gloucestershire GL20 5BY
Contact: 01684 293737
Email: sales@tewkesbury-marina.co.uk
Website: www.tewkesbury-marina.co.uk

Enjoy more Towpath Talk reading in the monthly paper.
Click here
to subscribe.
See more
boats for sale
and
sell your boat for free
with
Towpath Trader
.
Article continues below...
Advert
Latest posts by Pauline Hawkins
(see all)