llegally moored boats, boats without licences and even a boat sinking – it's all in a day's work for one of the Canal & River Trust's licensing rangers, as author Andy Griffee discovered when he went out on towpath patrol with one of them.
ONE of the first things I notice about Steve Broad's ranger uniform is the body-camera strapped to his chest. The Canal & River Trust's nationwide team of 27 rangers were issued with one each after the murder of one of their colleagues on the Grand Union two years ago.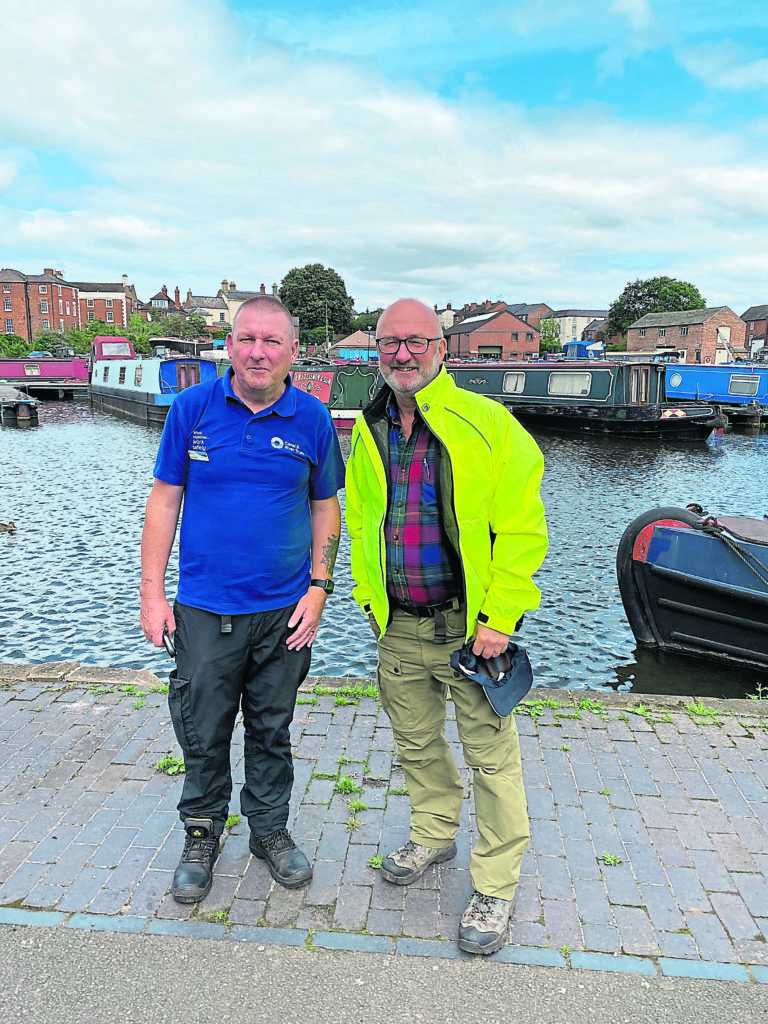 "I knew Clive Porter quite well," Steve tells me. "We joined the CRT at the same time 13 years ago and met up occasionally at conferences." The two men had both worked for the police, Clive as a serving officer and Steve as a special constable on the streets of Birmingham.
A 50-year-old Polish boater called Sylwester Krajewski was convicted of the ranger's murder. It's a very real reminder of the potential dangers faced by this small group of people who patrol the canal network for the CRT.
Steve and just one other colleague are responsible for patrolling 150 miles of various canals in the West Midlands and I joined him at Stourport-on-Severn for the start of his shift. They have a set schedule of places to visit on a two-week cycle and log the licence number of every boat into an electronic device which also records the exact location.
We are soon chatting to some friendly Swedish holidaymakers on their hire boat when Steve notices something strange. The number painted on the boat doesn't match the number on the paper licence stuck in the window. He checks more details on his device and discovers the painted number doesn't match the boat's painted name. CRT's business boat manager will be asked to investigate the anomaly further.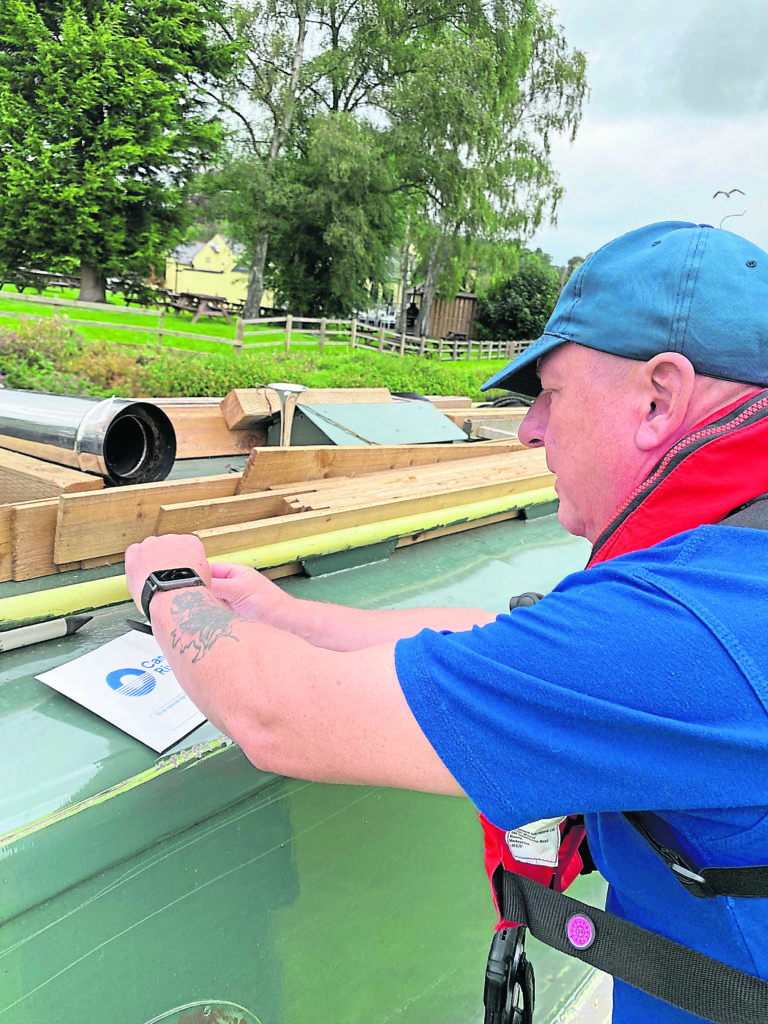 As we walk further, Steve laments the Government's 40% real terms cut in its grant to the CRT – beginning in 2027. He worries about reductions in basic maintenance and even the possibility that some canals will have to close. One boater tells him the financial black hole makes his job more important than ever. The rangers' work helps to keep boat licence fee evasion below 5% of the 36,000 boats in scope – and it's an impressive 3.5% in Steve's own patch.
An hour later, at Kinver, we come across two boats tied up on a busy lock mooring. He knows about the first, which has a broken gearbox and so it has been given a limited AES (Authorised Extended Stay). However, the second moored boat isn't displaying a name, licence number or licence. It appears to be unoccupied, so Steve writes out a patrol notice and uses a cable tie to fix it to the boat's roof.
If no one is living on the boat, it could eventually be taken out of the water by CRT and automatically scrapped if it is worth less than £3000. If someone is living on the boat, they may end up being taken to court. Steve's murdered colleague had been serving a patrol notice when he was killed.
Sinking boat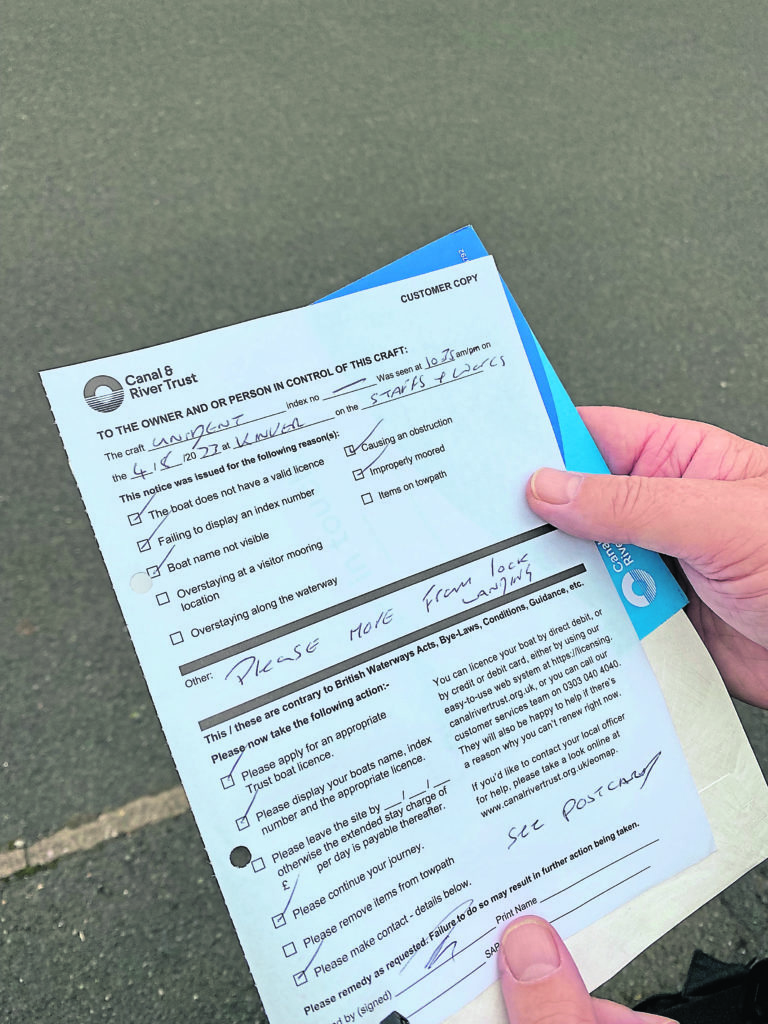 Later, at Stourbridge, another boater tells us about a boat he saw sinking the previous day on the Staffordshire & Worcestershire Canal at a village called Swindon. We make our way there immediately in Steve's blue CRT van which can also carry his bicycles and a small dinghy. As we go, Steve speculates on the identity of the sinking boat and its owner. He suspects it is someone he has dealt with before.
Sure enough, after a 20-minute hike to Hinksford Bridge, we discover 44-year-old Stuart and Swallow, his flooded boat. Stuart has a licence for the boat but it's in poor condition and this is the fifth time it has sunk in eight years. A small inflatable boom has been put in place to prevent diesel seepage and a petrol-operated pump is failing to keep pace with the water flowing over the gunwale. The inside of the boat is flooded up to the bottom of the windows and debris has been scattered along the towpath.
It could be a tense situation, but the ranger is greeted by Stuart like an old friend and immediately asks for CRT's help. He has no insurance to pay for his boat's rescue because it has failed a safety inspection.
But if CRT is forced to take the boat out of the water due to diesel leakage, it could cost him up to £6000. Steve takes pictures and begins alerting other members of the CRT on his device.
Stuart returns to drinking from a bottle of wine as we leave and tells us a friend is now coming to his aid with a more powerful pump. "It's all in a day's work," says Steve as we return to his van. "But it can be stressful at times."
Being a ranger isn't just about policing licences. Steve often comes across single men on boats who are failing to cope. Sometimes he puts them in touch with the canal chaplaincy.
Later that same day, a safety alert message is sent out by CRT. It says the fire service and police have attended the site of the sunken boat. Colleagues and volunteers are being advised not to approach an individual who is being 'extremely aggressive, under the influence of alcohol'. A nearby hedgerow has been set alight.
It just shows, Steve tells me, how quickly things can change for the worse on the towpath.
Andy Griffee is the author of the Johnson & Wilde crime mysteries which are set on the canals and rivers of the UK. The third book in the series, Oxford Blues, has just been brought out in paperback by Orphans Publishing. He has also written a novella called Devil's Den which is set in the Kinver area and is available as a paperback or ebook from Amazon.