Two London charities, The Angel Community Canal Boat Trust, better known as Angel Boat, and the London Canal Museum (LCM), have joined together to buy and operate a 45' narrow boat Long Tom.  The boat will run trips on the Regent's Canal for the London Canal Museum 3 days a week from Battlebridge Bain and provide a second boat for the Angel Boat, based at City Road Lock, to run trips for the local community.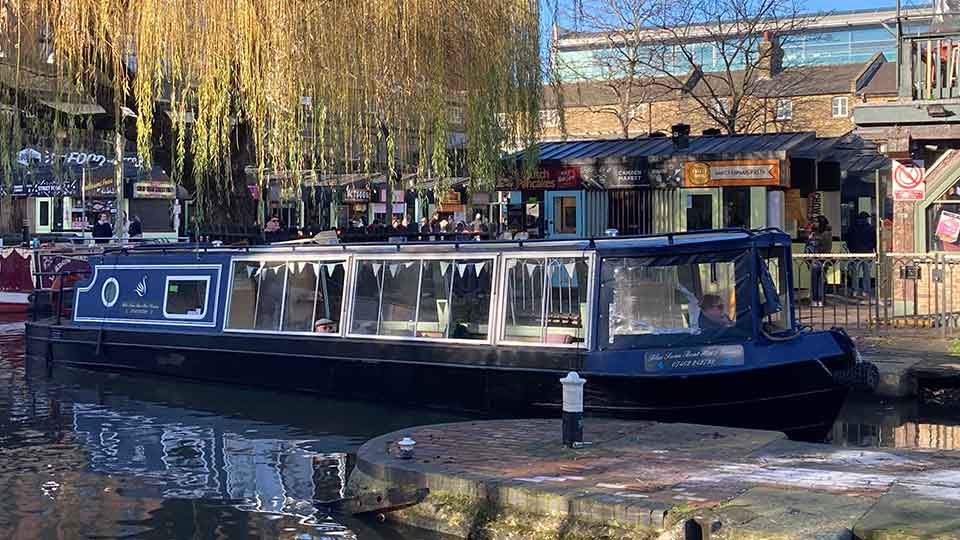 To support this, experienced boaters who would like to act as volunteer skippers are now sought.  They will be trained for the CCBM qualification, and anyone interested or wanting further information should contact the Angel Boat at [email protected].
Soon after the two organisations first realised that they both had the need for a less-than-full-time trip boat, a boat came up for sale near Ormskirk, Lancashire, on the Leeds and Liverpool Canal. It was a purpose-designed passenger trip boat used for regular cream tea cruises. Unfortunately, the business was closing because of personal circumstances unrelated to the boat itself.   An epic winter journey followed to Liverpool docks by canal, then to Watford by road, where routine work was carried out on the hull, and a final canal trip into Central London.  The Angel Boat will run and manage the boat, with its 50 years of experience running a community boat.
LCM, with the ideal starting point for public trips on Battlebridge Basin, a few minutes from Kings Cross, will run regular trips through Islington Tunnel and to Little Venice and Victoria Park.  The Angel Boat will tailor trips to suit the needs and requirements of its community hirers. It will be able to continue to offer trips when its leading boat, the 72' Angel II of Islington, is out on residential trips with youth groups.
Volunteers from both organisations carried out some minor internal repairs and installed some new equipment obtained in readiness for passenger service. Being 45 feet long, the boat is well suited to short-distance work being easy to turn at many places on the Regent's Canal.

The boat has large windows for viewing, a pantry for serving hot drinks and prepared food, and a toilet.  Supported by the LCM's Education Officer, it is ideal for educational groups and young people as well as for introducing the not-so-young to the London canals.  The canal in London is now accessible to all. However, once upon a time trespassers would be prosecuted. The name Long Tom is a nickname reportedly given by badly-behaved children to a canal policeman who used to chase them away. 
#LongTom #AngelBoat #ccbm #towpathtalk #canals #canalsandrivers #narrowboat #rivers #waterways #lifeonthecut #boating #boats #canallife #canallifeuk
Article continues below…
Advert