SIX sewing machines is not necessarily what you expect to find beneath the cloths of an historic working boat but this, along with workbenches, is precisely what you will discover when peeling back the layers of narrowboat Nebulae.
A 71ft 6in small Woolwich butty built by Harland and Wolff in 1935 to carry coal and other goods, Nebulae still has a traditional back cabin. However, the hold has now been converted into a workshop and shop for Star Crafts, run by husband and wife team, Alan and Nicky Buckle.
"We met and married in 1997 and soon started to visit and use my parents' boat" Alan told me. "This worked up to us wanting our own boat and by 2005 we had our first and by 2008 had upgraded to a boat which we started living on."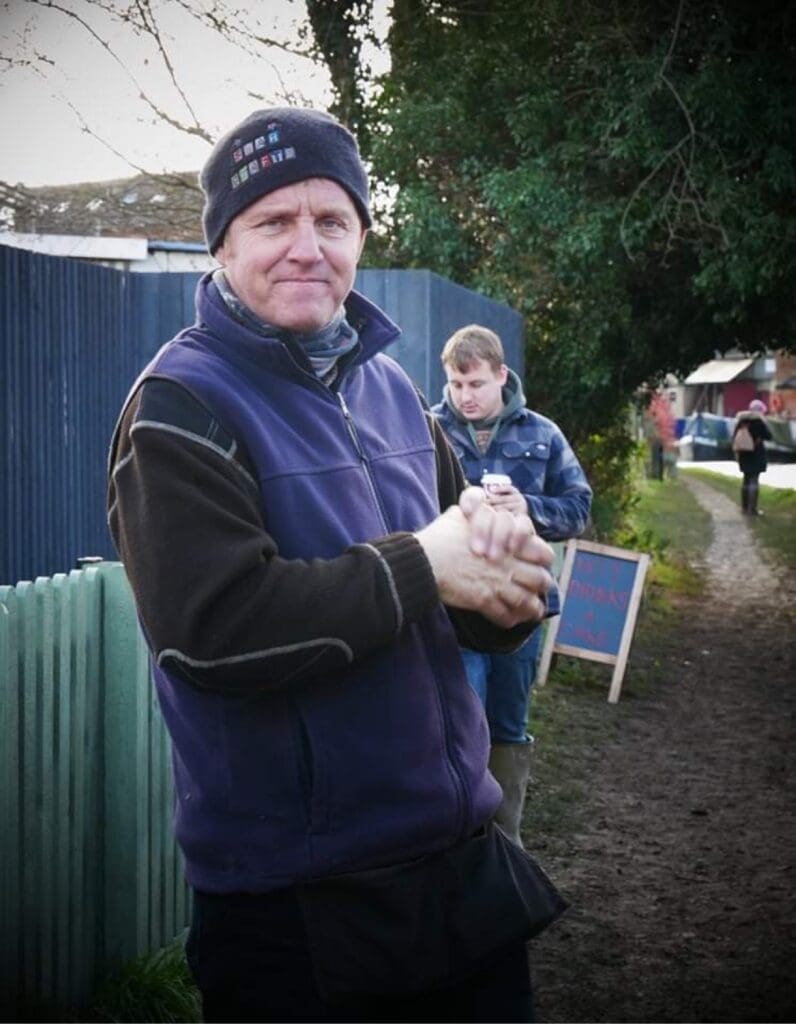 In 2012 Alan and Nicky finally moved onto their current liveaboard, 70ft Adrastea, a replica of a small Woolwich boat built by Roger Farringdon at Braunston bottom lock.
Once settled and with Alan working Bletchley – a 1935 large Woolwich motor boat – as a fuel boat along the River Nene, Nicky began revisiting old hobbies, re-honing her skills from a career working in the sewing industry.
"Sewing machines and embroidery are her thing and along with a creative flare and artistic talents, she was enjoying developing her skills and making things," said Alan.
The need for a suitable outlet soon became obvious and so, after a turn of events in family life, in 2018 they sold Bletchley and purchased Nebulae to work alongside Adrastea. "I've always been interested in historic boats," Alan shared, "I love the way they look and the simple but practical way they are built. I'm glad we're still keeping Nebulae working today, albeit in a slightly different way!"
Alan and Nicky are regular faces on the Grand Union, "We often do pop-up towpath trading in popular locations like Stoke Bruerne, Braunston and Foxton. This is our regular cruising route during winter as it's close to family."
In the summer they go further afield which last year included festivals in Birmingham and travelling the Shropshire Union to Market Drayton. "We try and do as many festivals as we can, which hopefully this year will be possible again."
Out of season Alan does some boat moving and helps out on the coal boats with Grand Union favourites, Jules Fuels. In addition he has a growing fanbase on YouTube where he gives subscribers the insider view on all things canals.
"I've had YouTube for a few years but it was lockdown that gave me the time to do more and I've come to enjoy it." Having grown up around boats, it's clear Alan has a natural affinity and keen interest, which Nicky shares. "We both like the canals for the simple lifestyle. We like the way it's a great leveller with a camaraderie that's rarely found elsewhere."
This extension of friendship within the community is certainly upheld by Alan and Nicky. When I first caught sight of them setting up shop for Christmas sales in the cold winter at Stoke Bruerne, they were warm and welcoming. "We enjoy chatting to and helping people. Once we helped a guy re-bolt his gearbox to his engine which had literally fallen off whilst going through a lock!"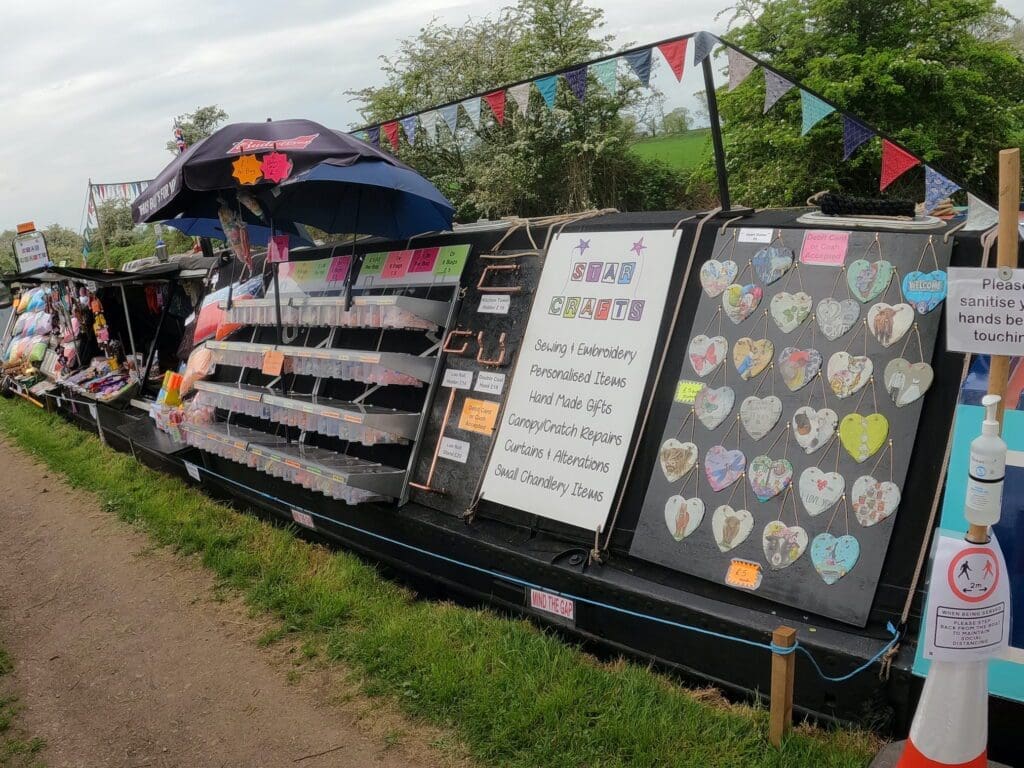 Another time Alan pulled a guy out of the water in Braunston tunnel. "He'd fallen off the back of his hire boat while going through the tunnel and his elderly crew were unable to find the strength to pull him out."
Luckily for this hireboat crew, Alan and Nicky came across them whilst travelling in the opposite direction. "It was pretty scary and once the guy was safely back in the cabin I had to show his wife how to steer so she could get them out of the tunnel safely."
Thank goodness for such cheery faces on the canals! And hopefully this year you readers will get to experience them too as Alan and Nicky open up their workshop and unveil their winter creations to the spring towpath.
From Nicky you will find everything form exquisitely embroidered book-holder cushions and delicately painted slates, to peg bags, fleece hats and much much more. From Alan you'll find side rope fenders, copper kitchen and bathroom accessories and also tiller pins. Plus, this year, they'll be moving into cratch repairs such as new zips, windows and re-stitching – with a new sewing machine joining the family specifically for the job!
By Alice Griffin
#charactersofthecut #towpathtalk #canals #canalsandrivers #narrowboat #rivers #waterways #lifeonthecut #boating #boats