Morgan, Sue and Min – wild wood and wild swimming By Alice Griffin
WHEN Morgan, Sue and their much-loved dog, Min, were looking for a different pace of life and deeper engagement with nature, it was having a 58ft cruiser stern narrowboat named Sunbeam built by J D Narrowboats at Shardlow that held the answers.
"It's the variety of environments, habitats, places and people that are so fascinating on the water and it's wonderful to see the world pass by from a different angle," they agreed.
They now happily cruise the network running their business, Handmade on Narrowboat Sunbeam, as they go. While Morgan – who works primarily as an online private tutor – occasionally sells photographic greetings cards of her own images, it's mainly Sue's beautifully intricate hand-carved wooden creations that you will discover in their shop.
She shared with me: "I started working with wood in my 20s. I love to explore the grain, colour and shapes in all the wood I work with as well as adding to them with the carving of designs and the application of colour using milk paint, an environmentally friendly paint made from simple ingredients and natural pigments."
The canal environment makes its way into Sue's work in many ways, from inspirations in the surrounding scenery to the materials themselves. Sue and Morgan shared with me: "We forage wood as we travel and have also been lucky to have been given pieces of old lock gates when repairs have been undertaken around the system. This means that some of the pieces created are intrinsically tied to the canals we travel on."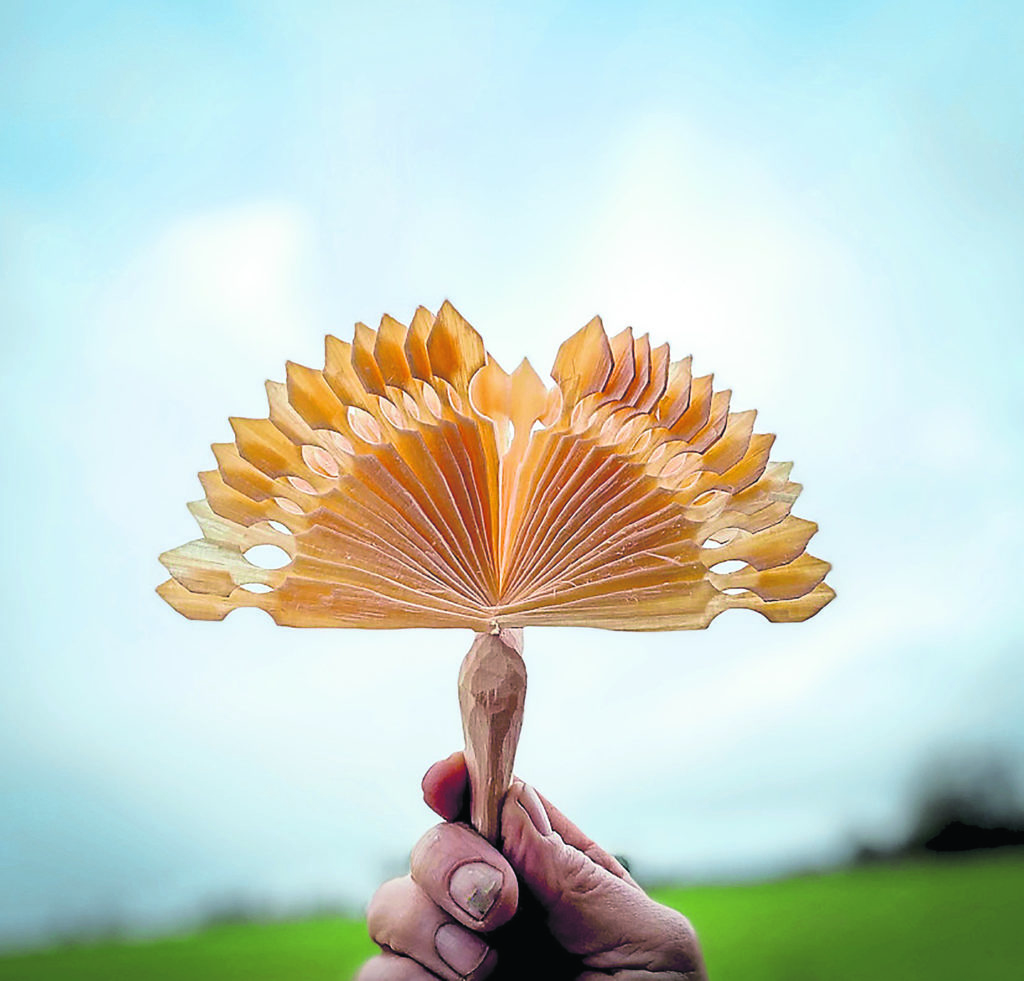 Knowing the provenance of the wood Sue works with adds a lot of meaning to the pieces created. She told me: "Different experiences or environments inspire designs, whether that's shapes and colours of particular items, or a whole series, such as my 'swimmer' pendants and when working with reclaimed oak lock wood I often carve acorns and oak leaves to celebrate the lifecycle of that particular piece of wood."
Cruising resumed
Prior to 2020 Morgan and Sue happily traded at canal festivals and floating markets as they continuously cruised the network, but when all events were cancelled, they were forced to move to selling solely online through their Etsy shop. "We were happy continuously cruising but when lockdown hit we decided to take a mooring on the Montgomery Canal on the Welsh borders."
They finally set off cruising again two months ago, heading up the Leeds & Liverpool Canal to undertake the planned journey that was previously interrupted. "Since setting off earlier this year on our coddiwomple (journey without a specific destination), we have continued our online sales but have also returned to selling from the boat along the towpath, popping-up wherever we moor. This is the beauty of a Roving Traders Licence!"
Where they moor can change dramatically because while they love the peace of being so close to nature, Sue and Morgan also have a fondness for the more industrial history of the canal network. "Some of our favourite journeys have been through older, former industrial areas and we enjoy gaining a deeper understanding of the canal heritage associated with these areas."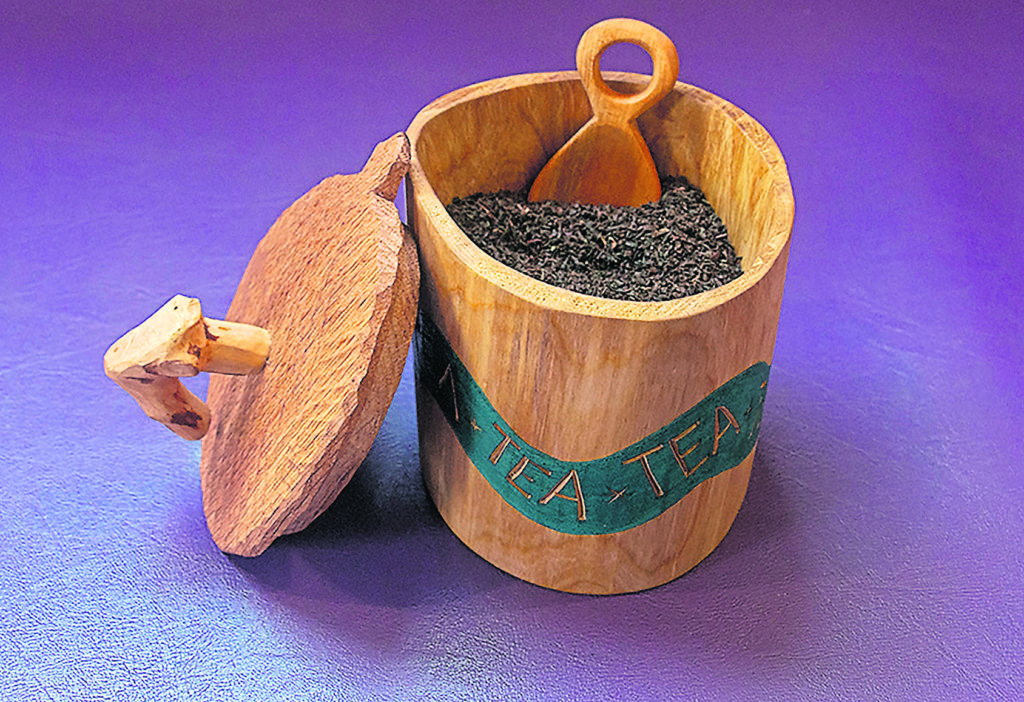 This changing environment and the opportunity to move as and when they want is what most appeals to Morgan and Sue about their lifestyle. In addition, their love of wild swimming injects even more interest to their cruising patterns. Morgan told me: "Whereas I'd always been far more cautious of swimming anywhere other than in the sea, Sue has always enjoyed wild swimming and took to it regularly during lockdown as a form of exercise and relaxation. Now we both swim all year round in any safe, accessible water."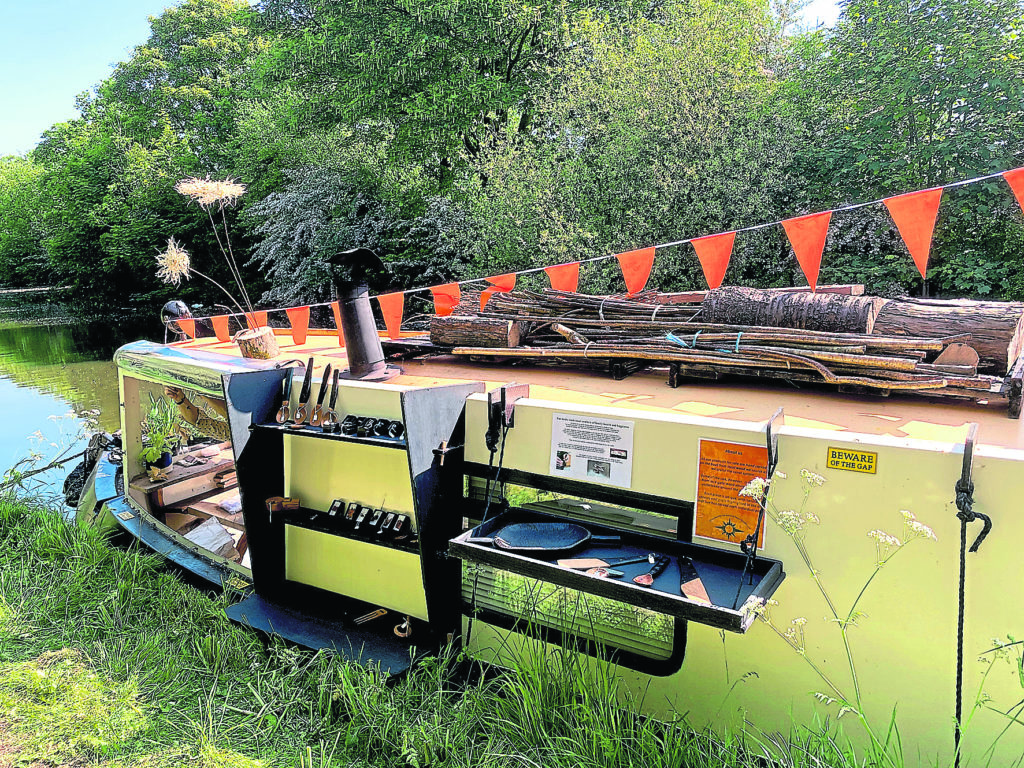 Min is also a keen swimmer and Morgan told me how afterwards she gets a little water-crazy and often has the 'zoomies' as a result! However, she did have one late-night dip that didn't go so well… "One night on the Llangollen Canal we moored up late in a spot where the towpath was on the opposite side to where it was at the previous mooring spot. Letting Min out for a late-night wee, as I came up the back steps I heard an almighty splash. Min had not registered the different side and was now swimming around in the dark.
"Luckily, she had her flashing collar on so I could see her and drag her out!" Morgan and Sue now make sure the pram cover skirt is always up on the boat keeping Min safe and dry, saving water activities for designated swimming trips. "It's definitely a whole-family activity – swimming, not zoomies!"
Etsy: handmadeonsunbeam.etsy.com
Instagram: @handmade_on_narrowboat_sunbeam
#charactersofthecut #towpathtalk #canals #canalsandrivers #narrowboat #rivers #waterways #lifeonthecut #boating #boats #canallife #canallifeuk