Works will give local people a clean, green route to feeling happier and healthier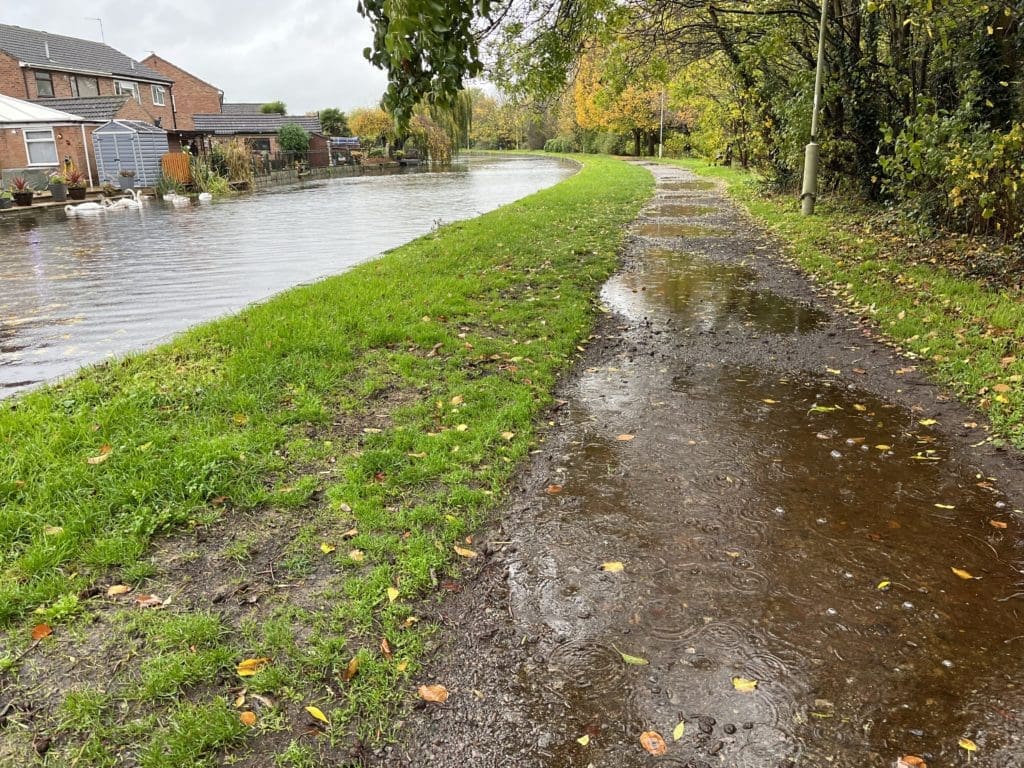 A project to revamp a section of canal towpath in Loughborough, making it easier for local people to feel the health and wellbeing benefits of spending time by the water, is set to begin.
Waterways and wellbeing charity, the Canal & River Trust, working in partnership with Loughborough Town Deal, is set to improve a 2km stretch of the River Soar towpath between Moor Lane Bridge and Belton Lane.
The project will transform the stretch of towpath and make it suitable for use all year round by people on foot or bike as well as those with wheelchairs or buggies and those accessing the water for boating. It will bring significant benefits to people in the south of Loughborough, enabling them to travel into town on a traffic-free route.
As part of the works the towpath will be widened and a new all-weather surface laid. This involves laying a bitumen surface and then a stone chip layer to give it a more natural feel sympathetic to the canal surroundings.
As well as improving the towpath surface the works will also see barriers removed, signage, wayfinding and access points improved and provision for boat moorings increased, enabling visiting boaters to visit town centre facilities and attractions more easily.
Research shows that time spent by water can help people feel happier and healthier and, that the Trusts waterways bring £6.1billion of welfare benefits per annum by helping people keep healthy. With more people looking for a local escape on their doorstep, these works will make it easier and more appealing for people to get out to explore and enjoy the canal in Loughborough.
The works are due to start on 3rd January and finish in mid-May. The towpath will be closed for the duration of the works.
Linny Beaumont, Canal & River Trust regional director, said: "Research shows that spending time amongst nature alongside our historic canals is good for our physical and mental health. These improvements are important because it will make it easier for local people to access the wonderful canal on their doorstep and experience those benefits for themselves.
"The Canal & River Trust is a charity so local support, like the funding from Loughborough Town Deal, is crucial in helping us in our ongoing work to protect waterways and ensure that they can continue to be enjoyed both now and for future generations. It is great that Loughborough Town Deal Board have recognised the importance of Loughborough's waterways for those living and working in the town."
Cllr Jonathan Morgan, co-chair of Loughborough Town Deal, said: "It is great news for Loughborough that work on this fantastic project will be starting soon. The improvements will make a huge difference to the canal towpath and everyone who uses it, either for leisurely walks or to move through the town."
Dr Nik Kotecha OBE, co-chair of Loughborough Town Deal, said: "One of our Town Deal aims is to improve the environment and connectivity within the town and this certainly does that. We are pleased to support the Canal & River Trust and look forward to the work being completed."
The project has been made possible thanks to a £885,000 grant from Loughborough Town Deal. It is one of 11 projects Loughborough Town Deal is supporting after securing £16.9 million of Government funding. In total, the projects are worth over £40 million of investment for the town.
To find out about the work of the Canal & River Trust and how you can support, either through volunteering or making a donation visit www.canalrivertrust.org.uk.
More information about Loughborough Town Deal is available by visiting www.loughboroughtowndeal.co.uk
#canalandrivertrust #loughboroughtowpath #towpathtalk #canals #canalsandrivers #narrowboat #rivers #waterways #lifeonthecut #boating #boats