Works will give local people a clean, green route to feeling happier and healthier
The Canal & River Trust has started a project to revamp a section of canal towpath in Swarkestone making it easier for local people to feel the health and wellbeing benefits of spending time by the water.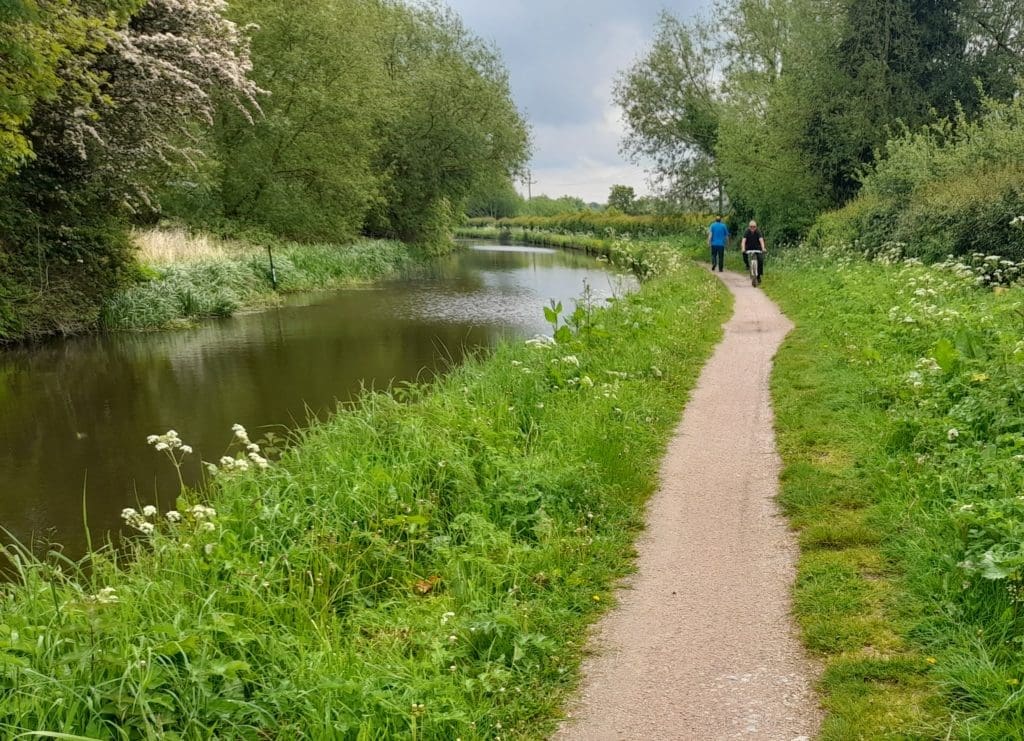 CRT, working in partnership with Sustrans, is improving a 2.5km stretch of the Trent & Mersey Canal towpath starting at Swarkestone and connecting to the Cloud Trail which runs south to Worthington. The section forms an important part of Route 6 of the National Cycle Network which connects London to the Peak District as well as being a popular path locally and offering a connection into Derby.
The £800,000 project will transform this stretch of towpath and make it suitable for use all year round by people on foot or bike as well as those with wheelchairs or buggies. As part of the works the path will be widened and a new all-weather surface laid. This involves laying a bitumen surface before a stone chip layer is laid in the Spring to give it a more rural feel sympathetic to the surroundings.
Funding for the project has come from the Department for Transport through Sustrans' Paths For Everyone programme.
With research showing that time spent by water can help people feel happier and healthier, and with more people looking for a local escape on their doorstep, the works will make it easier and more appealing for people to get out and explore the local canals and other routes on their doorstep.
The project is anticipated to last for 12 weeks and the towpath will be closed for the duration of the works.
Alan Leather, enterprise manager for the Canal & River Trust, said: "Research shows that spending time by the waterways can help us all feel happier and healthier and these improvements will make it more appealing for local people to spend some relaxing time by their local canal.
"This is a really popular route and we've had high demand for these improvements. They will hopefully encourage more people to feel the benefits of being by the water and connect into other local routes including the Cloud Trail.
"As a charity we're incredibly grateful for the funding to make these improvements possible and are pleased to be working with Sustrans. It's great to see how much local people value the canal, and their continued support is vital so that we can continue to protect and preserve our historic waterways and avert the decline we saw last century."
Joss Winter, Sustrans Network Manager for Derbyshire, said: "It's excellent to secure funding to improve the quality of our National Cycle Network in Derbyshire. Making active travel routes like this accessible to everyone, and safer to use goes such a long way to helping people make more journeys actively. Route 6 is a well-used route for leisure and commuting purposes and this project brings us one step closer to improving the National Cycle Network for everyone."
To find out about the work of the Canal & River Trust and how you can support, either through volunteering or making a donation visit www.canalrivertrust.org.uk
#canalandrivertrust #crt #towpathtalk #canals #canalsandrivers #narrowboat #rivers #waterways #lifeonthecut #boating #boats