As the country faces prolonged hot weather, the Canal & River Trust is taking action to manage the very low water levels in the north of England.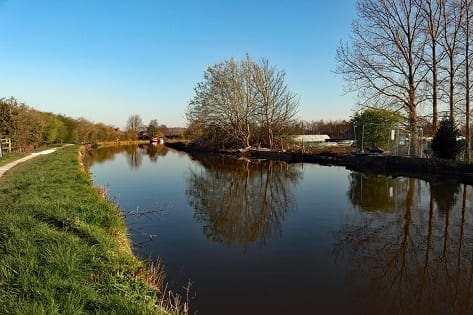 Following the temporary closure of locks on the Peak Forest and Macclesfield canals from 24 June, and reduced operating times on several other waterways, the Canal & River Trust is now having to make further difficult decisions to conserve water:
The Peak Forest and Macclesfield canals will remain closed until water levels have recovered enough for safe navigation.
The Leeds & Liverpool Canal will be temporarily closed to navigation between Wigan Lock Flight and Gargrave from today, Monday 18 July.
Unless there is a significant improvement in water levels, the following temporary closures will come into place in August:
The Huddersfield Narrow Canal will be closed to navigation from Monday 1 August.
The Caldon Canal, Hazlehurst Flight, will be closed to navigation from Monday 1 August, with reduced operating hours before that date.
Finally, the Rochdale Canal will see reduced operating hours from today, Monday 18 July to effectively manage the limited third-party water supply. Should the water resource position not improve significantly, the canal may be forced to close at short notice.
A combination of a dry spring that has continued into a hot, dry summer, and essential reservoir repairs across the region, have meant the amount of available water was already less than usual, causing water supplies in the north to drop to historically low levels.
To enable navigation on the canals for as long as possible, the Trust introduced restricted use of several lock flights at the start of April, and volunteer lock keepers have been helping to manage boat traffic at lock flights to ensure water supplies are used as efficiently as possible. Unfortunately, despite these water saving measures, the lack of rain has meant the reservoirs have not had a chance to refill and there is not enough water to supply the canals.
The Trust is continuing the ongoing water saving repair works to increase all available water flows into the canal network. The towpaths remain open and boaters will still be able to cruise the stretches between the closed locks, provided there are no localised issues with maintaining enough water supply for safe navigation.
Julie Sharman, chief operating officer at Canal & River Trust, said: "The heatwave is the last thing we wanted. We know how important this wonderful part of the canal network is to boaters and we're incredibly disappointed that we are having to introduce further restrictions. Unfortunately, the ongoing repair works at our reservoirs to safeguard them for the extreme weather that is likely to become more common due to climate change, coupled with far less rainfall than we needed, have meant that there just isn't enough water for navigation. We will be carefully watching how the reservoirs refill and will open the locks as soon as possible.
"We've been carrying out a significant amount of water saving maintenance work over the past few years. In the longer term, once all our reservoirs are repaired and able to refill, it will improve the resilience of the canals. This is more important than ever as long dry spells are becoming the new normal.
"While this is currently affecting our northern waterways, we're asking boaters across the country, with the help of volunteer lock keepers, to be even more careful than usual to conserve water. Boaters can help by sharing locks where possible and making sure paddles are fully closed after use.
"We appreciate what an impact this has on boaters and we are sorry that this will affect cruising plans this summer. If anyone is experiencing any problems please get in touch."
To find out more about stoppages and water levels affecting navigation, please visit canalrivertrust.org.uk/notices.
This video gives more information about the Trust's reservoir works: canalrivertrust.org.uk/specialist-teams/managing-our-water/reservoir-works-and-water-resources
#leedsandliverpoolcanal #closures #stoppages #canalandrivertrust #towpathtalk #canals #canalsandrivers #narrowboat #rivers #waterways #lifeonthecut #boating #boats