Following the UK Health Security Agency issuing alerts across most of the country as temperatures rise this week, the Canal & River Trust is asking boaters to stay safe and alerting them to some of the problems extreme heat causes for the 250-year-old waterways.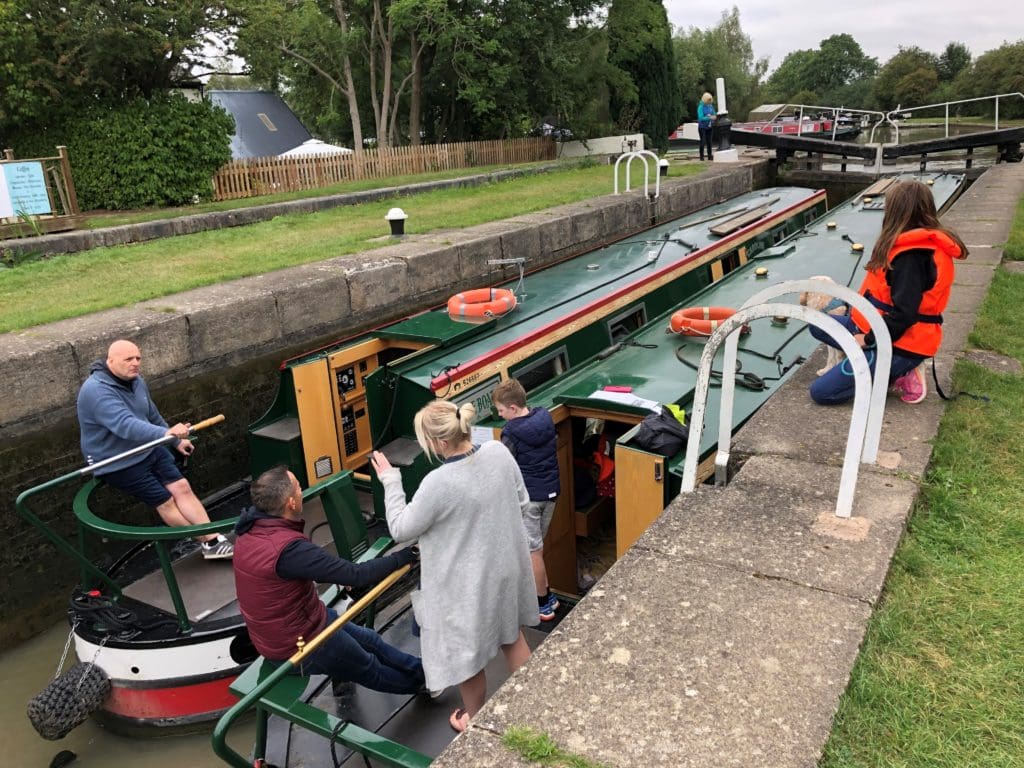 The hot, dry summers have a significant impact on the charity's water resources, with the very low rainfall so far this year sadly resulting in a number of restrictions and closures. The Trust is asking boaters, with the help of volunteer lock keepers, to be even more careful than usual to conserve water. Boaters can help by sharing locks where possible and making sure paddles are fully closed after use.
The Trust's swing bridges and other moveable structures are vulnerable in a heatwave, with extreme heat causing expansion of the materials which at worst will cause them to become stuck. The Trust is asking boaters to be careful when using them and to report any problems via the 'Contact Us' page of the charity's website.
The hot weather is also likely to cause an increase in weeds which can make navigating difficult and in some cases leave stretches of waterway impassable. The Trust's teams are on standby to address the task of clearing the weed, which can multiply when the conditions are right.
Summer is a very popular time for people to go boating, and millions more come to visit Britain's canals and rivers. While it may be tempting to get in the water, shallow water and obstructions beneath the surface can cause injury if people jump in. Deeper water around docks and locks will be very cold, even in the summer, which could cause cold water shock. The Trust is urging everyone to stay out of the water and is reminding boaters to be alert to any people who may not be following this advice and who may be in the water and harder to spot when manoeuvring a boat.
The heat-health alert means people are at greater risk of heat exhaustion and heat stroke. Boaters are advised to stay hydrated and find shade where they can, particularly during the hottest parts of the day.
Matthew Symonds, national boating manager at Canal & River Trust, said: "Spending time boating is a lovely way to spend a summer's day. However heatwaves can be dangerous, particularly for those with health conditions, older people and children. We want to make sure boaters enjoy the waterways safely this summer and take sensible precautions in the heat. 
"The extreme temperatures bring a whole host of challenges, from low water levels to blankets of weeds and potential for failures of some of our moveable structure and bridges, which we'll be out every day tackling. We're asking boaters to work with us on saving water and we thank people for their patience.
"It's also important that people, especially children and teenagers, are aware of the dangers of cooling off by going for a dip. The consequences can be devastating. If boaters do want to swim outside, they can find a nearby open water swimming club by visiting our website."
Contact the Trust: canalrivertrust.org.uk/contact-us
To find out more about summer safety for boaters, visit: canalrivertrust.org.uk/enjoy-the-waterways/safety-on-our-waterways/water-safety-tips-for-boaters/summer-water-safety-tips-for-boaters
Details on the heat-health alert and advice on how to stay safe in the heat are available here: www.gov.uk/government/news/heat-health-alert-issued-by-the-uk-health-security-agency
#canalandrivertrust #heatwave #towpathtalk #canals #canalsandrivers #narrowboat #rivers #waterways #lifeonthecut #boating #boats

Enjoy more Towpath Talk reading in the monthly paper.
Click here
to subscribe.
See more
boats for sale
and
sell your boat for free
with
Towpath Trader
.
Latest posts by Web Editor
(see all)