Roll out those lazy, hazy, crazy days of summer – and they're so much better when you're messing about on the river!
Two songs from days gone by, and why not? Let the leisurely lifestyle of canal boating gently lap over you like a gentle bow wave. August issue of Towpath Talk is out today, and you can put the kettle on, choose a favourite pack of biscuits and settle down with your monthly newspaper detailing all things waterways-related.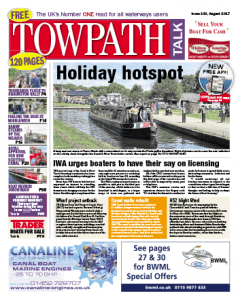 We've got some super features in store, and some famous faces inside too – husband and wife boating celebrities Timothy West and Prunella Scales, firm favourites at Braunston Marina, where they joined in the fun of the 15th annual rally and canal festival.
We also caught up with another long-lived couple often in the public eye – the Queen and Prince Philip were in Scotland, one of their favourite summer haunts, which gave Her Majesty the opportunity to take to the water as part of a celebratory event in which she officially unveiled a plaque naming the Queen Elizabeth II Canal and had a look inside one of the magnificent Kelpies – an ideal event for such a dedicated horsewoman!
Towpath Talk editor Janet Richardson has been busy finding out what's been going on across the network so far this summer. One of her highlights was to take her place on board the Daniel Adamson steam tug, which has recently started its passenger cruise programme after a £5 million restoration. Find out how Janet got on when she met the Danny and crew, and discover how you can be part of the Danny's success story.
The latest issue is also packed with news, views, letters and information about how to care for your boat, and if you're looking to buy, there are boats galore of all shapes, styles and sizes for sale.
Of course, if you don't have access to a chandlery to pick up your free copy of Towpath Talk, you can access the news via your mobile device. Download FREE to your smartphone or tablet on the App Store or Google play or it's also available on Kindle fire. So you'll never miss a thing, wherever you are!
Comments
comments