UK STREET artist Lucy McLauchlan is the newest addition to The Ring – a major arts programme and cultural first for Worcestershire that will celebrate the rebirth of the region's canals and rivers 
during 2018.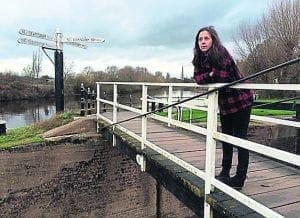 The project, run by the Canal & River Trust, will see a series of new art commissions created by local and internationally celebrated artists in response to the 21 miles of waterways encircling Droitwich and Worcester, namely the Worcester & Birmingham Canals, the Droitwich Canals and the River Severn.
The Ring waterways, local communities and natural environment of the waterways will inspire and inform Lucy's artwork. Debris transported by the River Severn will become integrated into her mural and local communities will be approached to assist with the artwork, whereby the themes of sustainability and nature will inform her final mural.
Lucy's internationally acclaimed, large-scale monochromatic paintings combine ancient, almost prehistorical influences with graphic, modernist sensibilities. She has exhibited in galleries, museums and festivals across the globe, creating work using a 'one-take' philosophy that rejects extensive preparation using 
digital tools.
Within the UK, Lucy infamously created the 'Todo es posible!' mural in 2010 on the outside of the former brutalist Birmingham Central Library, while four of her works are in the Victoria & Albert Museum permanent collection.
She said: "My studio in Birmingham is based on the canal. I've witnessed its lure as an escape and quiet space for many people. My immediate environment is a huge inspiration in my work.
"From my previous project painting murals along the canalside in Birmingham, I got to know the waterway by canoe. Being on the water gave me a different and new appreciation of the canal."
Lucy added: "I'm looking forward to discovering the waters of Worcestershire, getting to know its communities and involving local people in the commission. I'm working in their 'back garden', so it's important they have the chance to get involved and feel a sense of ownership to this artwork."
Street art star Banksy, whose work can be found along several canals in the UK, has praised 
Lucy's work.
Lucy is the fourth artist to be announced for The Ring, which will invite audiences to explore on foot, by boat or bicycle a series of five public art commissions by nationally and internationally acclaimed artists, as well as a series of works by locally based artists.
The Ring is a part of the Canal & River Trust's Arts on the Waterways programme and is funded by Arts Council England, Canal & River Trust together with support from local authorities, trusts and foundations. For full details please visit: www.theringart.org.uk
Picture shows Lucy McLaughlan standing above the waterways of The Ring where the Worcester & Birmingham Canal and the River Severn meet. Picture courtesy of the artist and Canal & River Trust.
To receive regular updates sign up to The Ring e-news or follow them on Facebook, Twitter or Instagram (@TheRingWorcs).