Phillippa Greenwood visits the National Waterways Museum, Ellesmere Port, to discover the story of a No 1 boat that lives on to tell the story of its owners, Joe and Rose Skinner. Pictures: Martine O'Callaghan.
This feature is an adapted extract from Phillippa and Martine's book Britain's Canals, a National Treasure in 100 Must-See Objects, published by Coolcanals, 2012. www.coolcanals.com
BOATS would just be boats without the people who crew them. Friendship is the aptly named boat that was once both a home and a way of earning a living for two much-loved characters of the cut, Joe and Rose Skinner.
Working narrowboats were mostly owned by companies such as Fellows Morton & Clayton or the Grand Union Canal Carrying Company (GUCCC), but there were some boats that were owned by the families that crewed them. They were known as the No 1s, and much pride was associated with these boats.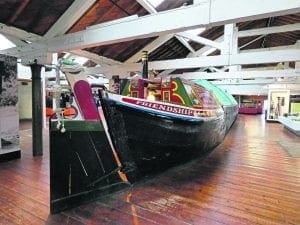 Friendship was a No 1 owned by Joe and Rose Skinner. It was one of the last boats to be built by Sephtons of Hawkesbury Junction, and the Skinners bought her in 1924 for £300 (with a deposit of £140 and instalments thereafter of 10 shillings a week). Friendship was a 70ft unpowered boat, and the Skinners earned a living carrying commercial cargo along the canal with their boat that was pulled by a mule. In 1928 they bought a second boat called Elizabeth (Mrs S's middle name). The two boats were towed in tandem by a pair of mules called Dolly and Dick. Elizabeth was sold in 1937, but the Skinners continued to work, mostly trundling up and down the Coventry and Oxford Canals carrying coal from coal fields in the East Midlands to businesses in Banbury.
During the busy era of 'canal mania', donkeys, mules and horses were all vital members of a team as they towed working boats across the landscape and through endless lock flights. The dependency was so fundamental to the lifestyle that a boat family often saw their horse as a member of the family. Joe is said to have loved all animals and when Dolly, his last mule, died, he retired.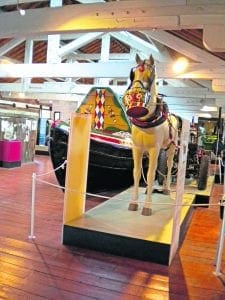 Joe and Rose Skinner were destined to be written down in history as the last No 1 boaters, and even before they had retired the couple enjoyed mini-fame as they were frequently interviewed by press keen to tell the novel story of these two fabulous canal characters. It was reported by one paper that, from the 1960s, when the Skinners eventually had a house to live in, they still trotted off down the towpath at bedtime to snuggle up to sleep in the tiny boatman's cabin aboard Friendship. Joe is quoted as saying in a newspaper article, "Lor, bless you, we couldn't sleep between four walls. We've got to hear the water slapping against the sides and feel the gentle roll of the old boat before we can sleep a wink." The relationship between a No 1 boat and its owners doesn't wither with retirement.
The Skinners were much liked within the canal community, and Joe's weather-beaten face sparkled with cheer until he died in 1975, aged 82. Rose died a year later, aged 77. They are buried together under a cherry tree in the Windmill Cemetery at Longford.
Friendship lives on to keep her owners' story alive. The Coventry Canal Society bought the boat in 1977 with an appeal to raise funds to buy her on behalf of the Boat Museum (now the National Waterways Museum). At her new home in the museum, she was kept afloat despite the horrors of her leaky condition. But eventually, in 1981, it was decided that Friendship had to be housed inside the museum to protect her from festering mud worm and the threat of sinking.
How did the museum manage to haul a rotting vessel from the water and carry it up to the first floor to the exhibition area? The saga is now a legendary tale to be passed on as another zany achievement in the life story of Friendship. The boat was cut into two sections for the manoeuvre – a mad idea that was supremely successful. Friendship now sits as the centrepiece inside the museum, enjoying her retirement in safe care.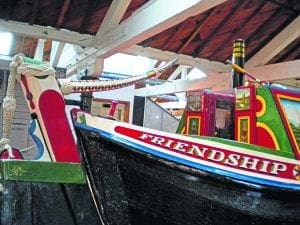 The boatman's cabin has been carefully protected to retain paintwork from the 1950s that was done at the famous Tooley's Boatyard, and Tony Lewery (a much respected maestro of canal-boat painting today) repainted the cabin exterior to restore it to its 
former glory.
The museum invites visitors to climb inside Friendship and peer with respect, and awe, into the tiny boatman's cabin that holds the most dear secrets of Joe and Rose. The intimacy is moving, and a recording of Mrs Skinner chatting about her life adds to the privilege of the moment. The only thing missing is the piping hot cup of tea Mrs S would have surely brewed for her visitors.
Friendship is on display in the National Waterways Museum in Ellesmere Port. Opening times vary.
Cafe and gift shop. Admission charge.
Wheelchair access to most areas.
canalrivertrust.org.uk/national-waterways-museum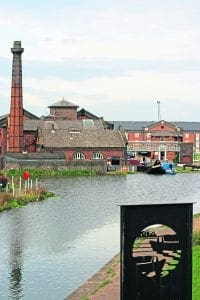 National Register
Friendship is listed on the National Register of Historic Vessels (NRHV).
www.nationalhistoricships.org.uk
National Waterways Archive
Historic images of Joe and Rose Skinner on Friendship can be found in the National Waterways Archive at the museum. The archive can be visited or searched online.
collections.canalrivertrust.org.uk
Location
Friendship is based at the National Waterways Museum in Ellesmere Port.
Ellesmere Port. OS Grid ref: SJ405771
Canal: Shropshire Union Canal
How to get there
By train
Nearest train station is Ellesmere Port
National Rail Enquiries 08457 484950
By bus
Traveline 0871 200 2233
By car
Free car park at the museum
On foot
The towpath continues right into the museum.
Boat trips
The museum runs short boat trips along the Shropshire Union Canal in its own trip boat, Centaur. Timings vary.
Nearest boat hire
Chas Hardern Boats, Tarporley. Holiday hire.
01829 732595 www.chashardern.co.uk
Moorings
Visitor moorings are available within the museum complex.
Local Tourist info
Cheshire Tourist Info www.visitchester.com
Canal & River Trust
Use the Canal & River Trust website to find specific local information.
www.canalrivertrust.org.uk

Enjoy more Towpath Talk reading in the monthly paper.
Click here
to subscribe.
See more
boats for sale
and
sell your boat for free
with
Towpath Trader
.
Latest posts by Pauline Hawkins
(see all)