I'M NOT about to drop the bombshell news that Electric Dragon is the last boat from Ortomarine. Far from it; the company has an order book that takes it well into 2025.
No, Electric Dragon was the last shell to be built by the renowned boat builder Jim Sparks, who for many decades traded as Alexander Boat Builders from his workshop in Worcestershire.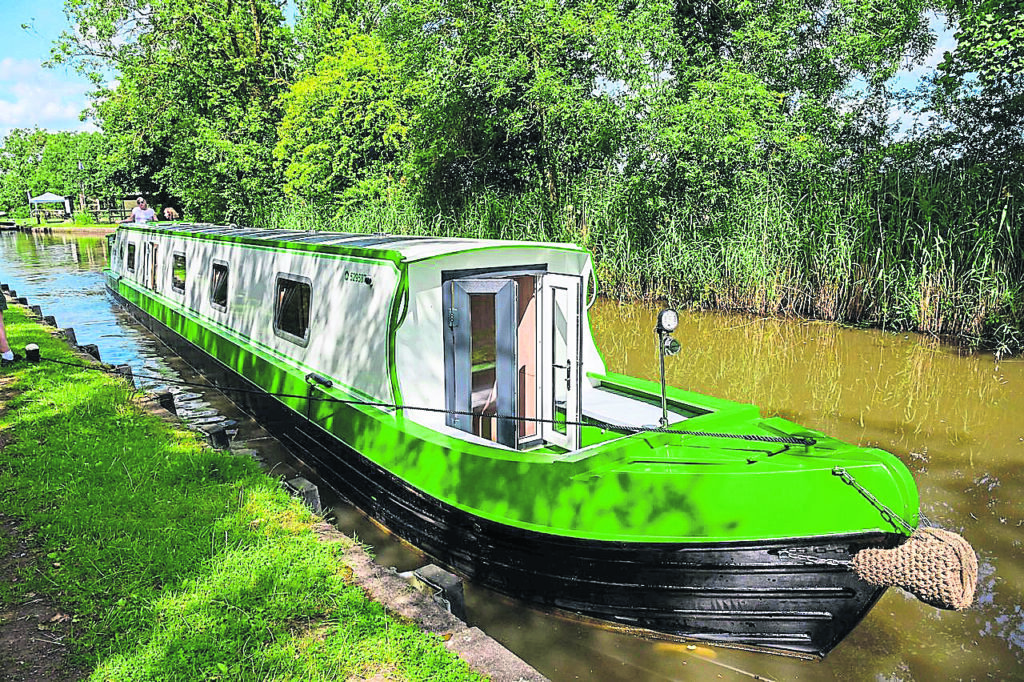 Jim closed Alexander's (named after his son, whose middle name is Alexander) after 50 years in the business, aiming for a well-earned rest and an opportunity to catch up on some gardening. However and unfortunately, when I spoke to him shortly before my visit to Electric Dragon, he was still trying to recover from a nasty bout of shingles. This has put his horticultural plans on hold. Despite this, he feels it is the right time to be shutting up shop, even if he has been quoted in past interviews as saying that "boat-building has been more than a job".
The new boat is owned by Bill and Karen Earl, who have clocked up some 15 years of waterways experience, including Karen's involvement as a skipper on Tuptonia, the narrowboat owned by the Guide Counties of Birmingham and Northamptonshire and which is moored at Hockley Heath. The couple, who live in Birmingham, will be looking to keep Electric Dragon close by, making trips and holidays aboard easy and convenient.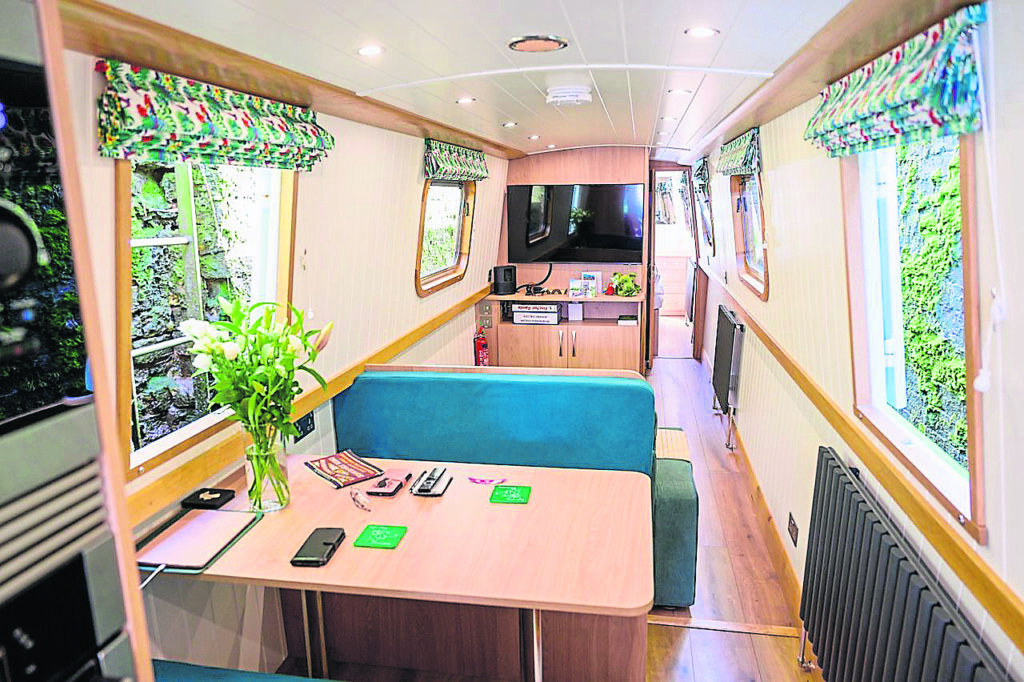 Jim and Ortomarine's efforts have produced a very eye-catching 60ft cruiser stern narrowboat finished in white and green and sporting a very distinctive green dragon graphic which fittingly has a 13A plug on the end of its tail. The completion of Electric Dragon makes it the ninth serial hybrid and the second 'dragon' from Ortomarine, and in case you are wondering "why 'dragon'?" Bill told me that they named their new boat in memory of Karen's mum, Pat, who named herself 'The Dragon' to Bill when the couple married 39 years ago. Bill assures me that a friendlier dragon you couldn't hope to meet!
What is immediately obvious is that Electric Dragon has an impressive and spacious rounded cruiser stern with plenty of seating and a helm position that, on the day of my visit, had just been fitted with a magnetic iPad mount. Mounting a tablet computer at the helm isn't essential, but it may come in handy from time to time. Just remember to bring it in if it rains!
Helm controls include a throttle, bow thruster and an Ortomarine touchscreen for monitoring the boat's systems. The use of bright green and white paint colours, mixed with chrome fittings, makes for a very clean and bright exterior.
Below decks, Electric Dragon is fitted with an Engiro 48v electric motor that operates at 12W continuous and a 20kW peak and is cooled by a keel cooling system. A Fischer Panda 8000i variable speed generator and calorifier loop have been installed. This is controlled by an updated OrtoMate control interface. A Vetus three-blade right-hand bronze 17in x 10in prop is connected to a 30mm diameter stainless steel shaft attached to an Aquadrive Moduline anti-vibration system.
Three submersible bilge pumps have been fitted and are connected, along with the majority of the boat's power and systems, to Ortomarine's boat monitoring and control system, which can be accessed via the touchscreens or online by the boat's owners.
Reverse layout
Electric Dragon has a reverse layout, so entering from the stern brings you into the galley, which has been fitted with Howden's Clerkenwell handleless units. On top of these is a 25mm oak worktop into which has been fitted a stainless steel sink which, in turn, is fitted with a Quooker Pro 3 tap. An integrated microwave, a Neff slide-and-hide oven and a Neff induction hob are included together with a Zenith under-counter larder fridge and a free-standing under-counter freezer. A Bosch washing machine completes the inventory of equipment that will enable Bill and Karen to live very comfortably aboard.
As you enter the galley, a wet locker has been created close to which is a 7in touchscreen that provides access to Ortomarine's boat monitoring system. A calorifier is housed in the starboard locker, which has been fitted with an airing cupboard above.
The living area has a Pullman-style dinette with bench seating and a rectangular table. This can be converted into two additional berths if required. The boat's battery bank, which has a capacity of 600Ah at 48v, is located below the aft dinette base.
This bank comprises six Ritar R-LFP48v 100Ah batteries and makes good use of the space on offer below the dinette. Adjacent is a two-seater sofa and stool, which the owners supplied themselves during the fit-out.
A 43in TV is mounted on the forward wall above a bespoke storage unit, and the whole area is lit using LED downlighters and under-gunwale lighting. During the day, two large windows and two glazed side hatches provide plenty of natural light to the living space via the Caldwell windows, which have been fitted with attractive solid oak window liners and patterned blinds with magnetic holdbacks.
The majority of Electric Dragon's internal walls have been finished with painted tongue and groove effect sheeting painted in milk white. The only difference on the ceiling is the choice of white paint. The flooring is Oake and Gray rigid vinyl with integrated underlay.
The bathroom is fitted with a Thetford cassette toilet with a china bowl. Access to the cassette is via a hidden hatch in the main living area. A Selnova corner vanity unit has been fitted and includes a ceramic sink and mixer tap. The large rectangular shower cubicle has been fitted with a Bristan Frenzy thermostatic mixer shower. Below the gunwale, built-in towel storage makes full use of the space on offer.
The cosy bedroom is fitted with a fixed 4ft 6in x 6ft 3in bed fitted with gas struts to assist when accessing the storage space below. The bed has a padded headboard and has been fitted with LED reading lights. The over-bed storage cupboard includes USB phone charging sockets, and two full-height wardrobes are located on the starboard side. Access to the bow is via a pair of UPVC doors, and this area is equipped with two storage lockers with seating above. The bow area is sizeable and provides plenty of space to enjoy when the weather permits.
Electric Dragon provides many things, including very comfortable accommodation for Bill and Karen while they are aboard their boat. It also provides further proof of the skills and innovation employed by Ortomarine when looking to meet their customers' expectations. But it also provides a great final example of the work of one of the industry's best-known steelworkers.
SPEC SHEET
Length: 60ft
Hull: 10/6/5/4 (Alexander Boats)
Berths: 2+2
Propulsion: Serial hybrid comprising Engiro 48v DC electric motor and Fischer Panda 8000i PVMV-N 230v/50Hz generator. Quick BTQ185 bow thruster.
Battery bank: Six Ritar R-LFP48v 100Ah – 48v 100Ah LiFePO4 batteries + one 12v generator starter battery.
Power electronics: Victron, including Quatror 48/10000 48v 10000VA inverter charger (140 Amp charger). Cerbo controller, Bluesolar charge controller, Orion DC-DC converters, Lynx Power-In and Smartshunt 500A/20mV. GX Tank 140. 12 Semi flexible solar panels.
Galley: Howden's Clerkenwell Gloss White handleless units. Essential microwave, Zenith larder fridge and free-standing freezer, Neff oven and induction hob, Bosch washing machine.
Bathroom: Thetford cassette toilet with china bowl, Selnova white gloss corner vanity unit, shower cubicle with Tristan Frenzy thermostatic mixer shower.
Bedroom: 4ft 6in x 6ft 3in fixed double bed with glass struts lift system, over-bed storage, two full-height wardrobes.
Builders: Ortomarine Unit 4A Cursley Distribution Park, Curslow Lane, Shenstone, Worcestershire DY10 4DX. Tel: 01299 489424. Email: [email protected] Web: www.ortomarine.co.uk