Tim Rane has retrieved his 50th trolley from his local waterway. Sally Clifford investigates his own version of supermarket sweep – and it's not just trollies!
CONSIDERATION for his local waterway led Tim Rane to become a scrap saviour.
Tim's dog walking route along the River Foss, close to his home in the historic city of York, covers about a mile and a half of the Foss, a tributary of the River Ouse.
During these walks along this tranquil stretch of waterway, Tim has noticed over the years it has become a dumping ground for broken bikes and discarded trolleys.
Instead of walking on by, Tim decided to do something about it, and his actions have made him somewhat of a scrap saviour while helping to clean up a peaceful and pleasant stretch of the city's waterway.
"I started in lockdown. I am in aviation and with hardly any work on, it gave me a lot of free time. I walk the dogs on the river and got sick of seeing trolleys and bikes."
When we spoke, Tim had pulled 100 bikes and 49 trolleys out of the river. Days later he  retrieved his 50th trolley, quickly followed by his 51st at Tang Hall Beck at Foss Islands, about 150m from the River Foss.
Armed with his paddle board and grappling hook, one of the highlights of Tim's retrievals was reuniting a stolen motorbike with its owner. Had he not spotted it when he did, the loss of fuel from the bike could have polluted the waterway, potentially putting wildlife in danger.
"I was walking the dogs and I found a really large motorbike had been chucked in. I was struggling to get it out so I managed to persuade five or six builders who were working on a house and all of us pulled it out. I called the police and they contacted the owner. It had been stolen the night before. I was keen to get it out because of the oil and petrol," recalls Tim.
Thankfully the motorbike was returned to its owner and many of the broken bikes Tim pulls out of the river have been put back into purpose – with the support of a repairer who passes them on to charity, or to those who wouldn't otherwise be able to afford two-wheeled transport to get to work.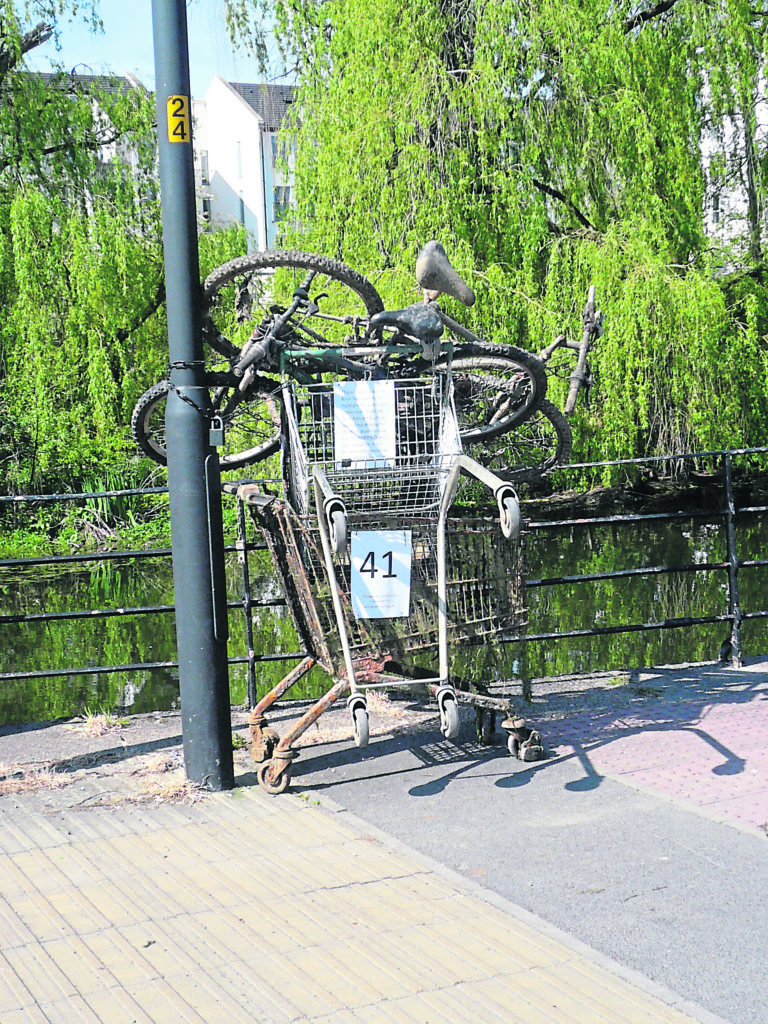 The only solution Tim has so far found for the trolleys is for them to be melted down.
The sooner the items are found and retrieved the better. As Tim explains, if silt builds up around them it makes them more difficult to pull out – and can also pose an obstruction on the waterway.
River Foss Society members are raising awareness to discourage things from being dumped through events such as the York Walls Festival.
"We pile up a lot of trolleys and bikes and try to highlight the pollution that goes on in the river," says Tim.
"We want to try and encourage people to use the river for their canoe/paddle boarding because the more use it gets the better it will be. We are actively trying to get people to enjoy it.
"It is right in the centre of York and it is a fantastic amenity," says Tim, whose interest in the waterway led him to join the society, which celebrates its 50th anniversary next year.
Bravo Tim! thank you for all your efforts. We find it hard to comprehend how people can dump rubbish like this, not once, but over and over again!
Founded at a time when commercial barges were still using the lower stretches of the Foss, the society's inception in 1973 was led by York printer, William K Sessions.
Today the society has 150 members and its early objectives focusing on aspects such as practical ways to improve footpaths continue to this day, along with regular litter picking; promoting improvements in biodiversity; establishing nature reserves by the water; water sampling and visits to many canals.
PHOTOS: RIVER FOSS SOCIETY MEMBERS
#towpathtalk #canals #canalsandrivers #narrowboat #rivers #waterways #lifeonthecut #boating #boats #riverfosssociety #york