EXCITEMENT is building as the five finalists in our new Towpath Talk Top Team award are revealed in this issue.
Readers have risen to the challenge of finding a group of unsung heroes who have gone that extra mile for their local stretch of towpath, canal or river, waterways association or community boat – and given our judging panel a difficult job of narrowing a large number of entries down to five.
The Top Team nominations have proved beyond doubt that there are lots of dedicated teams of committed volunteers out there – who all deserve recognition for the hard work they are doing for the benefit of the inland waterways.
Whether it's by restoring a canal, looking after a stretch of towpath, manning a community boat, creating wildlife habitats or helping to preserve historical structures, people are coming together to improve facilities, benefit the environment and generally enhance huge areas for the good of many local communities.
For the last two years, we have recognised individuals' contributions with our Volunteer of the Year award, the accolade for 2017 going to the late Paul Mills who sadly lost his battle with cancer in September.
When he received his award Paul said: "The recognition is for the whole team and not just myself." We have taken this on board and this year will choose a Towpath Talk Top Team as a tribute to Paul and his legacy, the Small Tasks Team Volunteers that he founded.
The award has again been generously sponsored by ABC Leisure Group Ltd, which will be giving the hire of a day boat carrying up to 10 people.
This year's panel comprises waterway journalist, author and photographer Harry Arnold; Haley Hadley, sales and marketing director of award sponsor ABC Leisure Group Ltd; John Dodwell, who recently completed his five-year term as one of the Canal & River Trust's founding trustees and is actively involved in a number of waterways organisations; and Towpath Talk editor Janet Richardson.
We can now announce the five finalists and would like your help in selecting the winning team, which will be announced at a special presentation event.
You can either mark your choice on the form below with votes to reach us by close of business on Wednesday, October 31.
Readers' votes will represent 25% of the final ballot.
Nominees
NOMINEE 1: Avon Navigation Trust's (ANT) Mobile Volunteer Team (MVT)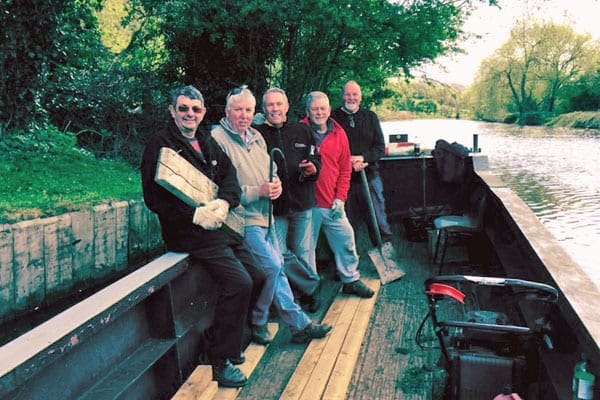 Vital work that the Mobile Volunteer Team puts in supporting a small team of full-time ANT staff who maintain and improve the River Avon Navigation for the benefit of all, sees them in the running for the award.
This is a new initiative started just two years ago that forms a vital bridge between the normal volunteers and the skilled works team.
Paul Cronin, volunteer director ANT, said: "They (MVT) have carried out extensive repairs to the overnight moorings at Pershore which are one sixth of a mile in length, as well as more minor repairs to other mooring areas.
"They were also able to assist in the technical aspects of reopening a much-needed additional overnight mooring at Defford Road near Pershore. This was part of a project carried out in collaboration with Vale of Evesham Specialist School as part of their Duke of Edinburgh's Award."
He continued: "They also operate the SWEEP project at Stratford-upon-Avon on behalf of ANT, CRT and the local councils. This is about keeping the waterways of Stratford, river and canal litter and obstruction free.
"This regular operation benefits everyone on or near the waterways, whether fishing, walking, boating or just being by the water."
Paul said it was a "privilege" to be able to nominate the ANT Mobile Volunteer Team as the Towpath Talk Top Team 2018.
ANT was established for the preservation, maintenance and improvement of the river for use by the public, and volunteers' work is vital to achieving this objective and creating goodwill among the boaters.
NOMINEE 2: Cotswold Canals Trust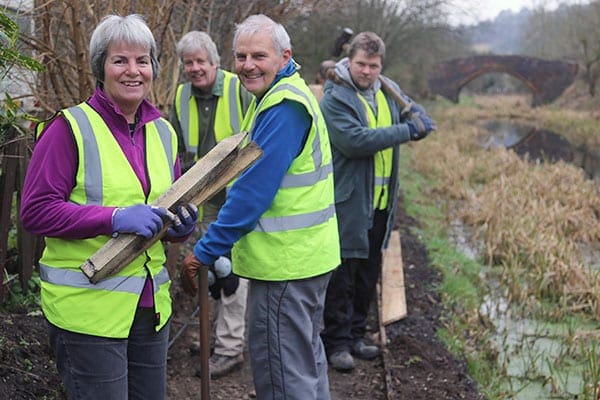 Working to promote, for the benefit of the community, the reopening of the Cotswold canals — The Stroudwater Navigation and The Thames & Severn Canal – these volunteers would be worthy winners, believes Pat Harper who nominated them.
"They work as one entire team," said Pat. "The volunteers are doing so much on the Stroudwater Navigation and now they will be having the funding from HLF for part 1b (the critical length needed to link phase 1a to the rest of the inland waterway network at Saul) they will be doing even more as match funding."
This year the volunteers' efforts were recognised with a visit from the Prince of Wales, who went to Wallbridge in Stroud to perform the official opening of the first phase.
The Prince of Wales unveiled a plaque celebrating the work carried out from Stonehouse to Thrupp and the reconnection of the Thames & Severn Canal to the Stroudwater Navigation.
The project, led by Stroud District Council in partnership with the Cotswold Canals Trust and Gloucestershire County Council, has transformed a scene of dereliction and abandoned towpath into a waterway and wildlife corridor now enjoyed by the local community and a growing number of visitors to the area.
Largely funded by the Heritage Lottery Fund, the project has involved civil engineering contractors working in conjunction with volunteers – who have contributed more than 138,000 hours since 2013.
Cotswold Canals Trust volunteers have carried out a huge variety of work, for example hedge planting, dredging, installing new towpath and improving access.
NOMINEE 3: Daniel Adamson steam ship volunteers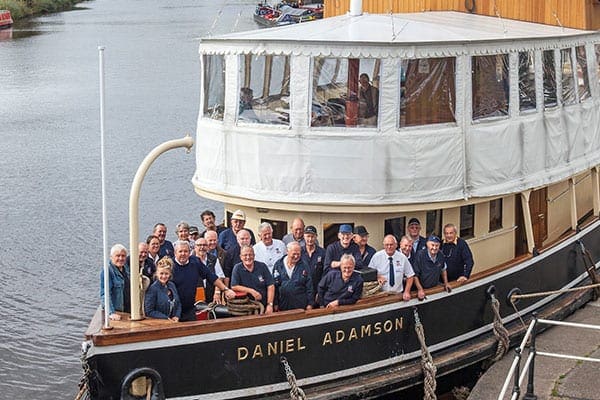 The "unflinching and continued dedication over 14 years of a huge team of volunteers; from saving the vessel, campaigning for funding and now an incredible effort and amount of their time given to make her operational," is the reason Andrea Ward thinks this group would be worthy winners.
The Daniel Adamson steam boat was opened to the public for the first time in 30 years at Liverpool's Steam on the Dock festival in 2016.
The 109-year-old tug was built at Cammel Laird in Birkenhead and was lovingly restored by a band of volunteers.
Georgia Hayes, who works as marketing manager for the project, said: "I am continually impressed by the expertise and enthusiasm of our volunteers.
"Like all projects we have a strong core team of volunteers who now share the project and develop it by welcoming new volunteers to ensure the project can continue. We have had many new volunteers join us over the past year and each person soon finds themselves a role within the team."
She continued "Our team crew the ship for the public, manage its maintenance and restoration, assist with catering, cleaning, welcoming the public, hosting events for schools and helping with the marketing. The steam engine which is our volunteers never stops or tires!
"Nothing is too much trouble for our volunteers and as the project develops and takes on new challenges they are all ready for it and open to change.
Carol Dunbavand said: "Without the dedication of everyone involved, there would not be the successful story to share."
NOMINEE 4: IWA Northampton Branch – work parties on Northampton Arm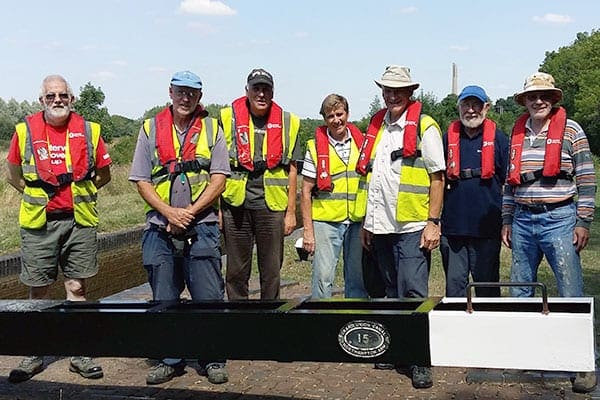 Inland Waterways Association (IWA) Northampton branch adopted the Northampton Arm of the Grand Union Canal from CRT in 2013 and runs two work parties per month, said Sandra Tidey who nominated this group.
"They have just clocked up 8000 volunteer hours and their aim is to improve the canal corridor for all its users – and it certainly has improved over the last five years," she said.
Work has included vegetation clearance, weeding, litter picking and painting at locks. Locks 14 and 17 have been completely re-painted, the lock landing below Lock 17 has been completely cleared and the narrows above Lock 17 has been cleared of overhanging vegetation. Other work has been carried out at the top of the Arm.
"We have put in a nature trail using mosaic slabs and the designs were done by two local schools," said one of the leaders Geoff Wood, adding the group had also involved a local scout group.
"We have really built on the aim of trying to improve the canal corridor for everyone – including cyclists, walkers and runners. We have done that by making it far more user-friendly and appealing to people to come and use the facilities and walk the towpath. It has made a whole lot of difference."
Geoff added the volunteers were usually people who had an interest in the outdoors and waterways and were trying to "give something back".
"There's a fun and friendly atmosphere and anyone who wants to come along is welcome," he said.
NOMINEE 5: Welshpool Canal Adoption Group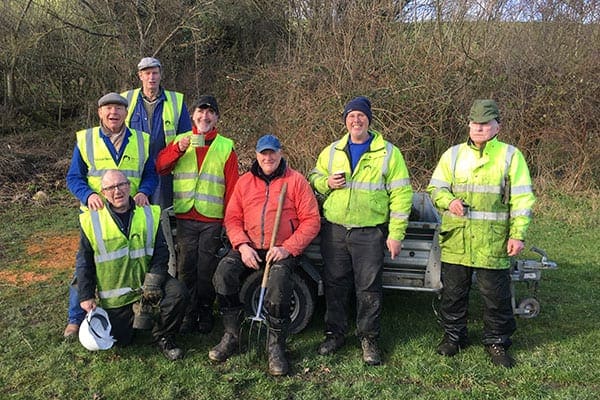 Welshpool Adoption Group started volunteering with the CRT in 2015 and members carry out varied works along the adjacent stretch of the Montgomery Canal, from Abbey Lift Bridge to Belan Locks.
The team was nominated by Michael Limbrey who said: "Otherwise known as the Thursday Restoration and Maintenance Project Supporters – TRAMPS are an active part of the Montgomery family.
"Formally their adoption runs from Refail (Berriew) to Bank Lock, but they gladly venture further when needed.
"With 20 members spread between Ellesmere and Newtown and a regular weekly attendance of ten to 12, the group contributes over 2000 volunteer hours a year. In the last couple of years, the average member has contributed 80 hours a year and three of them have averaged nearly 400 hours."
They undertake veg management, painting and litter picking, as well as repairs to boundaries, totems and other curtilage, plus waterborne activities.
The volunteers at Welshpool Adoption have adopted an old CRT workboat, Mantis, which had been gradually sinking at Maedy Bridge on the Montgomery Canal. She was donated to the Welshpool group and a small team of volunteers raised Mantis and brought her back to life. She is now beautifully restored.
Michael continued: "The group's contribution to the Montgomery Canal goes well beyond basic maintenance tasks and includes the repair of serious leaks at Berriew and Pool Quay and preparation of the Pant railway crossing site for removal by Waterway Recover Group and they hope to offer active assistance at their future work camps."
Get voting!
Select your winners by filling in the form below:
*note that you must have cookies enabled and ad-blockers disabled to see this form. Your Email address will not be used for any marketing purposes or passed on to a third party, they are purely to ensure a single entry is made per person. You will need a Google account to enter, if you do not have one you can register for free using your existing e-mail address.
Voting closes: 31st October 2018
DATA: Protection of your personal data is important to Mortons.
Your data will be stored securely and only be used for the purpose of processing the competition and notifying the winners. Data will then be destroyed.
Comments
comments