By Alison Wilkerson
I LOVE craft fayres and markets, especially floating ones, where you discover a plethora of goods created on boats by their artistic, and sometimes famous, owners. 
At one such floating market which I had seen advertised by the Roving Canal Traders Association (RCTA) www.rcta.org.uk, on the Grand Union Canal in Milton Keynes, I stumbled across a fabulously decorated bunting-clad widebeam called C'est la vie. It is owned by Lorraine and Phil who make and sell amazing home accessories (see Inspired Home Crafts – www.facebook.com/ihcrafts) and gifts including bunting of course, in various designs and lengths.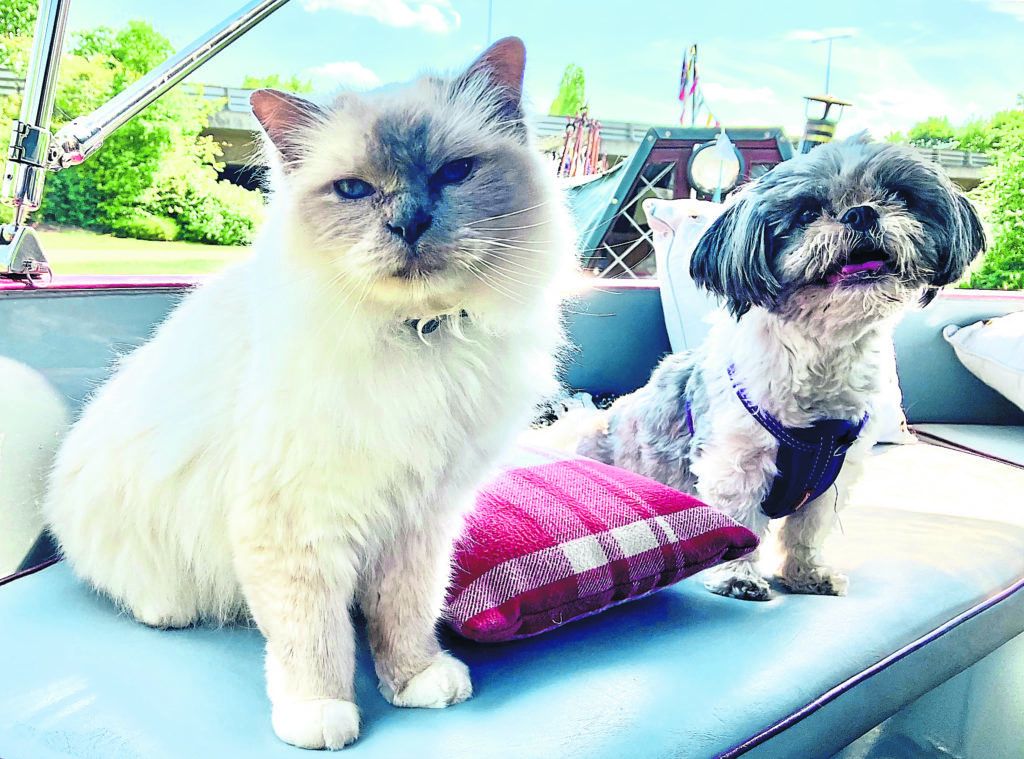 Bowler hat-wearing Lorraine advised that they had taken early retirement five years ago and had purchased their Vetus VH4.65 (65hp engine) boat, their first, from Nottingham Boat Company from new, having seen it at the Crick Boat Show; which is always worth attending.
It was actually the show boat and their main requirement was that it was bright inside with no carpets as they had four cats and one dog at the time of purchase. They then moved from a house to live aboard their new floating home. After a year of cruising and sewing, they decided to start selling the creations at shows and fayres on land but then attended and started selling at floating markets from their lovely boat.
Sitting on the canopy-covered stern with Lorraine was sweet 14-year-old shih tzu dog Millie, who turned out to be famous having been on Paul O'Grady's TV programme For the Love of Dogs. Millie, who was seven at the time, had been featured (as had Lorraine and Phil) and was indeed officially a #pogdog, who had also been on a Pets at Home advert …yes I did ask for her pawtograph!
Article continues below…
Advert
Upon adoption she had to be socialised and taught how to play, plus unfortunately she had cancer but recovered. She has had cancer twice since and now has sight and possible hearing issues but Phil has made alterations on the boat to assist her. Luckily, she is good with cats and dogs; her favourite toy is Spiky the hedgehog and her favourite food is cooked chicken which is much easier to eat as most of her teeth have been removed.
Also with Millie was a rather pretty Birman cat called Paddy whom they purchased from a breeder as a kitten, along with his brother who has since died. They also had a 7/8 year-old moggie cat called Digby who was nowhere to be seen as he was probably in the bushes, which is where he spends most of his time when moored up. He is rather independent and had been feral prior to them adopting him, as his previous owners had left him behind when they moved.
Luckily he always gets back on the boat and even when they had to move their boat in the past, he actually waited in the same vicinity for them to return.
Article continues below…
Advert
#petsonthecut #petsafloat #towpathtalk #canals #canalsandrivers #narrowboat #rivers #waterways #lifeonthecut #boating #boats